HELPING OTHERS FIND THEIR SPACE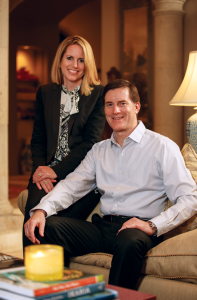 Upon consideration of the enviable and accomplished lives of happily married '09 residents Jennifer and Bob Shemwell, one might conclude that, professionally and personally, this well-matched twosome could be considered "environmentalists." And while this label certainly carries an ecological connotation, it becomes even more appropriate when taking into account both Jennifer's and Bob's chosen vocations. Their resulting success is in, quite simply, matching people to places – he as the sensitive and gifted architect, she as the focused and committed Realtor. Together, this diverse but always complementing couple have not only helped countless others "find their space" but, of greater importance, have created their own loving environment that they, their three children and the family dog all comfortably and joyfully call home.
Jennifer Browning Shemwell has the deeper Alamo Heights roots. As she readily admits, "I still live on the same street where I grew up." Her family has been in the 'hood for generations. She and her mother are both Heights graduates. Yep, she's a real home girl! Always a good student, after graduation from high school she was off to Yale, where she earned a degree in 1991 in economics and political science. Bolstered by her fluency in Spanish and French, she later accepted a job with the U.S. government working as an "unofficial" ambassador at the 1992 Seville Expo. This position proved to be very beneficial in furthering her international education but also — and this would pay dividends throughout her subsequent career — helped her realize her innate people skills.
While in Spain, she proved to be a natural at meeting and aiding people from around the world. However wonderful the experience was, though, the distance from home made her quickly realize "just how much I missed living in Alamo Heights." Eagerly returning to '09 in 1993, she soon joined her mother's firm, the Phyllis Browning Company, where she's been excelling ever since as a real estate broker and now as the company's president. Last year, a local business journal named her San Antonio's "No. 1 Agent." Couple that with Jennifer's many charitable commitments (Landa Gardens Conservancy, United Way, Young Presidents Organization, etc.), and you've got one busy lady. Bob is a different story. An admitted "Army brat," as a youngster, he lived "around the world," and that included Texas twice – in Mineral Wells and later in Killeen/Copperas Cove. Wherever the service transferred his family (Mom, Dad and his five siblings), Bob adapted. And the one constant that followed him from location to location was his overwhelming "love of drawing." It was this creative streak coupled with lots of natural talent that eventually led to the career he has so ably embraced today – architecture.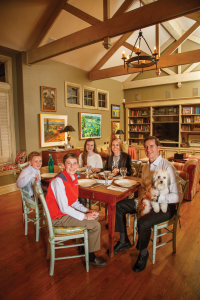 In 1982 Bob earned an undergraduate degree from Texas A&M in (you might've guessed it) environmental design. Three years later the former Aggie enrolled at the University of Texas in Austin, where in 1987 he received a master's degree in architecture with highest honors. In 1992, after interviewing with several companies, he excitedly joined the prestigious San Antonio architectural firm Overland Partners and relocated permanently to the Alamo City. He is now a principal within the firm and handles local, state, national and international projects. Regarding his first degree, he relates, "I'm still passionate about the environment and sustainable design, and at Overland Partners, fortunately that is the focus of much of my current work." His charitable pursuits reflect this passion as well, including the United States Green Building Association and the San Antonio Clean Technology Forum, which is now the Mission Verde Alliance. Go green!
So with such varied backgrounds, just how did these two energetic and accomplished people end up together? As both fondly remember, it all started with a blind date. That was in 1994. Bob happened to be designing shopping centers in Monterrey, Mexico, and a mutual acquaintance knew how much the fluent Jennifer loved the Mexican culture. This tenuous connection seemed just enough for the friend to set the two up. Regarding that first date, both admit, "It wasn't love at first sight." But obviously, there was something because after 11 months of courtship the romance culminated in their marriage.
When queried, Bob attributes the ultimate success of his courtship to the fact that he's "a good dancer." Possibly Jennifer just liked his conversational Spanish. Whatever the reasons, they have enjoyed a 20-year marriage built solidly on a shared respect for each other's personal abilities, strengths and talents. While admittedly different, together they make a formidable team, where both, as Jennifer relates, "accept the uniqueness of the other, allowing for continual and positive growth and change, enhanced always with encouragement." And together they agree, "It's a formula that works." On the home front, Jennifer and Bob, with their children — Paris, Browning and Reed (like Mom and Dad, each is bilingual) — all live in a lovely residence in the heart of "old" Alamo Heights that they moved into 13 years ago, after the birth of Browning. And it happens to be right next door to Jennifer's parents, who admittedly have been a blessing when babysitters were needed. As the family grew, remodeling and renovation were periodically required, but as both volunteer, "That's just what happens when an architect marries a real estate agent," and that combination is reflected throughout their cozy 78209 dwelling – or should we say their environment?
By ERNIE ALTGELT
Photography by CASEY HOWELL