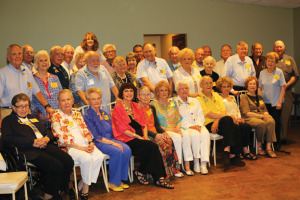 They have traveled the world, raised amazing families and accomplished great things in both their professional and personal lives, but the ties that brought each of them home, returning once more to their alma mater, were those counted most worthy. The Alamo Heights High School class of 1949 gathered recently to celebrate their 65th class reunion. Sharing fond memories of their youth and the school ties that bound them together, the alumni provide us a glimpse into why so many share great pride and loyalty for Alamo Heights' schools.
The class president, Bobby Warren. He shared his appreciation for the education he received. He believes that Alamo Heights delivered on its promise of excellence: "Alamo Heights made my life. The curriculum, the academics were the best. My teachers were outstanding. As a result, I attended Rice University on a scholarship, earning two degrees. Even in the early 1950s, Alamo Heights had already earned the reputation of providing a quality education and was respected at the university level."
Many alumni from the class of '49 remarked that they received a great education from Alamo Heights schools and wanted others to enjoy a similar experience. Pal Wenger is a great example of this sentiment. His great-grandchildren are fourth-generation Alamo Heights students. For his family it adds up to 48 years in Heights classrooms, gyms, playgrounds, music halls and playing fields. He believes this instills loyalty and a strong belief in "the tradition of excellence." Paul and his wife, Barbara, have served both the educational and greater Alamo Heights and San Antonio communities, sharing their philosophy of giving through years of service, demonstrating a commitment to community that Alamo Heights staff works to instill in students today. The musicians, Cleburn Mcelhany and Carolyn Stromberg. Mcelhany was the president of the band his senior year. His love for music carried over into his life and career, allowing him to pass along the skills he learned at Alamo Heights to others with shared interests and talents. Stromberg earned six notes on her letterman's jacket to showcase her six years in band. She began teaching at Cambridge Elementary in 1954, turning her commitment to learning into a lifelong career. They spoke of a time when the nation was at war. There was no money, no gas and no food. They had to depend on each other, to take care of each other. This fostered their sense of community.
The football team captain, Pete Erben. Erben's football talents took him to Baylor, where he went from being a Mule to a Bear, enjoying an opportunity to play guard against Georgia Tech in the Orange Bowl in 1951. After graduation and discharge from the U.S. Air Force, Erben returned to his hometown, working his way from manager to president and CEO of Luby's restaurants. He says, "My high school peers were a great part of my life. I hope that my life was a good influence on theirs." His children and grandchildren are second- and third-generation alumni. During their time at Heights, many students developed strong long-term bonds with their peers, teachers and school. For them it remains an important part of their identity. The valedictorian, Mary Sue Curnutte. "Our class is pretty much like any other class. You know the kind, where parent and student interests revolve around the schoolhouse and all of its activities. Our goal "always —working together for one purpose," she observes. It was then, and is now. Through strong intellectual engagement, the development of deep friendships and a close, service-minded tie to the community, Alamo Heights High School has built the tradition of excellence.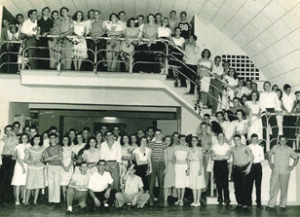 In the end, just as with the members of the class of 1949, we will all remember the great old days of band, sports, competitions and celebrations, but most of all, we will remember those special friends who will live in our hearts. It is these ties that bind us to this community and our schools and the reason why we come home.