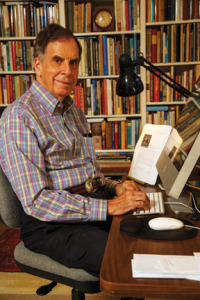 It's no surprise that we who live in 78209 really like to read – just look at the popularity of this publication! Newspapers, novels, magazines, manuals, histories, textbooks, even how-to's — you name it, '09ers buy, subscribe to, browse, borrow, check out, collect, scan, trade and even study 'em (go Mules!) Yep, we're one bookish zip code. With such a hankering for the written word, how fitting it is that our neighborhood is home to a very talented twosome who have devoted their professional lives and more to the production of the same – Mary and Lewis Fisher. With the addition of their equally gifted (now grown and on-their-own) sons, Maverick and William, and their personal erudite contributions as well, it's easy to conclude that this remarkable family truly has been blessed with a big dollop of the "write" stuff — so much so in fact that you can literally "book" on it.
Lewis, originally from Rochester, N.Y., got to San Antonio like a lot of other folks — through the United States Air Force, way back in 1964. It was during his time while stationed at Lackland AFB that he first (briefly) met Mary, a San Antonio native with ancestral roots stretching back to the earliest days of the Republic. Though a "chemistry" was certainly noted by both, it was a few years later before, as Mary recalls, "Our paths crossed once again, and this time Lewis swept me off my feet." Lewis (as a captain) left the USAF in 1968, the two married, and the happy couple soon moved to New York City, where studies ensued. In 1969, the newlyweds headed back to Mary's hometown, where they have remained ever since. Mary and Lewis later purchased their Terrell Hills home in 1973 and still reside in it.
Journalistically speaking, Lewis (with his master's from Columbia) initially signed on as a beat reporter with the San Antonio Express-News, but after two years was bitten by the entrepreneurial bug and, with Mary's blessing and assistance, decided to strike out on his own. As he remembers, "After the demise of the old Alamo Heights News, we realized there weren't any subscription-based suburban newspapers left in the city, so we started the North San Antonio Times." That was in 1971. With the later acquisition of the multi-editioned Northside Recorder, the energetic pair found themselves at the helm of a prolific publishing juggernaut for the next 21 years. During this period, Lewis was the publisher but also handled reporting assignments, while Mary, now equally concerned with the rearing of their two sons, became one of the papers' award-winning photographers and a regular contributing columnist. In spite of his active schedule, Lewis found the time also to serve a term as president of the prestigious Suburban Newspapers of America organization.
By the mid-1990s, Lewis and Mary again felt the call to try something different. Having been commissioned by the San Antonio Conservation Society to write Saving San Antonio: The Precarious Preservation of a Heritage (Texas Tech University Press), Mary and Lewis astutely realized that there wasn't a local general-interest book publisher in the Alamo City. Enter the Fishers' Maverick Publishing Co., aptly named after Mary's famous forbear and Texas pioneer Samuel Maverick. Since its inception, its output has soared. As Mary relates, "Our company has, to date, published 45 books by 27 gifted authors on subjects as varied as Texas wines, area travel, Tex-Mex cooking and San Antonio history." Lewis has 12 titles to his credit alone, covering fascinating topics ranging from the city's Spanish missions to its former downtown chili queens. His most recent effort, American Venice: The Epic Story of San Antonio's River, is currently on press and will be available by Thanksgiving.
Mary, while always the firm's go-to editor, proofer and marketing pro, also has authored several titles herself, including a fun and factual children's book on the late and legendary singer Rosita Fernandez and a centennial history of her alma mater, the Alamo Heights School District. And beyond Maverick Publishing, she still continues to be a popular contributor with the Express-News – a gig she's had for years. As mentioned earlier, their two sons, Maverick and William, both Alamo Heights graduates with law degrees from the University of Texas at Austin, share an interest in the family biz, often functioning as editors, researchers and sounding boards. William, by day a practicing attorney with Cox-Smith, is fluent in Spanish and a collector of Spanish first editions. He edited San Antonian Josefina Niggli's Christmas play, The Defeat of Grandfather Devil, published by the Book Club of Texas, and produced a bibliographical catalog on the Chilean Nobel Prize-winning poet Pablo Neruda for Southern Methodist University. He will speak on Neruda next summer at the Library of Congress. Their son Maverick, who lives in Austin and is managing editor for client projects for Straftor, a global intelligence firm, has edited a new edition of the Texas classic Memoirs of Mary A. Maverick for Maverick Publishing. With so much "printer's ink" seemingly flowing in the Fisher blood, do Mary and Lewis ever have time for anything else? You bet, they say: "By the time this article appears, we'll be back from a vacation in Italy. We love travel, whether it's to Ethiopia, Iran or our ranch in Bandera County." And with the kids grown, they have a lot more time to do just that – living, laughing and learning in distant places. Maybe they should write a book about it?
For more information about Maverick Publishing and its titles, visit www.maverickpub.com.
By ERNIE ALTGELT      Photography by CASEY HOWELL