An Uncommon San Antonio Coffeehouse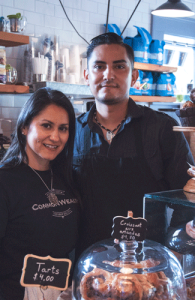 The holidays brim with opportunities to splurge and splurge big. When faced with temptation, why not splurge on the best? Exceptional coffee drinks made with Cuvée coffee beans, mouthwatering French-inspired pastries like pain aux raisins or dark chocolate croissants, and peanut butter-Nutella sandwiches for the children are just a few of the impressive delights offered at CommonWealth Coffeehouse and Bakery, opened in early 2015.
Located directly behind the Wash Tub on Davis Court, this historic home was restored and repurposed into a charming and sophisticated setting, minus a visible sign. After a zoning snafu occurred through the city, the opening date was delayed for months before an agreement was reached. Essentially, CommonWealth must maintain a low profile and blend into the neighborhood so that neighbors don't feel encroached upon.
CommonWealth appears to be in full camouflage compliance because I have overshot their driveway a few times, thinking I am on the wrong street. Thankfully, the restrictions have not hindered business, and co-owner Ethel Kruse is glad for neighborhood harmony.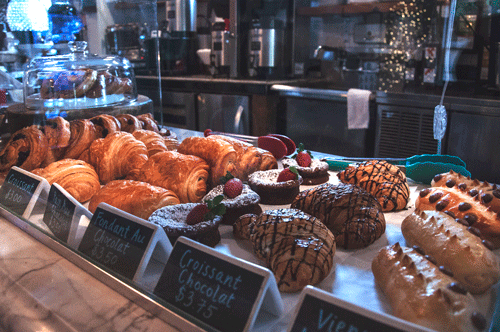 She comments, "We are here for the community. We chose our name based on our desire to support the community around us."
So where did this passion to open a coffeehouse and bakery originate?
"The idea of CommonWealth was conceived during a vacation to France with my daughter several years ago," explains Kruse.
"One day while at a café, I tasted a classic French pastry known as a canelé." (For newbies, the outside is like a mini-bundt cake, while the inside is reminiscent of bread pudding – soft and custard-like.) She continues, "For the love of food and sharing it with others, I immediately knew a career change was in my future."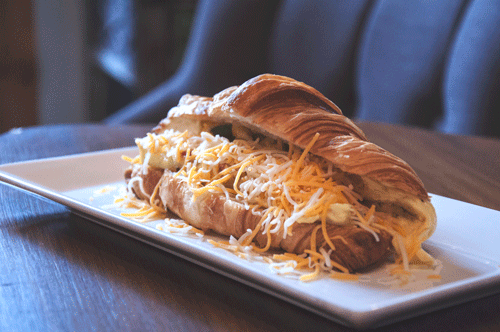 Kruse eventually left her lifelong work in the insurance business and began drawing the treasure map, so to speak. She was compelled to build her business on these newfound pastry treasures and other French classics, but finding a skilled chef to replicate these indigenous treats led her to seek applicants in France. After several Skype interviews, she chose Vincent Dax of Bordeaux. He comes from a long line of bakers, with his grandfather starting a family bakery that continues today. Lucky for Alamo Heights, this treasure hunt ends in our own backyard.
With offerings ideal for breakfast, lunch or coffee, the CommonWealth team is dedicated to the art and craft of perfecting all three – with a smile. When it comes to the baking and pastries, chef Dax makes everything from scratch, and Plugra (European butter) reigns! Chef Israel Arreola, a graduate of the prestigious Le Cordon Bleu College of Culinary Arts (Austin), oversees everything savory found on the breakfast and lunch menus, creating daily specials heavily influenced by produce from local farmers' markets. On a recent lunch visit, I devoured his flavor-soaring vegetable quiche made with vegetables grown in their garden.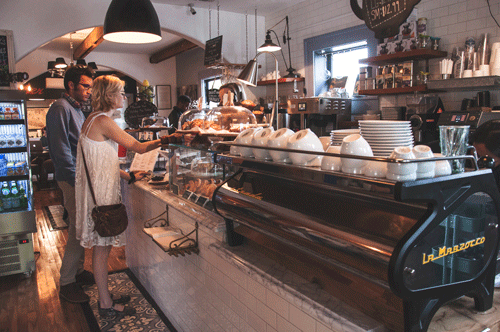 Regular menu items like the Salad Dijon (mozzarella, tomato, walnuts) and the CommonWealth Salad (goat cheese, spinach, caramelized English walnuts) pop with fresh ingredients and well-made vinaigrettes. Soups and sandwiches are also delicious, but the Croissant Béchamel is a must-try. Inside one of their famous croissants sits Black Forest ham, topped with a rich and creamy béchamel sauce and a generous amount of cheese that is heated to perfection — a mouthful of flaky ham-and-cheesy goodness. And for the locals who must have their breakfast tacos, Commonwealth has those too.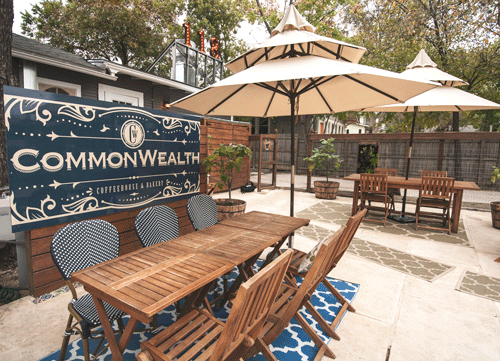 On good weather days, don't miss sitting under the shady pecan trees covering the front porch, or lounging on the comfortable back patio where the chickens cluck in their stylish coop — ideal for children. With prices, nothing exceeds $9. The average item falls around $5, with coffee drinks averaging around $3. CommonWealth also offers off-site catering as well as on-site by opening their venue in the evenings for private events.
Business professionals meeting for lunch, foodies checking out the latest and greatest, '09ers of all ages and stages looking decked out, collegians and many other varied fans are showing up for the sipping, the conversing, the power lunching, the savoring, the sweet fixing, the reflecting, the sharing, the caffeine boosting, and many more positive gerunds I could still name. If you haven't sniffed out CommonWealth Coffeehouse and Bakery by now, then the holiday season is ripe for an encounter.
BY LAUREN BROWNING
PHOTOGRAPHY BY JANICE THACH