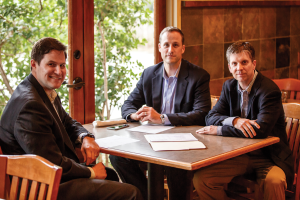 THE ALAMO HEIGHTS COMPLEX
The newest dish on the plate of Richard Peacock Jr. is the development of a 150-unit apartment and 5,000-square-foot retail complex proposed for the prominent location where Austin Highway meets Broadway. Peacock and his partners — Ed Kopplow, Greg King and Bruce Hill — who all live within 3 miles of the proposed complex, have formed the Broadway Ellwood Co. as a single-purpose company. Ellwood is the street that crosses the corner from Austin Highway over to Broadway. Even though Peacock usually tries to keep on the sidelines, the other partners have asked him to be the lead on the project.
A THREE-PART HARMONY OF TEXAS OWNERS, DEVELOPERS AND ARCHITECTS
The partners have owned the prime piece of real estate for a decade. They were waiting for the right recipe — the right project with quality architecture, beneficial to and serving the community, and economically viable. Peacock states, "My intention has always been to do the right thing, in the right way. This community is worth this kind of effort." A year ago, he and his partners were on the verge of selling the property to a Dallas developer, but the plan fell through when that group's proposal did not fit the neighborhood. "Argyle Residential, an Austin-based apartment developer, came to us with vast apartment development experience, offering their expertise in developing the site," says Peacock. The two principals, managing director John Burnham and Dudley Simmons, both of Austin, are sensitive to Peacock's criteria and were welcomed as full partners in the project, according to Peacock. He states, "There are eight points of self-imposed design criteria that Broadway Ellwood Co. went by when choosing the architects, Overland Partners, with Good Fulton & Farrell, Inc. of Dallas." The architectural elevation shows how the contemporary design of the complex will fit in well with other Spanish Mediterranean Revival buildings in the area, such as the historic Mobil station on the opposite corner, where Sloan-Hall is located, and the McNay Art Museum, which sits to the east of the complex on Austin Highway. The new plan still has a few months of approval processes to undergo before becoming a work-in-progress.
THE APPROVAL PROCESS HAS BEGUN
Last fall, Peacock received tentative approval to purchase a certain amount of right-of-way use that surrounds the property. He presented the plans at the Alamo Heights City Council meeting on Jan. 12 based on that tentative approval, asking to be able to purchase this right-of-way land. "We feel an obligation to build something special that is worthy of this location, and without the right-of-way land, we simply wouldn't have the land necessary to be able to do so," he said. He explains, "The approval we received last fall is subject to two conditions that include both parties agreeing on the purchase price and obtaining all of the necessary city approvals. If we can't agree upon a purchase price or if we don't receive final city approval, the tentative right-of-way purchase approval would be withdrawn." The city engaged an appraisal firm to give their opinion as to the value of the land to be acquired. "Their valuation is based upon several comparable sales of right-of-way, which confirm that right-of-way is commonly valued at a fraction of the value of the primary piece of land," says Peacock. The appraised value was discussed at the Jan. 12 Alamo Heights City Council meeting, and several residents expressed their concern regarding what they perceived to be a low valuation. "Frankly, we too were surprised at the valuation," Peacock says. The council postponed any action until the next meeting, when they can have a representative from the appraisal firm explain their valuation process.  Peacock added, "The justification notwithstanding, we want city officials and community members to be certain that the city is being fairly compensated. Toward that end, we have suggested to the city that we would be open to negotiating a higher purchase price."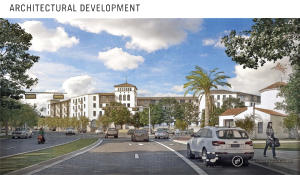 NEXT COMES THE ARCHITECTURAL REVIEW
"We are just now beginning to go through the city's extensive development approval process," Peacock continues. "Our plans, presented to the Architectural Review Board on Jan. 20, will be followed by presentations to several additional hearings, including the Planning and Zoning Commission."
DEVELOPING A SUPERIOR COMPLEX
Peacock and his partners' enthusiasm for this project is evident in their desire that the development will cater to "discriminating individuals who share our appreciation for top value, quality construction and exceptional and thoughtful architectural design. The finishes will be comparable to those found in upscale homes. We also believe that the project's easy-to-get-to location and secured, covered underground parking, combined with amenities such as a fitness center, restaurant and retail space, will make it a highly desirable place to live."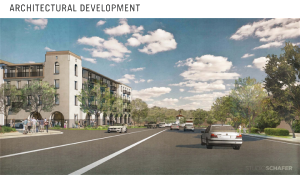 By Carolyn Seldon Lay
Photography by Casey Howell