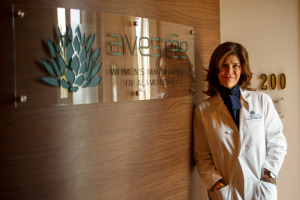 LOCAL DOCTOR MAKES BREAST SCREENING COMFORTABLE AND CONVENIENT IN '09
Board-certified radiologist Dr. Suzanne Dabbous founded Avestée Women's Imaging Center on Sunset Road in 2013 to serve women with a softer, more welcoming ambience. She used her home design sensibility for Avestée, and the result feels like a spa retreat in the Texas Hill Country. That was just part of the doctor's goal. Recognizing the importance of the new 3D Digital Breast Tomosynthesis (DBT) imaging system, when Dr. Dabbous learned it had been approved for breast cancer screening by the FDA in 2011, she had already attended the training and then opened Avestée to offer the technology to women in San Antonio as soon as possible. October is Breast Cancer Awareness Month, and Dr. Dabbous feels strongly that women should get a 2D/3D combo mode mammogram each year from age 40 through their 70s. 3D mammography increases the efficiency of the test, helping to catch cancer at earlier stages. The screening machines look the sameand take almost the same amount of time. The patient's breasts are still compressed in the same number of positions, but in a slightly less painful way. "It's an easy test that saves lives," says Dr. Dabbous. Her advice to women is to "commit to a prompt annual mammo screening. When it becomes routine, there is less trepidation. If something shows up, it will be early and more treatable. Lax or sporadic screening is not as efficient."
Avestée also provides breast ultrasounds, a full spectrum of body imaging and ultrasound services, stereotactic and ultrasound-guided biopsy and bone density studies. This alleviates having to set multiple appointments and waiting for results. Dr. Dabbous analyzes the scans herself. If she is out of town, there is a staff of highly trained women imagers on site to read and interpret the tests. Most have more than 20 years' experience as radiology technicians. Last year, Avestée earned the Breast Center of Excellence accreditation from the American College of Radiology. In Dr. Dabbous' effort to make the 3D screening available to as many women in San Antonio as possible, there is no extra charge to patients beyond the cost of the usual 2D, and Avestée accepts most major commercial insurance, HMO/PPO plans, Medicare and other government-sponsored health coverage. Dr. Dabbous loves having her office in '09 and often jogs or rides her bike to work. Fifty percent of Avestée's patients live in 78209 and 78212. However, the word is getting out, and referrals are coming in from as far away as Laredo and Hondo as well as New Braunfels.
FAMILY MATTERS
Born in Austin, Dr. Suzanne Marlar Dabbous grew up in San Antonio, graduating from Churchill High School in 1986. She fondly recalls receiving very positive encouragement from her teachers. Her parents also encouraged her to always do what she wanted to do. They live in Bulverde now, where they raise organic grapes and olives. Suzanne also loves gardening. She is still very close to her parents and considers her mother her very best friend. Her brother, Bart Marlar, is in commercial real estate in San Antonio. Among her credentials, Dr. Dabbous earned her B.A. with honors in the humanities program at the University of Texas in Austin and her M.D. from the University of Texas Health Science Center in San Antonio, where she received the highest academic honor, membership in Alpha Omega Alpha Medical Honor Society. She completed her radiology residency at Baylor University Medical Center in Dallas, where she received her training in mammography at the Komen Breast Center. Even though Dr. Dabbous is also a fellowship-trained neuroradiologist, she has chosen to restrict her practice to women's imaging. She met her husband, Ash, in medical school. She said he was the class president but coquettishly admits that she didn't vote for him. She beams to note that he uses robotic surgery in his own urogynecological practice in Stone Oak.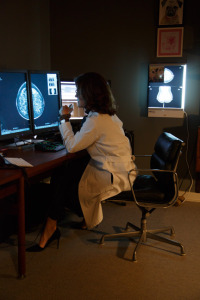 IN HER SPARE TIME
In addition to being members of the Argyle Club, the Dabbouses have a longtime affiliation with the Texas Biomedical Forum, and Suzanne served as the Forum's board president for two years. Once active in various organizations, she now spends her time with her children and their school projects. Her 9-year old son, Maximillian, attends San Antonio Academy, and her 11-year-old daughter, Estée, is at Saint Mary's Hall. Home life in the Dabbouses' 1927 house in Monte Vista is typically chaotic. Mamma sheds her lab coat at 3 p.m. to pick up the children and get home to prepare dinner. She likes cooking for her family and baking fresh pies. Family time is precious to Suzanne and Ash. They do not make any commitments after church on Sunday that will preclude spending their Sunday afternoons with their children and their three pugs. After relaxing in the pool, Suzanne and the children are likely to play the piano. They also like hosting house parties and bringing out the karaoke machine. The adults also love opera, especially Ash. Recently, they had to miss La Traviata, but imagine Ash's delight to find himself sitting next to Renee Fleming on the plane the next day.
When the family finds time to travel, they enjoy return visits to France, including snow- skiing trips. For shorter getaways, they have a house on Lake Amistad, where they take their boat out for water skiing. Dr. Suzanne has set a balanced pace for her life that seems to include everything without overcrowding. When asked if she had a favorite quote or words to live by, she called attention to one special quote on a wall at Avestée, which reads, "Character is how you treat those who can do nothing for you." Women who go to Avestée are treated very well, beginning with a welcoming staff and atmosphere and the dignity of a private dressing room and a warm gown. That's just part of it. They can also be confident they are getting the most accurate tests available and the quickest results possible. Avestée Women's Imaging of Alamo Heights is located at 303 W. Sunset, #200, and can be reached at 82-mammo (826-2666) or at their website, www.avesteeimaging.com.
By CAROLYN SELDON LAY      Photography by CASEY HOWELL