REPRESENTING THE HEIGHTS OF FASHION
Comfortably situated in a shady corner of the Carousel Court retail center in the very heart of '09's Oak Park neighborhood, one finds an exceptional purveyor of equally exceptional women's attire, where remarkable style, value and personal service superbly and seamlessly co-exist. Known simply as Andie & Barbara, this extraordinary enterprise has been "the destination" for generations of the area's discerning women, all seeking clothing and accessories that do nothing less than flatteringly "fit" – the occasion, the season, the pocketbook and, most importantly, the wearers themselves. With its hometown connection coupled with its incredible, always-evolving international inventory, to many, Andie & Barbara represents nothing less than the "height of fashion," or, perhaps more appropriately because of its 78209 digs, the "Heights" of fashion! Named after founding partners Barbara Lozano and her pal, Andie Erben, the pair first linked up while working at The Boutique at Los Patios.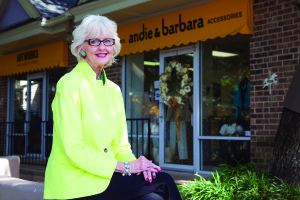 While Andie was a local girl, as Barbara recalls, "I hit the Alamo City only after my husband received a business transfer in the late 1970s."
Originally from Detroit, the young sometime-model had acquired extensive clothing industry experience while working at Motown's respected J. L. Hudson Department Store, where she was employed as its fashion coordinator. After eventually buying and operating The Boutique at Los Patios, by 1981 the entrepreneurial pair had relocated the thriving business to the Castle Hills area while also adopting the store's current moniker – Andie & Barbara. After Andie married, Barbara assumed sole ownership and has operated the business since. She moved andie & barbara to Alamo Heights in 1986, first to the Dijon Plaza and then, about a year ago, into its current home in the Carousel Court. Wherever the location, however, thanks to the gifted and energetic proprietor's overriding sense of style and commitment to service coupled with her very competitive pricing, her clientele, while continually growing, has remained incredibly loyal through each move.
At today's andie & barbara visitors will still delight in the overflowing racks and shelves filled with fashionable wonderment. Jackets, blouses, slacks and sweaters from some of the world's foremost designers and manufacturers abound. Included are prestigious names like Ming Wang, Multiples, IC, Focus, Sandra Roberts and FDJ. Colorful and fun accessories such as purses, jewelry, scarves, blessing bracelets and more add to the excitement.
As Barbara attests, "Basically, we have what's needed to put together every piece of a great outfit."
And, ladies, she's not just bragging. Beyond the wearables, for those still eager to make a purchase, multiple gift items round out the offerings, including luxury soaps, candles, Bearington Bears, Aromatique, picture frames and other neat and unexpected items. What many customers really like is the intimacy and closeness that one experiences at andie & barbara. With its cozy 1,500-square-foot floor plan, once guests are inside the door, they can seemingly take in almost everything in one quick glance, but as veteran shoppers know, a closer inspection of the ever-changing inventory is mandatory because, as Barbara, the store's sole buyer, admits, "There's always something special and new. I make sure of that!" Further adding to the intimacy is the fact that andie & barbara is manned only by Barbara; her daughter, Susan, who assists on weekends; and her very artistic seamstress and tailor, Lilly, who's been with the shop for 25 years.
As relationships between these three and their clients develop and deepen, a natural understanding is established that allows the a & b crew to make appropriate recommendations when something "perfect" comes along, and as Barbara relates, "Frankly, many of our customers are surprised by this attention, but really that's all part of the service." Special orders are also gladly accepted. In summation, andie & barbara is a lot like the neighborhood it serves — trendy, timely, close-knit, classic, friendly and, above all, fashionable. Yep, when considered, it really does seem to represent the "Alamo Heights" of fashion and looks good doing it. Andie & Barbara is located in the southeast corner of Carousel Court at 1836 Nacogdoches. Its hours of operation are Monday through Saturday from 10 a.m. until 5 p.m. The phone number is 210-828-4070. And there is plenty of parking.
BY ERNIE ALTGELT
PHOTOGRAPHY BY ELIZABETH WARBURTON