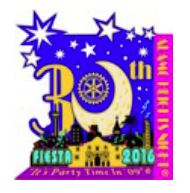 Photo Courtesy of http://www.fiesta-sa.org/
SAN ANTONIO, TEXAS – February 2, 2016 – The 30th Annual Alamo Heights Night celebration will take place on Friday April 15th, 5:30pm to 11:30pm at the campus of the University of the Incarnate Word at 4301 Broadway. 
"This year will be our 30th annual event. It has grown significantly over the years but still retains its fun, family oriented atmosphere. Proceeds from the event have provided scholarships to hundreds of students attending university and vocational training programs and over a million dollars to local charities and special projects" said Rick Berchin, Operations Manager. "Our club is looking forward to another 30 years of successful events and community support" added Berchin.
The event dubbed "Party Time in '09" ("09" being the last two digits of the Alamo Heights zip code) is famous for their incredible selection of food from some of San Antonio's favorite restaurants. This year's bill of fare will feature sweet and savory items from restaurants such as Rainforest Cafe, Los Barrios, La Madeleine, Fresh Horizons Catering, Al's Nuts and Bunuelos.
The family-friendly atmosphere will deliver entertainment and activities for kids of all ages including a carnival midway and a performance by Fire on the Mountain Cloggers. Live music will take place all night on multiple states as Hotcakes will return to perform on the main stage along with Suede, the premier variety cover band from Austin who made their Alamo Heights Night debut last year.  Additional musical entertainment will include the Rick Cavender Band, Tennessee Valley Authority, mariachis and other special surprises.
Admission is free for children under 12 and for all active duty military with a valid ID. Tickets are $5 for ages 12-17- and students with a valid ID and $12 for adults. All ticket sales will take place at the event site (no advanced sales). Free park and ride service available from Alamo Heights Methodist Church and Alamo Heights High School. Shuttles will run from 5:15pm until 12 midnight. Parking will be available in the AT&T lot at Hildebrand & Broadway and VIA will offer park & ride service from Wonderland Mall of the Americas/Crossroads Mall in Balcones Heights (151 Crossroads Blvd, 78201). 
The Alamo Heights Rotary Club has raised over $2,000,000 in support of non-profit organizations and community service activities since its inception. Alamo Heights Night is their largest fund raiser, organized by over 100 volunteer Rotarians who head numerous committees and recruit 700+ volunteers to make the event a success.
Visit www.AlamoHeightsNight.org for more information or find them on Facebook at facebook.com/AlamoHeightsNight or call 210-842-2462.
---
PRE-EVENT MEDIA CONTACT:
Kim Arellano: 210-725-5477
kimberly.arellano@att.net
MEDIA CONTACT DURING EVENT:
Richard Berchin: 210-273-1961