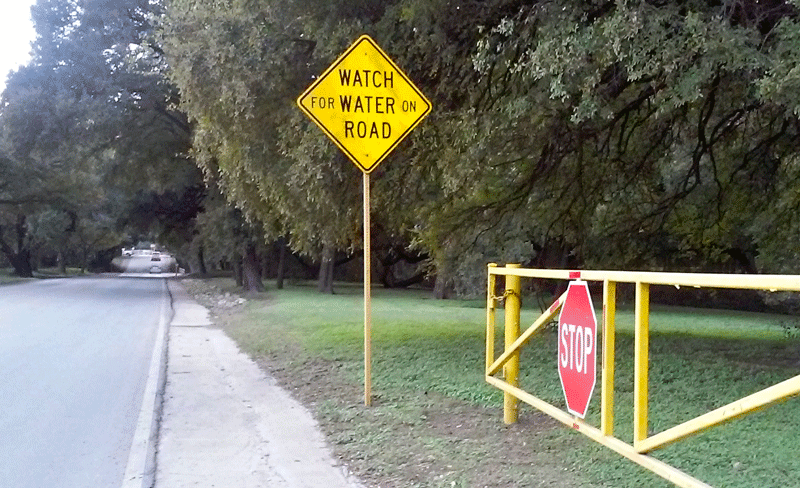 The city of Alamo Heights has asked Bexar County to be allowed to join in the county's High Water Alert Lifesaving Technology (HALT), an advanced system that helps to alert motorists of flooding conditions.
Specifically, HALT uses a sensor to detect rising water. Once water gets to a certain depth, the system will warn motorists to turn around with either flashing lights or a combination of flashing lights and gates. The county activated the HALT system in early 2013 with more than 50 sensor sites and plans to install nearly 100 more.
Typically, in many areas where flash flooding is a concern, it takes emergency first responders to spot rising waters and manually erect barricades or use some other established method to close the affected roads. In the case of Alamo Heights and Olmos Park, a heavy rainfall north of town can result in flash flooding in the Olmos Basin, particularly near the Alamo Quarry Market area.
dns probe finished no internet This is one of the common DNS related problem that you can fix by changing your default DNS server to other DNS services like Google's DNS, OpenDNS or other DNS servers DNS.
Police officers from both cities close a series of gates to roadways and bridges in the Olmos Basin to prevent drivers from accessing a flooded part of the area. "The Olmos Basin is doing what it was designed to do," says Alamo Heights Police Chief Rick Pruitt. "It doesn't take a lot of rain to fill it up." Pruitt proposed to the Alamo Heights City Council on Sept. 28 that the city join the county's HALT program, saying it would be simply another tool to help local public safety personnel, even in potential flooding conditions.
The placement of a master station at the low-water crossing between Alamo Heights Boulevard and Dick Friedrich would activate seven flashing beacon stations set up on roads near the Olmos Basin. The flashing beacon stations would stay active until floodwaters recede below the flood sensor. As of mid-November, County Commissioners had yet to finalize the system plan. If approved, Alamo Heights would have two flashing beacon locations, and San Antonio would have three, all around the basin. The beacons would have the ability to recharge on their own. Olmos Park officials have expressed interest in letting their city join the HALT system. If they join, their city will have two flashing beacon locations.
The county would provide the master monitoring station and flashing beacons to the cities at no cost. All devices would be a city's responsibility after one year of warranty has expired. San Antonio would handle maintenance of the beacons within its city limits.
Pruitt said in the meantime Alamo Heights' personnel are always aware of potential flooding conditions in their city, as flash flooding does occasionally occur not only around the basin area but on the Austin Highway/Broadway junction. "We try to be proactive and have a sense of what may precede flooding," Pruitt said, adding that police officers go into the Olmos Basin Park, part of Alamo Heights, to help evacuate visitors if needed. It's a pre-planned step prior to the closure of gates on roads leading in and out of the recreational area.
Pruitt and Mayor Louis Cooper also agree that HALT affords local first responders a little flexibility in the event of potential flooding. If public safety personnel are tending to an accident or some other incident elsewhere at a critical time, sufficient manpower may not be instantly available to manually close gates, as is the current practice.
Cooper said joining HALT also speaks to a greater need to address flooding and drainage problems in the Olmos Basin area. "It's a regional problem. Say if VIA (Metropolitan Transit) has a streetcar, with a plan that is approved, and that streetcar route is flooded, the streetcar will have to get around the flooding," Cooper explained. Because Olmos Creek begins northwest of the Alamo Heights area, other cities and public agencies would have to get involved in proposing long-term ways to improve drainage in the basin area. "This is not to say Alamo Heights flooding will be fixed in the short term. It's too expensive. It takes time to plan and assess costs, but this helps to raise the visibility of the issue," he said. "It's a place to start."
NEISD VOTERS APPROVE $500M BOND ISSUE
BY EDMOND ORTIZ
Voters in the North East Independent School District (NEISD) went to the polls on Nov. 3 and overwhelmingly approved a $499.95 million bond. Sixty-six percent of district voters passed the package, which includes 69 projects and will affect all campuses within the district. It's the fourth bond issue that district voters have approved in 12 years.
"We appreciate the community that went to the polls and voted," said Dr. Brian Gottardy, superintendent of schools. "A lot of great things are going to occur for students at every one of our campuses."
NEISD will use the bond money to improve, or replace older campuses and facilities over the next five years. The single-proposition bond was divided into five categories: Safety and security, technology, operations, extracurricular and facilities.
Some planned projects include adding security check-in vestibules, expanding the district's wireless network for technology devices, replacing 60-year-old bleachers at Comalander Stadium and enlarging or replacing band halls and fine arts facilities at several middle and high schools.
Most of the money, about $225 million, will be allocated for facility equity, including a new fine arts complex at Lee High School, portable classroom replacements at Regency Place Elementary School and campus replacement projects for Jackson, Krueger and Garner middle schools.
Readers of 78209 Magazine should also expect to see additions and renovations at the MacArthur High School fine arts building and work on walking tracks at Northwood, Walzem and Serna elementary schools under the new bond.
Dr. Gottardy said it will take most of 2016 for district consultants and contractors to do design work related to the new bond projects.

BY EDMOND ORTIZ