Police Chief Named City Chief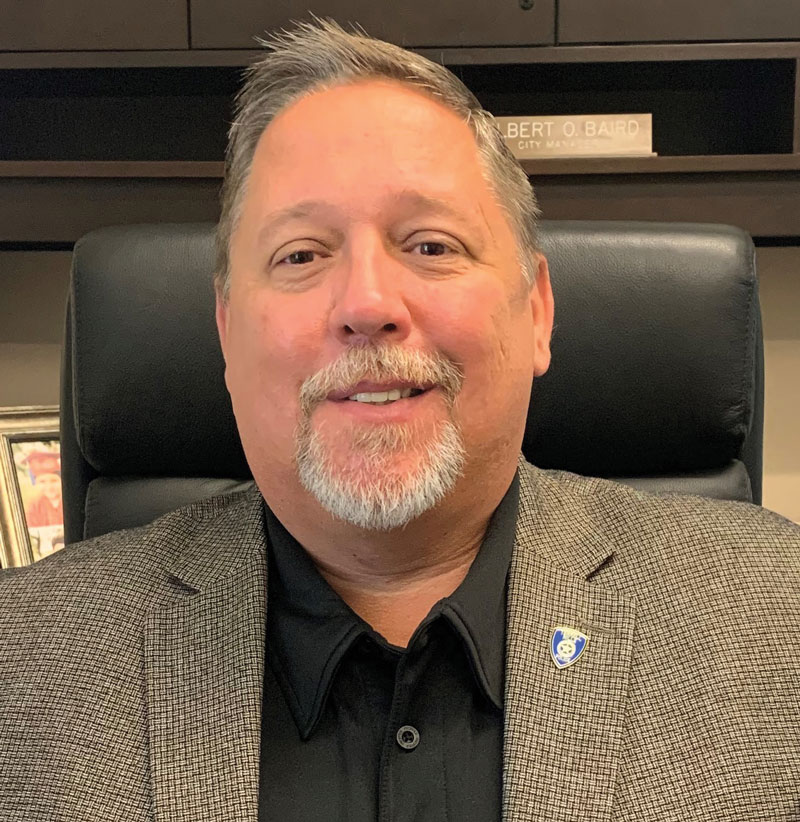 Terrell Hills' new city manager followed a familiar path – from police chief to city chief. It's a path Bill Foley's predecessor Greg Whitlock took when he came out of retirement in 2016 to take over as City Manager. "Whitlock was my mentor. He brought me to Terrell Hills and encouraged me to embrace the leadership role in law enforcement," Foley told 78209 Magazine. "And, he enabled my attendance at several high level, national training programs for top law enforcement officers.
"My other model was my grandfather. He was city manager of Taft, Texas, where I grew up," Foley recalled.
"Moving from Chief of Police into the City Manager's job is not a big jump," Foley said. "As city manager, you need knowledge of the city and its culture. You need to know how things work. And as police chief, you really get to know all that and more.
Why did I take the position? "I love Terrell Hills. I also love law enforcement and enjoyed serving as chief of police. If I can do good for the city and leave a legacy for the employees in whatever role I fill, that's all good.
"I've spent 25 years of my life in case public service and love it. As city manager, I can affect people's lives in very positive ways and see the results of our work."
Foley acknowledged taking over as city manager amid the COVID-19 pandemic is like sailing into unchartered waters. "No one has done this before, and so you try to do the best you can to move on from one thing to the next.
"The challenges are enormous, which is ok. We're having to pretty much think on our feet – but as a cop, you're good at that. Thinking on your feet is what you do day after day. Foley said the virus has impacted Terrell Hills.
"We have some people quarantined, but no one to my knowledge has died."
He has had to change the way he conducts himself on the job. Foley is a big guy who used to love handshakes and hugs. "I'm a hand-shaker, and a back patter and connections with people are important, but that went the way of the Dodo bird when the coronavirus came to town."
"We just don't hug and shake hands anymore. I'm not going to shake hands; we're adults. Those types of practices are dangerous, so we're not doing that."
"I am pretty much a professional generalist – I need to know a little about everything. My job is the day to day finance and operation of the city. Council sets policy, and I handle day to day operations."
While he is in no hurry to retire, Foley said he does have a bucket list. "My bucket list is to retire from the city of Terrell Hills someday and spend as much time as I can with my grandson – Nicholas, He's six years old, my daughter's son.
"We swim every day we can; we shoot b-b guns, we fish, and we watch a whole lot of cartoons."
In fact, Foley laughs, "The other day, I watched about five hours of Mario brothers."
When interviewing the Terrell Hills' new police chief Bill Foley for the February 2017 issue of 78209 Magazine, I noted if he had followed his childhood dream, he would have been a farmer or a very successful rancher, not a law enforcement officer.
Foley was active in the Taft High School FFA (Future Farmers of America). He raised a Reserve Champion and a Grand Champion Steer. His family had farmed the area since the late 1890s, growing cotton and grain.
Today he will tell you, "Thank God I didn't become a farmer." Yet that ag background may come in handy as he tackles one of the new issues on his plate – chickens. It turns out an increasing number of folks want to raise chickens in their yards.
"I never gave chickens a second thought in my life, but now there are folks who want chickens and folks who don't. Council will have to listen to both sides. At some point, we could have an ordinance to allow chickens in residential yards."
Before that day, however, Foley and his team still must deal with COVID-19. "That virus is like the lead buffalo in a stampede," he said. "At the moment, it will go wherever it wants to go, and we're forced to react.
By Ron Aaron Eisenberg