Foreman of the Public Works Department in Terrell Hills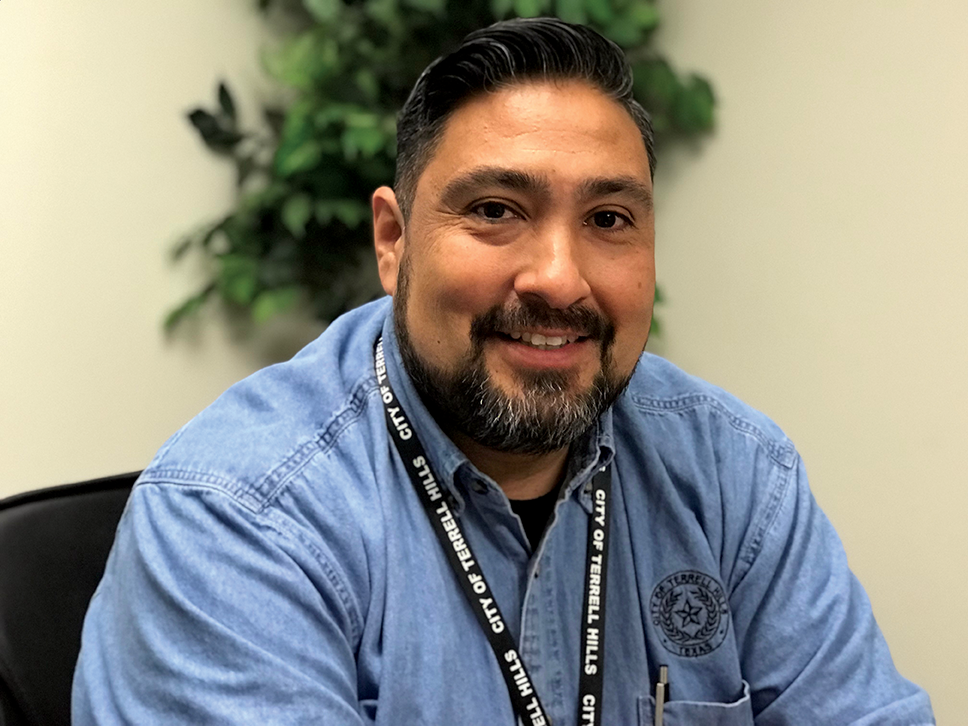 Rick Baldarrama loves his job. And that, according to a recent Gallup study, is rare. Indeed, Gallup found two-thirds of American workers are disengaged at work, or worse. A majority of workers actually hate their jobs.
According to the Huffington Post (May 2017), "If an employee is not happy with his or her job, it will show in his or her productivity. Employees putting off work means that they simply do not want to do it, so they will procrastinate until the very last moment and rush through completing a task. This leads to poor quality control standards, unsafe products and dangers to consumers."
Worldwide, Gallup found, only 13% of workers are engaged in their jobs. That means the vast majority are not engaged.
But not Rick. As Forman in the Public Works department in Terrell Hills, he reports to Gary Hunter, director of development services and public works. [For more on Gary Hunter check out the January 2017, 78209 Magazine.]
Baldarrama told 78209 Magazine, "I enjoy meeting different people every day. The vast majority of the residents in Terrell Hills are nice. They are cool and very appreciative of what we do."
What he and his team do is pick up trash, maintain the streets, fix pot holes, and address issues like drainage, and the occasional stray skunk, fox, or raccoon who wander into people's yards, and more.
Baldarrama grew up in San Antonio. He graduated from Kennedy High School. "When I wasn't in class I was working, which left little or no time for sports or other school activities. I had no idea what I wanted to do.
"But he I got my CDL (commercial driver's license) and started driving trucks for SAWS. In 2013, I went to work for the City of Terrell Hills driving a trash truck." He was quickly promoted to Foreman and a few years later he became Assistant to Director Hunter in Public Works.
Baldarrama enjoys being with his coworkers. "We are a family," he says. He encourages young people to consider working for city government. "There are great benefits and opportunities for advancement."
But he also enjoys spending time with his wife, Angie, and their two daughters. "We love taking family trips, especially to the river." Most Sundays you will find Baldarrama grilling ribs – "my wife's favorite are pork ribs; I like beef ribs."
His 20-year old daughter attends NW Vista College. She's not sure what she wants to do. But his 15-year old girl, who is at Stevens High School, knows exactly what she plans to do. Fashion. And fashion design.
Some people are surprised to learn that Baldarrama and some of his family members have run the Rock and Roll Half Marathon for the last three years in San Antonio. He's planning to run it again in December. "It was just something I thought I'd like to do. And so, I did it. And liked it."
When he's not grilling ribs or training for the half marathon, Baldarrama enjoys welding. "I learned to do it in high school and love it. I also took a continuing education class in welding through Northside ISD." What does he make — "whatever my wife wants me to make."
He understands if momma's happy, everyone is happy.
The Baldarramas have one dog. "He's a 16-year old beagle named Skip. He's getting along ok, despite some medical issues like hip problems," Rick notes. But no matter the medical issues, like beagles everywhere, "He can sure howl at anything or nothing. It's what beagles do."
By Ron Aaron Eisenberg