Don't Tell City Council, Alamo Heights New Fire Chief Would Do It For Free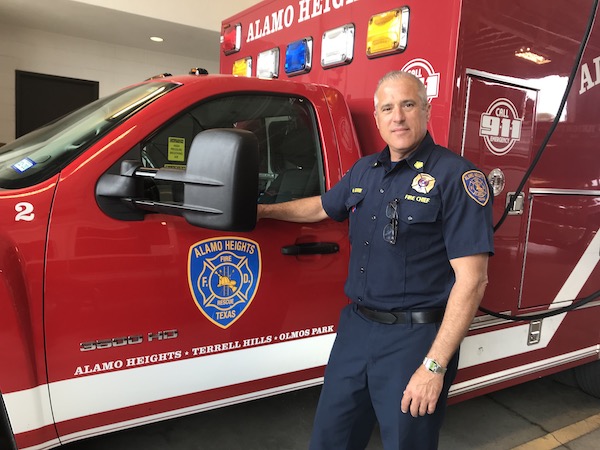 When Michael Gdovin graduated from Madison High School in 1981, he had no idea what he wanted to do with the rest of his life.
Born in Connecticut, he and his family had moved to San Antonio when Gdovin was 10-years old. His dad was a draftsman at Church's Chicken, helping design new stores for the fast food company. Next stop for Gdovin, following high school, was UTSA. He went there "briefly," but soon decided he wanted to go somewhere "warm."
He traded his 1972 Pontiac Firebird to his brother for $400. He used the money to buy a one-way ticket to somewhere warm. His brother said, "How about Tampa?" Gdovin said ok. The one-way airline ticket took him to Florida.
"I took all my possessions in my 'Star Wars' pillowcase, which I still own. It's nearly see-through now, and sits on my bed in the firehouse."
He returned to San Antonio when his brother Joseph developed leukemia and Gdovin cared for him until he passed away. He has two other brothers, Rafael and Matthew, his twin. Both earned PhDs. "They're the smart ones," he laughs.
Once back in San Antonio, he began doing construction work. "The guys I was working with were a little older than me. They were always talking about firefighting. How much they loved it. How good it was to help people. I didn't find out until l asked them what the job paid and they said, they did it for nothing. They were volunteers.
"I said to myself, that job is so cool, they'll do it for nothing. I need to do that."
Gdovin tested for the San Antonio Fire Department, but he ended up number 300 on the list. Some 5,000 had tested.
"It would have taken years for me to get into the fire academy. But my wife told me there was an academy in Florida, near where she grew up. So, when our daughter was just three weeks old, we moved back, and I entered the academy there. I graduated in 1988 and began the job as a firefighter on Friday the thirteenth. They gave me badge number 13. That was in 1989. I stayed for five years, working in a department in Central Florida."
But, Gdovin kept returning to San Antonio at Super Bowl time to watch the game with his dad and visit with family. "While I was in town I always stopped by many of the fire departments to see if they were hiring."
In 1993, he moved back to the area and accepted a position with the Alamo Heights Fire Department. He has been there ever since.
He worked his way up from shift work to a lieutenant position, to captain, and then, in 2012, to Deputy Chief. In 2019 after former fire chief Buddy Kuhn was named the new Alamo Heights City Manager, he selected Gdovin to be his replacement. The new Chief has come a long way since he first heard about firefighting back in the 1980s.
In his thirty-plus years as a firefighter, Gdovin said he has delivered five babies. Speaking of babies, the Chief has two children, a son aged 32 and a daughter aged 30. He also has three grandchildren.
These days, one of his primary concerns is homes without smoke alarms. He told 78209 Magazine smoke detectors save lives. And he noted how sad it is to see folks die in their homes for lack of one.
According to the National Fire Protection Association (NFPA), "Almost two-thirds of home fire deaths resulted from fires in homes with no smoke alarms or no working smoke alarms."

Gdovin said, "Several years ago we knocked on every door in Alamo Heights to ask if residents had smoke detectors. If they did not have them, we installed them at no cost to the homeowner." Gdovin suggested the department should do that again if they can get enough smoke detectors donated to the city.
"The recommendation from NFPA now is to have smoke detectors in every room, plus one outside each bedroom. That gives you several minutes of protection from the flames.
Gdovin added, "We offer free home fire safety surveys for residents. And we will install smoke detectors for them if they cannot do so themselves. We'll even go out at 10pm on a Saturday night if you need help installing a smoke detector. We never close."
"I ask residents, what would you spend if I put an off-duty officer in your home, to stand outside your bedroom? If there's a fire, he's going to wake you up. Well, for just $9.99, you can have that same protection with a smoke alarm.
"The pinnacle of our careers is to get someone out of a burning home alive. That's what we are here for."
He then shared a fascinating fact about himself, "I cannot go up a flight of stairs without counting them. It's what I do. Because I need to know that when I go down in the dark. Being in a house on fire is not like what you see in the movies or on television. It's pitch black. You can't see anything. So, knowing how many stairs are there helps me not trip and fall on the way down, when I may be carrying someone."
Gdovin wanted 78209 Magazine readers to know, "I picked this job as a profession. We have a high standard for our guys. I am so proud of them and the work they do. We are," he added, "a family. Albeit a little dysfunctional, but we are a family. I've never had a day when I didn't want to come to work."
What is it about firefighting that hooked Gdovin at an early age, "You get to risk your life for total strangers.
"And the fact is," he said, "I'd do it for free."
By RON AARON EISENBERG