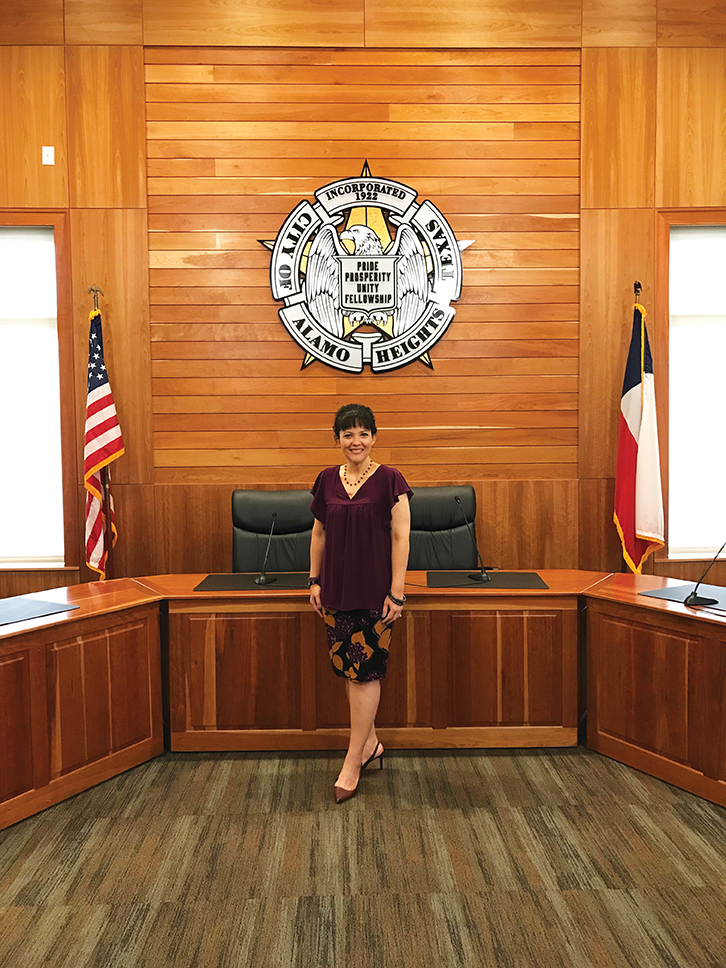 Marian Vargas Mendoza, 47, Assistant to City Manager/Information Services Manager in Alamo Heights, has her hands in almost everything City Manager Mark Browne and council do. That's because she manages the city's IT system as well as internal and external communications, including social media. She also prepares a number of reports to state and federal agencies.
Mendoza was born in Ft. Hood, Texas but lived in Korea until she was five years old. The family moved back to Ft. Hood and then to San Antonio, where she graduated from Fox Tech. She went on to Baylor University and then St. Mary's where she earned her bachelor's degree.
She worked helping homeless women and children for several years, including 18-year old teens who had aged out of government services. But working with at risk women and children was emotionally draining. And she knew she was approaching burnout. In 2003, she began looking for her next opportunity. It turned out to be with the City of San Antonio.
"I didn't really like big government. So, in 2005, she joined the City of Alamo Heights as a management analyst, when the city transitioned to a council-manager form of government. She's worked with every Alamo Heights city manager.
What does she do? She lists an amazing number of responsibilities on her LinkedIn page: including grant monitoring, grant writing, the development of RFP/RFQ for Administration/Finance/Public Works, Storm Water Management, Water Quality Reporting to TCEQ, Water Conservation Report to Edwards Aquifer Authority, the development, implementation and upkeep of City website and social media sites, development and implementation of the monthly City Newsletter, organization of major City/Community events and maintaining/monitoring of City IT infrastructure. The most recent major project was the construction of the $6.4 million+ City Hall Complex. She oversaw all the IT, AV and Communications infrastructure for the new buildings including a full IT system upgrade. And more.
What's clear, Mendoza keeps busy.
What does she love about Alamo Heights? She told 78209 Magazine, "I love the small town feel of Alamo Heights with its big town services. I love that our residents want the feel of Mayberry but the convenience of New York City." She would love to see more restaurants opening in the city. And she is enthusiastic about plans to reshape and revitalize Broadway and the city's business district.
Mendoza is also excited about the city's 5K run which she manages. It began a couple of years ago.
When she's not at work, she enjoys spending time with her family. She and her husband, Juan, have four children – two of hers and two of his—three girls and a boy.
Mendoza says she enjoys reading fiction and admits to being an avid reader of Stephen King novels.
She's a foodie too. "My friends and I try a new restaurant at least once a month." She also enjoys making memories for her family.
This summer Mendoza will make one of those memories, as she retraces part of her dad's history. They will visit an abbey in Oregon where her dad spent eight years living the life of a monk. "He followed the monastic silence as a monk. They only spoke to recite certain daily prayers. But that was it. They speak more now," she said.
Mendoza is thrilled that "three monks who are still in the abbey remember my dad." She's taking her 13-year old son on the trip. "He's really a mini-me," she laughs.
Mendoza said, "Dad served in World War II and the Korean conflict before he entered Our Lady of Guadalupe Trappist Abbey in Carlton, Oregon," Mendoza told 78209 Magazine.
A spokesman for the abbey told Mendoza it was fairly common following World War II and the Korean conflict to see servicemen, like her dad, seek a quiet, religious life. Abbeys were a choice for many.
"After eight years as a monk, however, her dad decided it wasn't his calling." He went back into the military. and served in Vietnam before entering the civilian world. '
Her dad passed away two years ago. But Mendoza is quick to note, "He was ninety when he died. He lived a good life."
By Marian Mendoza
By Ron Aaron Eisenberg