Doing What She Loves
"I wanted to be a police officer ever since I was a little kid."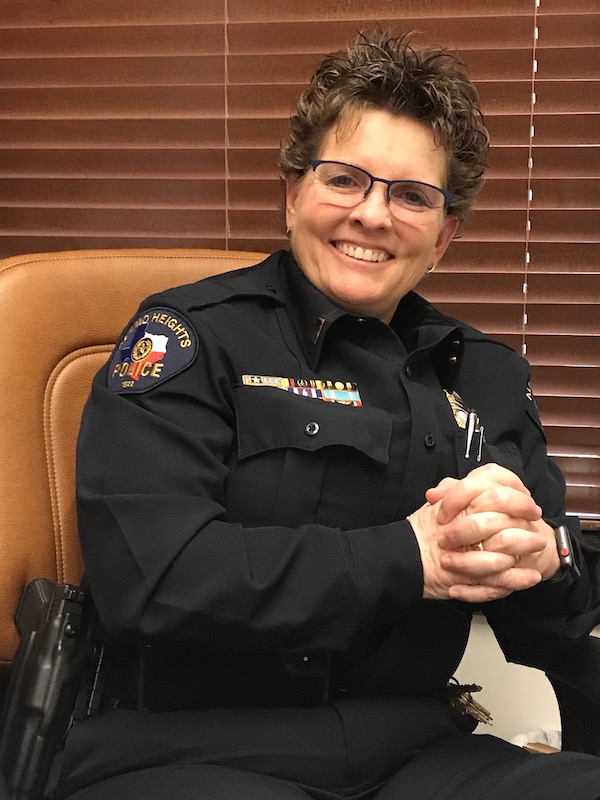 Alamo Heights Police Lt. Cindy Pruitt is exactly where she wants to be. She told 78209 Magazine, "I wanted to be a police officer ever since I was a little kid."
And, without question, she looks the part. Her demeanor is all business, except for an amazing smile that frequently races across her face. She is very stylish, with a commanding presence that gets your attention. When Cindy speaks, people listen. Pruitt was born in Cortez, Colorado in 1963. Her family moved to Farmington, New Mexico when she was about five years old. And that's where she grew up. She graduated from high school in Farmington and shortly after graduation, Pruitt moved to Texas, where she enlisted in the Air Force. She was trained as a security police officer.
Pruitt's Air Force career eventually took her back in San Antonio. She left the Air Force, and enrolled in the San Antonio College Police Academy. After graduation in 1988, she joined the Schertz Police Department as a patrol officer. In doing so, she fulfilled her childhood dream.
Over the next few years Pruitt earned her B.A. Degree from St. Mary's University, in Criminal Justice, and a Master's Degree, in Public Administration, from Webster University San Antonio.
In 1999, she joined the Alamo Heights police force as a patrol officer. She loved the work, the day to day variety. Not knowing what each day would bring was perfect. Her career began to take off in Alamo Heights. In 2010, she became the Patrol Sergeant. Pruitt was then promoted to Patrol Lieutenant in 2014.
She currently serves as the Aministrative Lieutenant for the Alamo Heights Police Department, with oversight of the Patrol Division, Code Enforcement, Communications Division, Animal Control, School Resource Officers, and Training. She stays busy. But enjoys everything she does. Indeed, Pruitt said, "I like this job as much today as the day I started."
The School Resource Officer is a new program in Alamo Heights. Pruitt said it began on December 17. The goal is to train and place officers in selected schools to enhance security for the students, teachers and staff. So far there's an officer assigned to Alamo Heights High School. Others may follow in schools located in the city of Alamo Heights.
Lt. Cindy Pruitt noted, "The new superintendent, Dr. Dana Bashara, was a real supporter of this program." Pruitt says they' d been thinking about a police resource officer position for a while.
In a recent talk to the Alamo Heights Chamber of Commerce, Pruitt spoke about identity theft, mail box pilfering, and front porch package stealing.
"Those crimes are taking place in Alamo Heights, and they are growing in number," she told 78209 Magazine. "That's why I wanted to share the information with Chamber members."
She added, "Our officers are getting better and better at tracking down thieves who commit these crimes. But it's not easy."
Her advice to residents to minimize package and mail theft:
• Do the best you can not to leave packages on your front porch.
• Arrange for a neighbor to pick them up for you, if you are not at home.
• Ask that deliveries to your home require a signature from the homeowner.
• Have packages delivered to your office, if that's possible.
• Do not leave mail in your mailbox for the letter carrier to pick it up— thieves are on the lookout.
• Do not use standard mail boxes because thieves are now very efficient at fishing mail out of those boxes, looking for checks.
• Be aware who is your neighborhood and report suspicious persons and vehicles to the police.
Pruitt is a fan of security cameras, like Ring doorbells, and other outdoor security cameras. She explained, "We've been able to use the photos homeowners capture with those security cameras to help identify porch and mail box thieves. The cameras are a big help to law enforcement," she added.
As we talked, she took a moment to praise Alamo Heights police officers. "Our officers are probably some of the best and finest I've ever worked with. Every one of them comes to work every day and puts their best effort forward. They go above and beyond every day. For example, it's not uncommon for patrol officers to help someone change a tire or to give someone a ride to the nearest gas station."
Pruitt embraces technology and is proud to note Alamo Heights patrol officers have worn body cameras for at least the past seven years. "They love the cameras and they have proven to be very useful in our work."
Pruitt is pleased to speak about law enforcement to local groups – schools, neighborhood associations, and others. Just call her office at (210) 822-3321.
When I asked Pruitt what she'd be doing if she was not in law enforcement, she laughed and said, "I have no idea what I'd be doing. Perhaps I would have stayed in the Air Force if I hadn't gone to the police academy."
In her spare time, Pruitt loves to fish, anywhere there's water – from a pier or a bridge, from a boat, it's all good.
While she's a very private about her personal life, she did say, she is married and has children. But that was as far as she'd go in revealing personal information.
No doubt she is definitely some- one who takes identify theft very seriously.
By Ron Aaron Eisenberg