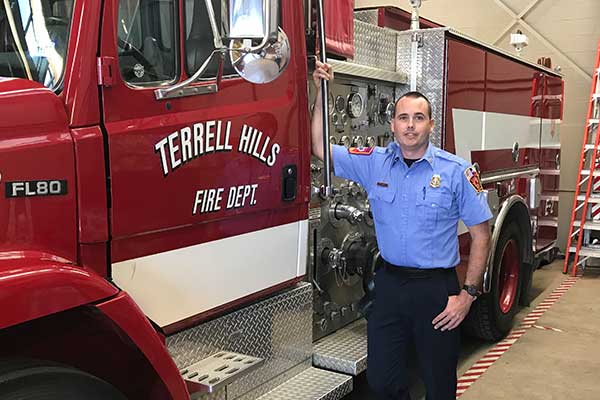 Terrell Hills Assistant Fire Chief
Terrell Hills assistant fire chief Justin Seibert was born in Dallas, Texas, on December 10, 1981. At the age of 12, he and his family moved to Boerne.
Seibert's dream was to become a pilot. But shortly after he graduated from what was then Boerne High School, in 2000, "A friend talked me into joining a Volunteer Fire Department. I was sixteen, and I got hooked on it, just loved it."
Thoughts of flying airplanes went up in a puff of smoke. From then on, all he wanted to do was fight fires. And that's what he has done ever since.
In 2001, Seibert earned his firefighter certification from TEEX (Texas Engineering Extension Service) at Texas A&M's Firefighter Recruit Academy, a world-renowned training facility in College Station.
He almost immediately started as a reserve firefighter in the City of Terrell Hills. Within a month, he was hired as a full-time firefighter. That was in 2002.
At first glance, Seibert, at six-feet tall, looks incredibly fit. His eyes mirror his emotions. Piercing, dark, and serious as he talks about fires and warm and welcoming as he talks about his family. He admits to spending time in the firehouse gym many mornings. It's an important part of his job. And the results of those workouts are obvious.
What is it about the job that Seibert loves? "Every day is different. When I come to work, I have stuff penciled in on my calendar to do, but there's no 'fire' penciled in."
"What happens, happens and we never know what that will be. It's not what you might call a static job."
Seibert was promoted to Lieutenant in 2004, a captain in 2006, and assistant chief in 2011. While his goal is to become chief, someday, "Being number two is not bad," Seibert told 78209 Magazine. The job comes with administrative responsibilities and paperwork, he notes, "But I still get to do some of everything."
For Seibert, that means he still gets to fight fires. "Fighting fires beats everything."
Except for maybe family.
Seifert and his wife, Darcy, were married on November 18, 2006. They met in Boerne, where she worked as an ambulance paramedic.
"Darcy is not currently working as a Paramedic. She is teaching preschool at our daughter's school. She plans to work as a Paramedic again once our kids are a little older."
They have two children – Will and Mandy. And when he's not fighting fires or doing his assistant chief stuff, Seibert enjoys hanging out with the family. He also enjoys barbequing and rooting for the Texas Rangers, the Cowboys, and the Spurs.
Perhaps because the weather plays a critical role in his job, Seibert is a self-described weather enthusiast.
He has several weather gauges at his home in Boerne, including temperature, humidity, wind, and rain detectors, all featuring digital readouts. He doesn't describe himself as a weather forecaster, but he enjoys tracking the weather.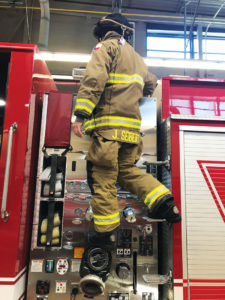 He also enjoys woodworking. He worked with wood in high school, and he still enjoys it. "It's in my blood," he laughs. "Both my father and grandfather were amazing woodworkers. Perhaps as I get older, I'll do more of it."
As for the Terrell Hills Fire Department, Seibert says when we have openings for firefighters, we are looking for kind, compassionate, caring people, who have a passion for the job. Seibert fits that description to a "T."
At present, there are 16 full time firefighters on the force.
In Terrell Hills, the assistant chief says, they see more house than vehicle fires. Like everyone in his profession, Seibert urges homeowners to install smoke detectors and to be sure they are working. He also cautions residents to be aware that ashes, in a fireplace or an outdoor fire pit, can be extremely dangerous. That's how too many fires start –from ashes people think are not a threat.
It's clear, Seibert has found a home in Terrell Hills Fire House. He has no plans to go elsewhere.
By Ron Aaron Eisenberg