Alamo Heights Community Development Director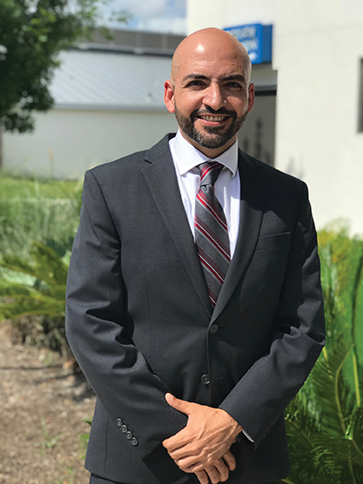 Jason Lutz, Alamo Heights Community Development Director, loves his job, "It's all about problem solving, he told 78209 Magazine. Plus, I enjoy the area. It is very different from what I was seeing in the Hill Country where I used to work. There, we had plenty of land on which to build new construction on large, vacant properties. In Alamo Heights, it's all infill development, because we are land locked."
Lutz began his job in Alamo Heights in 2014, following several years in city planning in Kerrville. His first public sector job was in Marble Falls. The day he started in Marble Falls he said, "I knew the public sector was for me."
Lutz had been working in the fracking industry. However, the environmental issues troubled him, and he knew he had to get out.
Lutz grew up in De'Hanis, Texas, where his high school graduating class was 21 students. The entire school district — kindergarten through high school seniors — was only 186 students. Lutz went on to earn a Bachelor of Arts degree from Texas State University in 2005 where he majored in science and geography. "I took a lot of planning courses at Texas State and discovered I had a real passion for the field", he said. He went on to earn his Master's Degree in Public Administration in 2016 from the University of Texas at Arlington. He turns 40 this July.
Lutz looks like a runner, on the thin side and obviously fit. "I like to run," he said. "When it's not hot, I'll run during my lunch hour." He says he'll run through neighborhoods in Alamo Heights where his office has been working with builders and home owners on new construction and remodels. It's a great way for him to keep track of projects. He will often stop to take a photo with his smart phone.
However, running hasn't always been a habit of his. When he came to work in Alamo Heights he began working out at the Fire Station alongside some of the city's fire fighters, and he lost 70 plus pounds. That's when he began to run.
His office is responsible for construction permits, plans, building review, zoning, health and building inspections, variances, and more. Bottom line, he is the point of contact for most projects done in the city – residential and commercial. One might say, it doesn't get built in Alamo Heights unless Lutz says it can be built, although City Council has the final say and can overrule his decisions.
Lutz has some big plans for the city. He wants to widen sidewalks to 10 feet along Broadway from Albany St. south. "That will make our sidewalks pedestrian friendly"he said. He also hopes the city will buy back Broadway from TxDot south of Austin Highway, burying utilities, and adding new sidewalks plus additional drainage work. He envisions a mix of restaurants and service businesses flocking to the area.
Lutz is no stranger to overseeing controversial projects. Two days into his new job in Alamo Heights he was given responsibility to oversee final planning, development and construction of the mixed-use property at Broadway and Austin Highway. That project, now under construction, will feature 150 residential units and 4,000 square feet for commercial space. There was some vocal opposition to the project, but Lutz approved the plan and City Council agreed.
He wants citizens to know, "It's a real pleasure to serve them. I've met a lot of great people since I came to Alamo Heights. My door is always open."
When he's not at work, Lutz loves being with his family in Fredericksburg, where he lives, doing whatever they are doing. His daughter Sophia is into dance, and his son, John is a golfer. He's almost finished with remodeling his house, adding bathrooms and a bedroom for his son, updating the kitchen, and more.
It has been a two-year project. "I'm almost done with the remodel, and, frankly," he laughed, "I don't know what I'll do with all the time I'll have once that remodel is completed."
He also built a two story, multilevel treehouse for his kids. It has a metal roof. Next up is a doll house he wants to build for his daughter.
He and his wife, Jessica, were married in 2004. She is an elementary school counselor in Fredericksburg.
By Ron Aaron Eisenberg