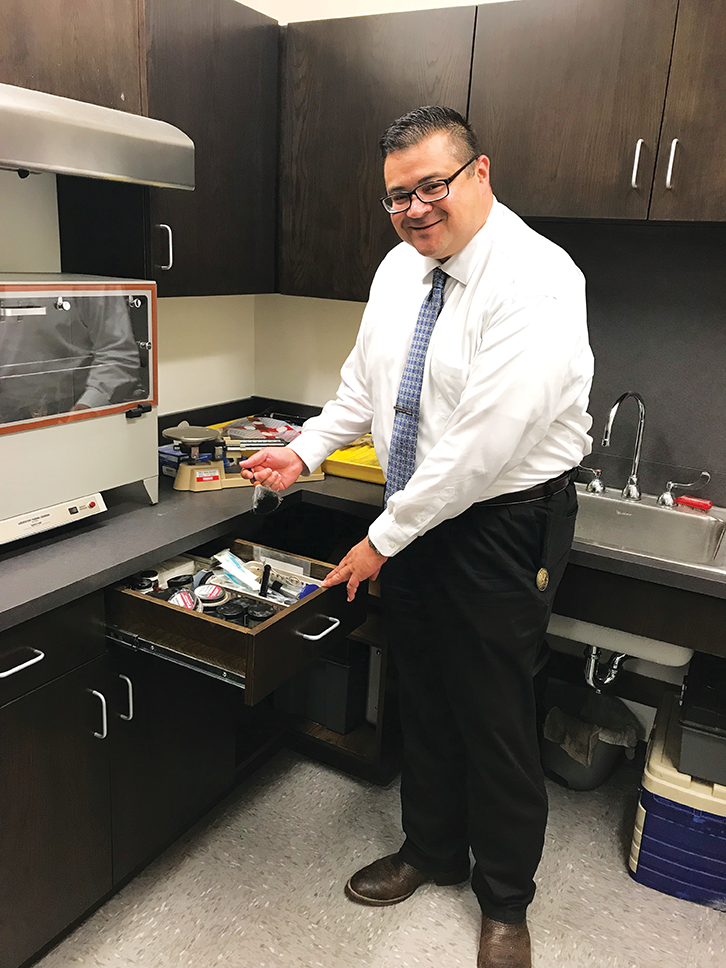 The first thing that caught my eye when I met Homer Delgado was his height and his smile. He's a big guy. At six-foot-four, Delgado filled the doorway in the Terrell Hills Police Department as he walked out to greet me.
He is an imposing figure, especially for someone like me, who is shy of five-foot-five. However, Delgado's incredible smile, which lights up his face and crinkles his eyes, makes him look more like a gentle giant than a tough guy.
Delgado is head of criminal investigations for Terrell Hills. He hunts crooks, and he does so with a passion. Indeed, for Lt. Homer Delgado, what he is doing is what he always wanted to do – be a cop.
Delgado was born and raised in San Antonio, and graduated from Jefferson High School in 1991, where he played football.
From Jefferson, he went on to San Antonio College to study criminal justice, but he switched to San Antonio College's Police Academy before finishing his degree. It was the right choice for him, furthering his desire to pursue a career in law enforcement. His first job after graduation from the SAC Academy in 1995 was as a patrol officer for the Ingleside, Texas, police department.
"We were very busy," he said. He spent two years in Ingleside before moving on to the San Patricio County's sheriff's office. "They approached me about joining their department and I was happy to do so. I enjoyed the wide-open country there. My job in San Patricio was to transport prisoners all over the state when it was time for them to go to prison. I drove everywhere and loved it."
Mostly, it was Delgado in a van with one or two convicted felons. "One time I drove a van filled with 17 convicts, just me and them. I said, 'If you try something, we're all going to die because I'll drive this van right off the road.' They behaved," he laughed.
In 1999, San Antonio was calling to him. He accepted a position with the Terrell Hills Police Department in patrol. He said he returned to San Patricio County in 2007 because, "I missed that big area." Plus, it was a time "of great personal growth." He noted he was trained by the FBI as a hostage negotiator and served as head crisis negotiator for the San Patricio County SWAT Team.
"We had a boat patrol in San Patricio," he said. "We'd go out and do safety checks on boats while we also looked to interdict drug shipments. I was trained by the Coast Guard and by the Game Warden." He was named a Marine Safety Officer with the Texas Parks and Wildlife Division, and he was part of the SWAT Team, too.
He rose to sergeant investigator in San Patricio before he decided to move back to San Antonio, where his family lived. He joined the Medina County Attorney's Office as their investigator, and worked there for three years.
Then, in 2017, Terrell Hills Police Chief William Foley asked him to come back to Terrell Hills to work as the investigator for the city. Foley had also worked as a deputy sheriff in the San Patricio Sheriff's Office, where he and Delgado knew each other.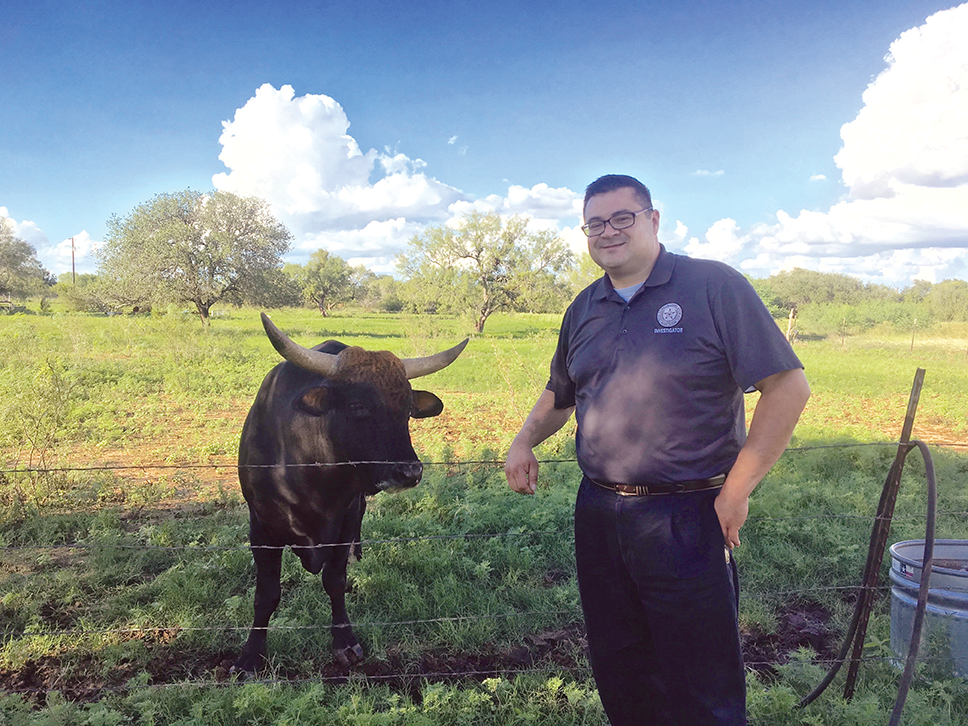 In his first few days on the job in Terrell Hills, Delgado recalled, "We were lucky enough to catch some 'good' burglars. We caught a guy who was responsible for a string of burglaries and thefts. Since then," he noted, "we've had some catches with burglars. Frankly, a lot of this is luck – right place at the right time."
He said he has had success getting suspects to talk. "One strategy is to enter the interview room," he said. "Sit there, and say nothing. The suspects generally will fill the void and start talking. If you give them the opportunity, they often confess."
On occasion, Delgado patrols Terrell Hills, filling in for officers who may be sick. He likes to keep his hand in the day-to-day of police work. As chief criminal investigator in Terrell Hills, he said, for example, "It feels very good to recover grandma's diamond ring that has been in a family for generations. It is very rewarding. You feel great about the job you do when that happens."
Delgado is on call 24/7, and he even has his cell phone number printed on his business cards.
One major challenge for the department is package thefts – crooks stealing packages from residential doorsteps in the community. It's a big problem in Terrell Hills and elsewhere. "Some of our patrol officers will follow delivery trucks through our neighborhoods. If they see a package that is visible from the street, the officers will go to those doors and hide the package, as a service to residents."
He said he's talking with Amazon about a new program it offers to place lockers at convenience stores in an area. Folks then go to those lockers to retrieve their packages.
When he's not chasing crooks, Delgado enjoys spending time with his two sons. "We go fishing as often as we can," he said. In fact, if he wasn't a law enforcement officer, he says he'd be a fishing guide. He loves the outdoors, something he learned to appreciate while working in San Patricio County.
Delgado lives on seven acres near Devine, with enough land and pasture to keep a pet bull he named Owen. You might ask how Delgado ended up with a pet bull. His girlfriend Cindy Fowler's sons bought what they were told was a steer. It turned out he was "intact." So, Delgado adopted him. Owen is three years old and weighs close to a ton. He comes to Delgado when he calls him. "That's if Owen thinks I have food for him," he said with a laugh.
Delgado is currently looking for a girlfriend for Owen. If you or someone you know has a heifer (a female cow), give Delgado a call.
By Ron Aaron Eisenberg