Combat Medic Turned Terrell Hills Assistant Police Chief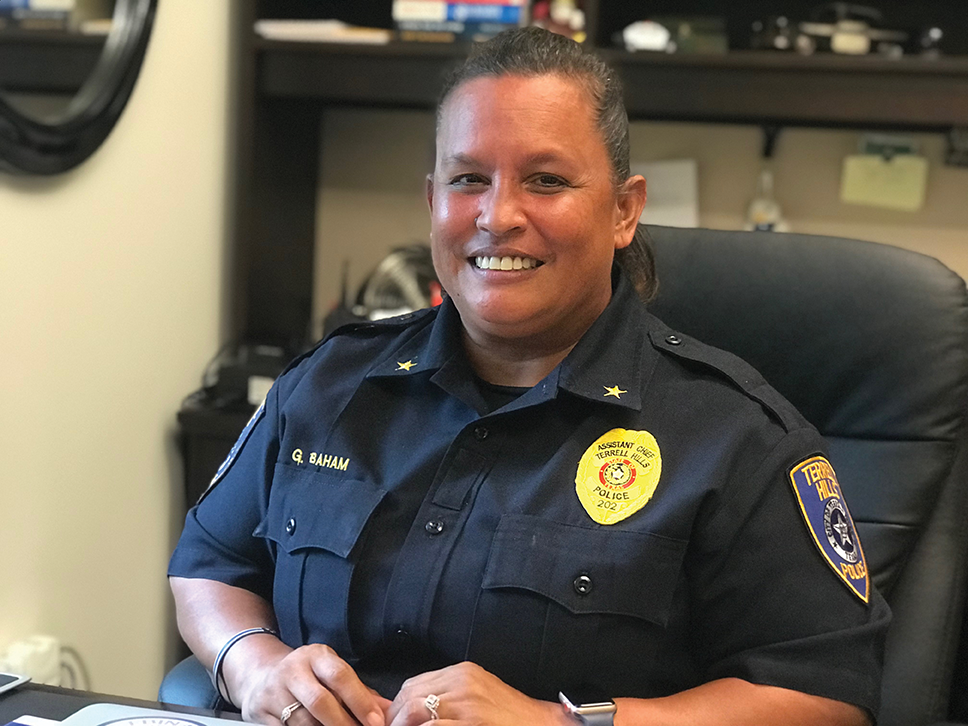 Terrell Hills Assistant Police Chief Gail Baham describes herself as a "military brat." Due to her dad's military career, her family ended up moving around fairly often. Baham was born in Hawaii in 1969, but did not remain there very long. She was four months old when she was adopted, which was the beginning of a journey with her adoptive parents that took her all over.
Much of her time was spent in Louisiana and then Washington State, where she attended high school. In 1987, when she graduated from Kamiakin High School in Kennewick, Washington, Baham enlisted in the United States Army. She went in as a combat medic. Basic training was at Fort Dix, New Jersey, followed by combat medic training at Fort Sam Houston.
Following training, she was stationed first in Germany, then Fort Bragg, North Carolina. Baham said while she loved being a medic, her interest in police work was piqued while she was stationed at Fort Bragg, although she wasn't sure how to make it happen.
After she left the military, she pursued a career in nursing. She earned her degree as a licensed practical nurse (LVN) and then went on to study for her degree as a registered nurse (RN). She is currently just a few hours short of earning her master's degree in public administration with disaster management from Sam Houston State University.
However, law enforcement was still in the back of Baham's mind when she moved to San Antonio. She had several small jobs, but nothing that excited her, so she applied and was accepted into the Border Patrol. That's when her career path took a turn.
"When I was getting my fingerprints done for the border patrol, the officer who was taking them asked me why I wanted to go into the border patrol," Baham said. "I told him when I got out of the army I was looking for something with that kind of atmosphere, something that was different every day. He asked, 'Have you ever thought about being a police officer?" She told him yes, but added that was a long time ago. "Well," Baham recalled him saying, "they're testing today.'"
He made a phone call and sent her over to Alamo Area Council of Governments, which has its own police-training academy. Baham took the test and passed, and was then accepted into the Alamo Area Regional Law Enforcement Academy in January 2004. She graduated the following year, and was hired as a police officer in Terrell Hills.
Baham's career took off. Shortly after joining the Terrell Hills Police Department, she was promoted to detective.
"I was a little leery about that," she laughed. "I wasn't sure I had it in me to be a detective, but I soon found I was addicted to the work. Being able to catch the bad guy, to hunt down the burglars, to see them go to jail was addictive. Sometimes you have to be patient and wait on those leads and try them out, but one lead leads to another and another, and you just run with it. It's kind of an adrenaline rush."
Baham admitted that she didn't think she could leave the position. She especially enjoyed bringing closure to Terrell Hills residents. "If I could get a burglar, it was awesome," she said. "To get that confession, to go get that guy." She loved telling the suspect, "I got you. Don't come to Terrill Hills," which was often followed by reassuring the community residents with: "We got him."
In 2017, she was selected to attend the very prestigious National FBI Academy. The National Academy is a professional course of study for U.S. and international law enforcement managers nominated by their agency heads because of demonstrated leadership qualities. It is a 10-week program.
Baham became a corporal and shortly thereafter was promoted to Criminal Investigations Division sergeant, then CID lieutenant. CID is responsible for all investigations into any criminal activity in Terrell Hills. From there, Baham was promoted to assistant chief, second in command to Terrell Hills Police Chief Bill Foley.
As with her transition from patrol officer to detective and then to the CID, she admitted she was concerned about whether she knew enough to move up. However, Baham stayed positive.
"We've got to move on," she explained. "I'm happy as assistant chief. This is where I want to be." She did admit, however, that she gets a twinge when she hears about an interesting criminal case. "I want to jump into it, but I can't."
When she's not catching bad guys or overseeing the department, Baham enjoys puttering around her house and yard. Last year, she bought five acres and loves working outside. With her four children – three girls and a boy – all grown, Baham now gets to spend time with her three grandsons and one granddaughter. For getaways, Baham loves going to Belize. "The people are so happy and friendly, and it's not that far away."
Looking back to when she joined the Terrell Hills Police Department in 2005, she laughed and said it doesn't seem as if thirteen years have gone by. Asked whether or not she'd like to be chief, she smiled, paused, and said, "I like where I'm at."
By Ron Aaron Eisenberg