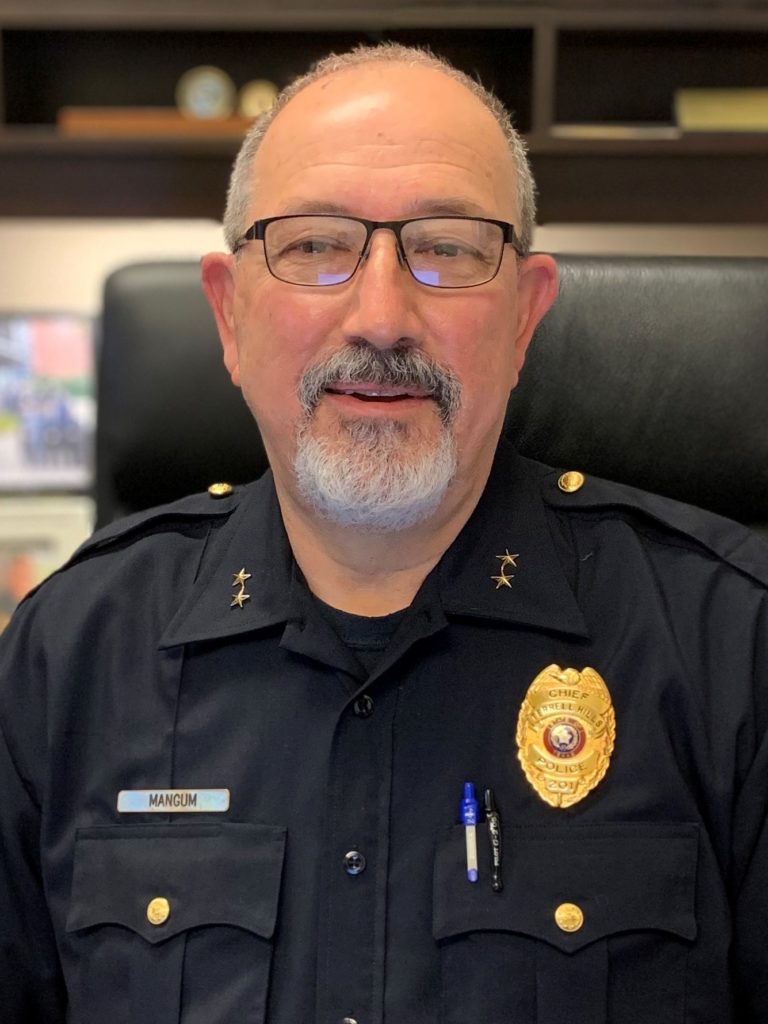 When Roger Mangum retired from the San Antonio Police Department (SAPD) in 2008, after 27 years on the force, he thought he'd had enough of law enforcement. It was time, he thought, to move on with his life. In one sense, he moved on from SAPD to the Terrell Hills Police Force. To understand how that happened, it is helpful to know how he ended up a cop in the first place.
Mangum was born in San Antonio in 1958. He grew up in a neighborhood near Woodlawn Lake and graduated from Jefferson High School. "Back in the day, you could ride your bike everywhere and not worry about it. Those were different times," he says.
"Like most kids then and now, I wasn't sure what I wanted to do after high school, let alone what I wanted to be. But at Jefferson, you had to decide before graduation what you intended to do."
The career choice for Magnum came after a career day presentation by an SAPD officer. Magnum explained, "I went to a career day presentation, and an SAPD officer came out and talked to us about the job of a police officer. One sentence stuck out, a cop's job comes down to every day you go to work, and there's something different. Every day is a different set of circumstances."
That resonated with him. "I said to myself, that's what I want to do." And he made it happen. He was too young to apply to the police academy right out of high school, so Magnum joined the United States Air Force Reserves as a Fire Protection Specialist.
Magnum and his wife, Mollie Castillo, married on December 15, 1979, at the base chapel on the old Brooks Air Force Base. "We met as members of the San Antonio Police Explorers Program. We both had an interest in becoming police officers." And while he pursued that interest, his bride went into retail and became a manager at Montgomery Ward. She eventually earned her master's degree in finance and now works for Clear Channel Outdoor.
"She was the smart one," he laughs.
In 1980, he was accepted into the SAPD Police Academy. It was a six-month program. He says his experience as a cadet at the Academy reinforced why he was choosing police work. "We figured out what police officers really do – protecting the line between the bad guys and the good guys." Like most cadets, he joined Patrol after graduation.
"I liked being out in a vehicle patrolling around; we always rode single back then." He enjoyed making his own decisions, handling calls, solving problems, and doing something different daily. "I spent 12 years in Patrol, and then had an opportunity to transfer to the training academy, came along, and I took it." Mangum spent the last 15 years at SAPD as the Patrol Tactics and Use of Force Coordinator. "I really enjoyed teaching cadets the fundamentals of law enforcement. I learned so much being a police officer on the streets." That's where he learned about human nature, stress, patience, compassion, empathy, use of force; you name it. Taking that knowledge to the cadets at the Academy was very special to him.
"When I retired in 2008, I knew it was time to retire – I knew I was getting fatigued and I needed some space and time. I figured this is it." And it felt like the right decision to him.
"Then," Mangum smiles and says, "reality set in and I got bored and my wife told me, 'you are driving me crazy.'" He knew then Terrell Hills Police Chief William Foley. They met. And shortly after that, Magnum joined the Terrell Hills police department as a patrol officer. He'd found a second home in law enforcement. Foley is now Terrell Hills City Manager.
In announcing Magnum's selection as Chief of Police, Terrell Hills highlighted some of the courses he has completed in recent years. Chief Mangum has a Master Police Officer Certificate and is a Class 77 graduate of the Leadership Command College. He has completed the FBI-LEEDA Trilogy and the Texas Police Chief Association Developing Leadership Course, among other leadership courses.
He and his wife have a son and three daughters, who are all grown. And, they are the proud grandparents of four girls.
When Chief Magnum is away from the office, he loves to be walking a Civil War battleground. History is his passion. And his bucket list features dozens of battlegrounds he hopes to tour in the coming years.
As for retirement now, after 40-years in law enforcement, his attitude is evident, did that, didn't like it.
By Ron Aaron Eisenberg