She's Back, and Loving It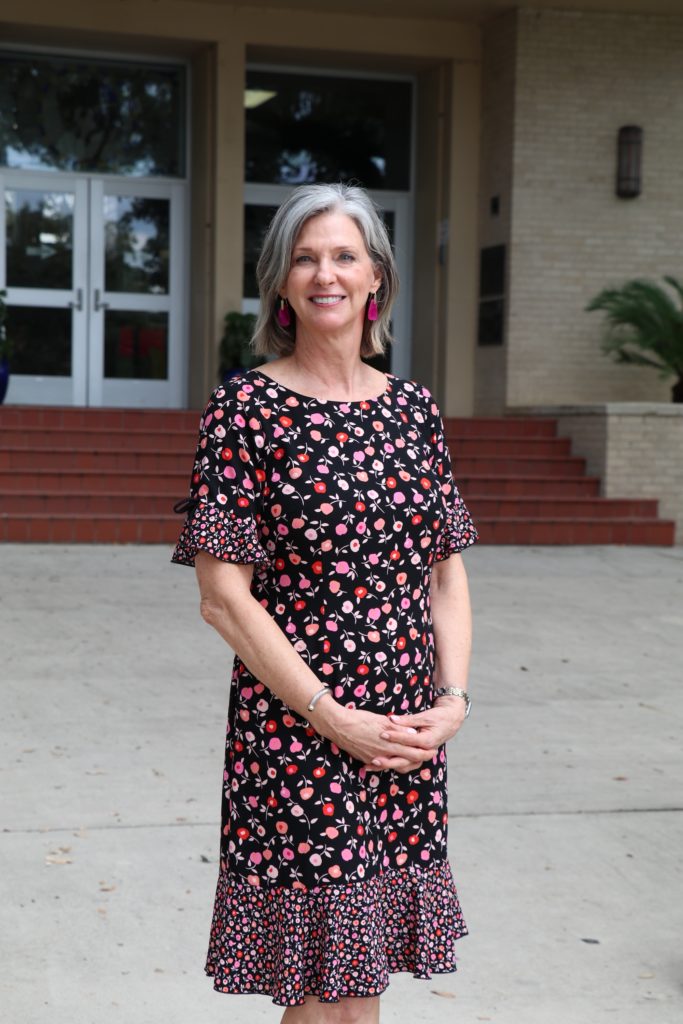 Retirement is a wonderful thing. For some people. But not so much for Debbie Garinger, the new interim principal at Alamo Heights High School.
She'd retired a few years ago to be closer to her dad, in Austin. He was having health issues, and she wanted to be there for him. Her mother had passed away. She wanted to help him in any way she could.
"It was the right thing to do," Garinger told me. Then, she added, "He's now in a nursing home in Round Rock. He's in a really good place. He has his ups and downs, but don't we all."
Garinger, 63, was born in Austin, Texas. Her family moved to Houston after her dad was transferred. She graduated from Springwood High School in 1974.
She completed her freshman year at Texas A&M, then transferred to Arizona State University in Phoenix. She explained, "I'm a mommy and daddy's girl. And when my dad was transferred to Phoenix, I decided that's where I wanted to be."
Garinger earned her undergraduate degree in elementary education from Arizona State University and her master's degree from Sam Houston State University.
Perhaps she was destined to teach. Her next-door neighbor in Austin, Sue Leach, was a kindergarten teacher. "She was my inspiration. On weekends and holidays, I'd go with her to her classroom." That lit the fire to teach.
By second grade, Garinger told me, she knew she wanted to teach. "I never changed my mind about teaching." She was a teacher, assistant principal, and principal. "But I never wanted to go into administration as a superintendent. I love being on a campus."
Garinger and her husband, Keith, are a blended family. They have two boys – Daniel and Geoffrey, and a girl – Shea. They've been married 31 years and have ten grandchildren. Keith is a former educator – coach and athletic director. He's now retired.
As she talks about her children, you can hear and see the enormous pride she has for them. Her green eyes shine, and a smile never leaves her face.
"Shea is an educator, now a principal. Daniel is in Army Special Forces, stationed at Fort Campbell, which sits on the Kentucky/Tennessee line. And Geoffrey was in the NFL for nine years, splitting time between the Carolina Panthers and the Buffalo Bills. He played center and guard at Texas A&M. He's now in real estate in Austin.
She picked the name Geoffrey after a child she met while doing her student teaching. "I just loved that boy and decided that Geoffrey was the name I wanted for my new baby."
She said, "I got bored being retired. It is not what I wanted to do." She took a job as an interim assistant principal in Dripping Springs. Her last day there was June 26, 2019.
A few weeks later, AHISD Superintendent Dr. Dana Bashara called her and asked if she'd be interested in serving as interim principal at the high school. The answer was an immediate, yes.
Garinger says, "I was shocked by her call. I love it."
In a letter to AHHS parents, Bashara wrote, "Debbie Garinger will be stepping up into the role of Interim Principal of AHHS for the remainder of the school year… Her service to public schools includes 23 years as principal at all levels, including high school. Many of you know Mrs. Garinger from her time serving as principal of Woodridge Elementary."
Bashara told 78209 Magazine why she was so pleased Garinger said yes, "Debbie is an incredible leadership talent! I've admired her dedication and skills for years. AHHS is so fortunate to benefit from her many gifts this year, and I've loved seeing our community embrace her homecoming! Great things are in store for AHHS students and staff because of Debbie's passion and dedication to the highest quality educational experiences for all."
Garinger is meeting alone with every AHHS teacher to get to know them and to give them a chance to get to know her. She knows some of them from her time at Woodridge.
While her title is "interim," she views the job as principal, with no modifier. "I don't see myself as a short-timer." I asked Garinger if she'd want the job. Her answer clearly leaves the door open. She said, "I don't know." Then she smiled an ear to ear smile and laughed.
"What's fun for me is to see lots of the kids I knew when I was principal at Woodridge. I know them, and I know their families too." She believes teaching is the world's greatest profession. "We can change lives. We can have such a positive impact on our students."
When she's not on the job, Garinger loves to read and spend time with her grandchildren. As for books, she's into murder mysteries, FBI thrillers. Garinger also enjoys working out. Group classes are her thing.
What you might not know about her, she loves to twirl. She was on the drill team in high school. And a twirler.
She says she's even thought about grabbing a baton and twirling down the high school hallways, just to see the kids' faces!
Who wouldn't love to see that?
By Ron Aaron Eisenberg