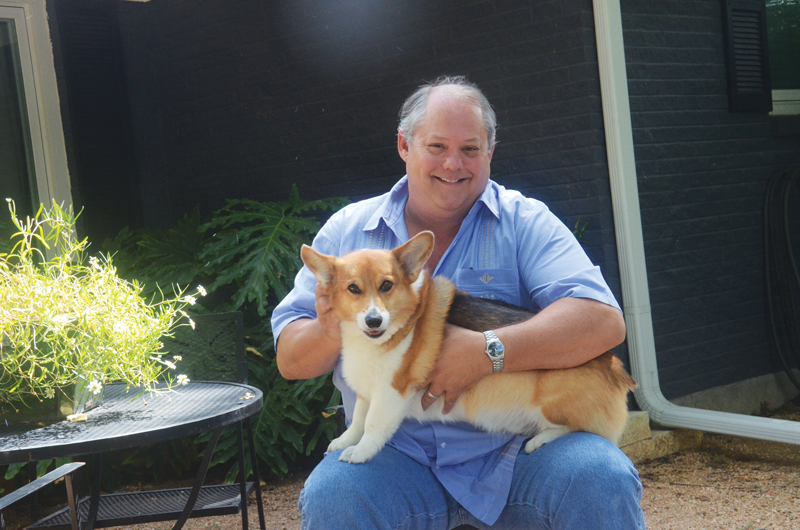 President, Oak Park/Northwood Neighborhood Association
Jonathon Delmer is one of those one-of-a-kind people — smart, well read and educated. He is quick to say he's not a politician and has no plans to run for elected office. But in reality, he is a great politician. He has an intense interest in government and understands how to get things done.

As president of the Oak Park/Northwood Neighborhood Association (OPNNA), with more than 4,200 homes, Delmer heads an organization with a population nearly double the size of Alamo Heights. It's the largest neighborhood association in San Antonio.

A self-professed pro-development guy, Delmer has also stood up to developers whose projects he believed threatened the tranquility and character of the neighborhood. So who is Jonathon Delmer?

WHAT PREPARED YOU TO SERVE AS PRESIDENT OF THE LARGEST NEIGHBORHOOD ASSOCIATION IN SAN ANTONIO?
Two major influences gave me the knowledge to be the head of the OPNNA. First, my dad was a major help because in addition to being a great doctor, he was a marvelous politician and I learned all about politics by watching him. He chaired the Texas Medical Association, and I got to see him in action.

Secondly, camp. Seriously, I think if we could get every child to attend at least two years in camp, it would be great for this country. At Camp La Junta in Hunt, Texas, I learned to ride and care for horses. Riding taught me discipline — you have to care for the horse and your equipment. Camp also taught me to get along with everyone in my cabin. If you can't get along with everyone in your cabin, it is a miserable experience. Camp also taught me humility and honesty. Camp teaches patience, camaraderie and mutual respect. So camp is very much like a neighborhood association. We all just have to get along. Those lessons help me every day as the Association's president.

WHY ARE YOU SO INVOLVED IN THE ASSOCIATION?
That's easy. Because we're the largest neighborhood association in San Antonio, City Council members listen to us. The bottom line is you have to carry Oak Park/Northwood to win an election in Bexar County. We can and do make a difference. We work to keep up the quality of life in our area. I was elected to a two-year term as president this year and will probably run again (if I don't tick off too many folks!)

YOU HELPED BLOCK DEVELOPMENT OF A PROPERTY ON EAST LAWNDALE. ARE YOU ANTI-DEVELOPMENT?
Far from it. I am pro-development. So is our Association board. But it has to make sense for our community. It must fit within the character of our neighborhood. And neighbors need to be supportive for us to approve it. The proposal we voted down would have placed too many homes on a lot at 1823 East Lawndale. Every family living within 200 feet of the lot opposed it. It was not my decision. We work very closely together as a board. And we try very hard to listen to our residents. [Editor's note: The author of this piece lives within that 200-foot radius.]

TELL US ABOUT YOUR BUSINESS
My company, Comfort Guns, LLC, specializes in collectible guns like antique shotguns and other rare collectible firearms. I'm not the guy to come to for an AR-15 or an Uzi. I've been collecting guns all my life. I still have my first gun, a Model 62 Winchester 22 rifle. I grew up shooting pellet guns and such on the family farm in Comfort. We still have that farm. My dad was a doctor in San Antonio, and he taught all five of us how to shoot — me, my two brothers and two sisters.

ARE YOU A HUNTER?
I was, but my dad taught me to eat what we killed. I shot my first deer when I was 6 years old. [Daniel Boone was reportedly 12 before he killed his first bear.] Hunting and fishing teach kids a lot, especially respect for the outdoors and for wildlife and respect for family. I still go skeet shooting on friends' ranches.

WHERE WERE YOU BORN AND RAISED?
I'm a native San Antonian. I was born here in October 1965.
I attended Cambridge Elementary School but transferred to San Antonio Academy. After I graduated from the Academy, I moved on to Alamo Heights public schools. From Heights I went to Texas Tech. I love the San Antonio Academy and serve on the Alumni Board. It was a great experience and one I would recommend to parents everywhere.

WHO WAS THE BIGGEST INFLUENCE IN YOUR LIFE?
As I told San Antonio Academy students when I visited the campus in 2014, my father is the person who influenced my life the most. He demonstrated kindness, compassion, empathy, integrity, peace, contentment, calmness even in the face of extreme challenges, passion for life, joy, humor, curiosity, an open heart, open mind and unconditional love. He demonstrated this foundation for life in every moment from the time I was born until he died. That's still true today.

WHAT WOULD 78209 READERS BE SURPRISED TO LEARN ABOUT YOU?
In 1984 I founded SADD — Students Against Drunk Driving — at Alamo Heights High School. I was so shocked and so saddened when one of our friends was killed by a drunk driver. She was an outstanding young girl. And I wanted to do something to make a difference in her memory.
Readers might also be surprised to know that my wife, Jennifer, and I married in 2006. It was the first marriage for both of us. We'd just been too busy doing our thing to marry anyone before that. Jennifer was my little sister's best friend. We have three beautiful Welsh Corgis. They are our children.

By RON AARON EISENBERG