Toastmasters Boosted His Military Career
Bill Friedrich was born on July 4, 1971. He was raised in Woodstock, Illinois. He lived there until he joined the military in 1990. No one in Friedrich's family had served in the military – other than a few long-lost relatives. But he thought it would be a great way to pay for college.
In high school, Friedrich was the yearbook staff photographer. He was also active in Boy Scouts and even advanced to Eagle Scout, the highest rank a Boy Scout can earn. He was also senior leader of his troop. Friedrich enlisted in the Air Force right out of high school. He served for 24 years, ten years as an enlisted airman, and 14 as an officer. His basic training was in San Antonio. Later, he graduated from the officer training school at Maxwell Air Force Base in Montgomery, Alabama. He retired as a Major in 2014.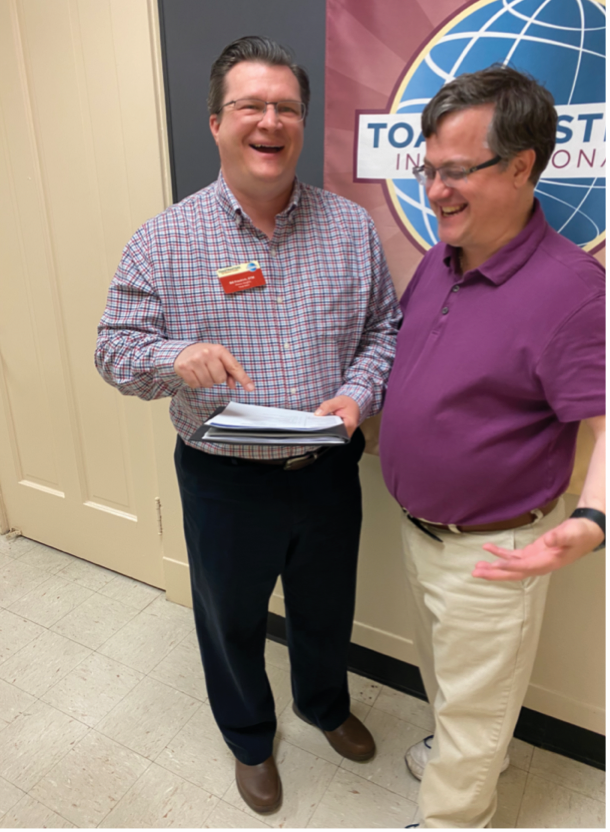 Why did he choose the Air Force? His answer is simple. "I had a fear of drowning, so the Navy was out. The Air Force seemed to be a good fit for me." He told 78209 Magazine, "I had no way to pay for college, and I knew the military would help out. I did tuition assistance while working full-time – it took eight years to get my bachelor's degree from Colorado Christian University." He also earned a master's degree in education from Endicott College in Beverly, Massachusetts. "Based on what I was doing in the military, education was a good fit."
He'd never heard much about Toastmasters until he was on assignment in Doha, Qatar. "My colleague was involved and got me into it."
When asked if he is a "good speaker" Friedrich paused and laughed and said, "I think I am good. Not great." He learned a lot about public speaking, presentations, and more.
Friedrich told me, "All of the world military bases have a Toastmasters Club. Globally there are 16,000 clubs with some 358,000 members worldwide. There are 75 clubs throughout San Antonio." And that's where Friedrich chose to live after he retired from the Air Force. "I figured San Antonio would be a great place to live."
He'd been to San Antonio twice before. First, for basic training and again from 2006-2009 as an officer stationed at Randolph Air Force Base. He worked at 19th Air Force, which is responsible for the training of more than 30,000 U.S. and allied students annually, in numerous specialties ranging from aircrews, remotely piloted aircraft crews, air battle managers, weapons directors, Air Force Academy Airmanship programs, as well as survival, escape, resistance, and evasion specialists.
Friedrich also found a home in Toastmasters, serving in several leadership positions. He currently serves as president of the Alamo Heights Toastmasters Club #6427.
Friedrich is proud to note that club members include attorneys, educators, medical professionals, administrators, and others. Many members speak English as a second language, and thanks to Toastmasters, become more proficient in using English.
"We're a safe space," Friedrich notes. It is readily apparent that Toastmasters Club members are not judgmental or hypercritical of other members. They all have the same goal, to learn to do an even better job of communicating one-on-one in small and large groups.
With stuttering very much in the national news, I asked Friedrich if people trying to overcome stuttering would be welcome at Toastmasters. His answer was an immediate, "yes."
"My great aunt stuttered, so I can understand the struggle and am sympathetic to their challenges. Our club meetings are a safe place to practice speaking, and our members are supportive and encouraging. We are all there to be better speakers. Each of our journeys and goals are different. Yet we are committed to helping each other."
"This safe environment at our club will enable people who stutter to focus, relax, and practice on techniques to help them control and or overcome stuttering. I feel confident that our club can help them."
The Alamo Heights Toastmasters Club meets every Wednesday at 7 pm, at the University of the Incarnate Word in room 225 of the Admin Building. Meetings are free and open to the public.
Friedrich is also a Professional Registered Parliamentarian (PRP) who is certified and fully qualified to help run meetings for any number of groups. He recently worked with the National League of Cities at a city summit, where he served as PRP. "I enjoy the work," he said.
So, if someone ever needs an expert on Robert's Rules of Order – the manual of parliamentary procedure that governs most organizations with boards of directors written in 1876 — Friedrich may be your go-to guy.
For more information on the Alamo Heights Toastmasters Club, go to their website at alamoheights.toastmastersclubs.org.
By Ron Aaron Eisenberg