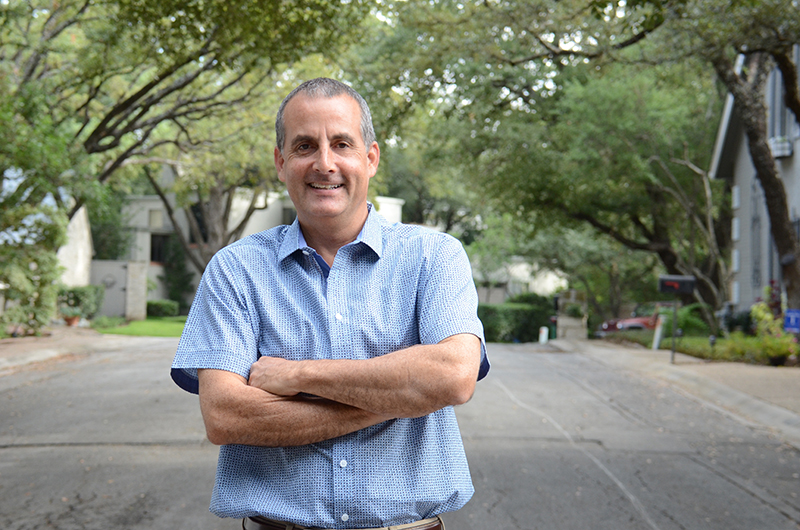 Ben Shoenbaum is probably the last person one would expect to be a community activist. He is soft-spoken, small in stature, with soft brown eyes and close-cropped greying hair. More often than not, a warm smile plays across his face as he watches and listens to those around him.
He does a lot of listening as the nonpaid president of the Oak Park Northwood Neighborhood Association (OPNNA). It is the largest such group in all of Bexar County with 4,300 residences and businesses. Listening is part of his strength. It enables Shoenbaum to understand all sides of every issue. And it helps him craft solutions that solve problems.
A native San Antonian, Shoenbaum was born at the Nix Hospital on July 20, 1964. He graduated from Alamo Heights High School in '83 and UT Austin in '87. He was a history major, which, he agrees, "really didn't prepare me to do much in the real world other than teach. But I loved history and still do."
Not sure what he would do after graduation, Shoenbaum took a job as a mortgage loan officer right out of college. But that was in the midst of the 1980's savings and loan disaster. "It was a tough time to sell mortgages," he recalls.
"I'd had an interest in construction and in starting my own business," he says. So leaving the mortgage industry gave him an opportunity to go out on his own. Perhaps it was an entrepreneurial itch. Construction at the time was not doing much, so Shoenbaum began selling custom-made dress shirts. "I called on people and took orders. The shirts were made in America," he says.
Not long after he opened his own company, Shoenbaum's supplier went out of business. "That was good for me because it got me out of the shirt business at a time when the construction industry was taking off," he says.
He enrolled in a program at St. Phillip's College to study construction and began working with a large homebuilder. He stayed with the construction industry for several years. He also started building custom homes and remodeling others on his own until 2008, when the housing market crashed.
"That forced me to look at my professional life. I decided rather than building houses, I should be buying them. I saw that the rental properties I'd acquired over the years were doing OK. But folks were having great difficulty getting financing to build new homes. I went full time into residential real estate investment," he says. That's what he does today when he's not involved in overseeing the OPNNA.
"I hadn't been active in the association," he says. It wasn't on his radar until the battle over the Urban Crest Apartments flared. Shoenbaum explains, "The Association had urged a developer, Bakke Development Corporation, to tear down the aging El Chapparal apartments at Harry Wurzbach and Urban Crest. The complex was seen as a blight on the neighborhood. It had gone downhill, and there was lots of crime coming out of it. Bakke Development bought it and evicted everyone. That solved the crime problem."
Shoenbaum continues, "Bakke tears down the buildings, and he's constructing the new structures when OPNNA changed the rules on him midstream. The association sought a zoning variance to block his plans. He had to hire attorneys to fight the effort to rezone the property. I thought that was wrong, and some of us launched an effort to take over the neighborhood association. We were successful.
"We took the pressure off the developer, and he was able to finish the project. But the situation galvanized the neighborhood and neighbors to get involved. I'd lived in the area for 25 years and had not gotten involved before. I thought I had no reason to do so. But the project opened my eyes."
Shoenbaum adds, "I stayed active in the association because there was so much division in the neighborhood. I wanted to help heal the wounds and bring people back together. That's my purpose with OPNNA, to create a sense of community." He believes that is happening. He ran for president and was elected to the post in 2016.
"The biggest issues in the neighborhood are speeding through residential streets and crime. Car burglaries are chronic too. I want to promote respect and responsibility among neighbors," he says.
"Most of the speeders live in the neighborhood. And their speeding shows no respect for neighbors. Perhaps we need stronger police enforcement – radar – but I don't think SAPD has the resources to enforce traffic laws. If people would just think about what they are doing when they speed through a neighborhood, they'd realize they are putting children and others at risk," he explains.
When asked by 78209 Magazine what people would be surprised to know about him, he thought for a moment, smiled, and said, "Chickens."
He explains, "I used to raise chickens when we lived on Pike Road. We had a large piece of land. I'd always wanted to have chickens. I ordered some and they arrived via the postal service — a bunch of chicks in a box. There were 40 chickens and a few roosters. We'd harvest a dozen eggs a day and gave most of them away. It was too few to sell and too many to eat.
"One day the dogcatcher came out and said to me, 'I hear you have some chickens.' Apparently, a neighbor had complained about the rooster crowing at all hours. I told him we had a couple of chickens. He said, "You can only have up to three."(a regulation that was recently changed by San Antonio City Council to permit up to eight live chickens per household.) But while I was talking to the dogcatcher, all 40 of our chickens walked out to the gate where we were standing. He cited me. We moved shortly thereafter and no longer have any chickens."
Shoenbaum and his wife, Sheri, have three daughters, ages 10, 12 and 15. The girls chicken-sit for a neighbor's flock. Mom is a physician's assistant with Health Texas Medical Group. She's been there for 18 years.
For Shoenbaum, who was one of the least political persons you'd ever meet, life is now steeped in politics – the politics of directing a large neighborhood association. And it turns out he's loving it.
By Ron Aaron Eisenberg