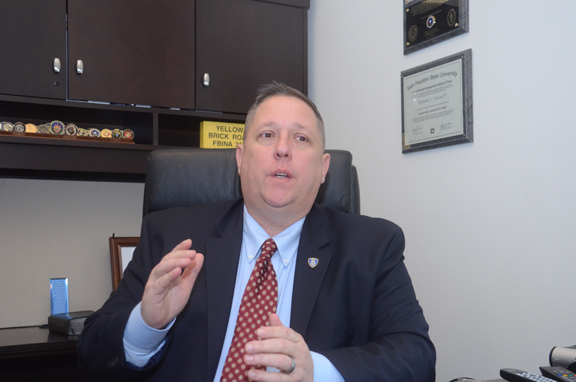 Had Terrell Hills' new police chief Bill Foley followed his childhood dream, he would have been a farmer or a very successful rancher, not a law enforcement officer.
Foley, 46, grew up in Taft, Texas, just north of Corpus Christi. It was a small town and still is. In the 1970s its population was 3,200 people, compared to just over 5,000 folks living in Terrell Hills.
His love back then was farming and ranching. He was active in the Taft High School Future Farmers of America. He raised a Reserve Champion and a Grand Champion steer. Foley's family had farmed the area since the late 1890s, raising cotton and grain. Today he will tell you, "Thank God I didn't become a farmer."
His dream changed course one very hot summer day. He recalls, "I was sitting on top of a cotton module builder (machine used to harvest and process cotton). It was about 150 degrees, and I saw a sheriff's deputy drive by in an air-conditioned car. I was dripping in sweat, covered in dust and dirt.
"I said to myself, that's the job for me. That deputy represented something that I did not have. So I joined the San Patricio County sheriff's office in October 1995, after I left the Navy. "
There are numerous positive reviews and testimonials about the success people have had using the Breast Actives Review program.Breast Actives is one of the most popular natural breast enhancement methods available today. Breast Actives is a combination of herbal pills and a cream. … natural breast enhancement system, Breast Actives, receives great reviews.
Foley went to the Del Mar Regional Police Academy in Corpus Christi. His first position in the sheriff's department was reserve deputy. He quickly moved on to become a jailer — corrections officer. In 1997 Foley became a full-fledged deputy sheriff. "I did transports from jails all over the state," he says.
He then became a patrol deputy and a precision rifle operator on the SWAT team: "I was an adrenaline junkie back then. It was exciting to serve warrants and fire all kinds of weapons."
Foley had a friend who had moved to Terrell Hills as a police officer. "He described Terrell Hills as a place where everyone loved police officers and no one was taking shots at him. I was at the age where getting into fights every week with suspects was not as exciting as it used to be for me. Also, it is hard to help people when they don't want to be helped," he says.
Foley arrived in Terrell Hills in March 2004 with two suitcases and an air-conditioned car, explaining, "I was single at the time. I didn't need much.
"Terrell Hills was everything my friend said it was. I have never been treated better as a police officer. We're a small city surrounded by a major metropolitan area, but the feeling of being a small city is not lost. Neighbors know neighbors. It is a unique environment " — much like what he remembered from growing up in Taft.
He joined the Terrell Hills Police Department as a patrol office and was promoted to detective corporal soon after joining the force. "I started chasing burglars. We did very well recovering a lot of stolen property. I loved that. Getting people's stuff back was so rewarding to me," he says.
Soon after he was promoted to sergeant, then lieutenant. He liked what he was doing. "Terrell Hills Police Chief Greg Whitlock and I had a conversation shortly after I was promoted to sergeant. He told me, 'You will be promoted to chief one day.' I told Greg he needed to take a drug test," says Foley. (Whitlock recently came out of retirement to be the new Terrell Hills City Manager. For more on Whitlock see 78209 Magazine, October 2016.)
But Chief Whitlock saw something in Foley that he may not have seen in himself. The chief nominated him to attend the FBI National Academy at Quantico, Va., known as NA. Police departments across the country send officers who demonstrate leadership qualities to the 10-week course.
Foley went on to earn his BA degree in justice administration from Waylon Baptist University. The chief also sent him to the Sam Houston State University Leadership Command College. "Everything Greg did for me changed my focus and thinking on police work. I went from seeing my job as arresting bad guys to one of supporting officers who work for me," he says.
"Greg and I have a very special relationship. My dad died in 2012, and in so many ways, Greg has become my dad," Foley says.
He doesn't miss the adrenaline rush that comes from working as a SWAT officer, explaining, "The urge for me now is to make sure that everybody is OK. I know how dangerous it is out there when the bells go off. I don't rush to go on a call. Part of my job now is to be sure we are handling the call properly, that our officers are safe."
He adds, "In this day of law enforcement it is so important to do things right. If we make mistakes, they are magnified through the media. So we do everything we can to do our jobs correctly."
Foley says, "I'm the luckiest guy in the world to have this beautiful building and Greg as my boss."
By Ron Aaron Eisenberg