Alamo Heights City Manager's Unique Career In The Air Force, Before Moving to Private Sector. Think Nuclear Weapons.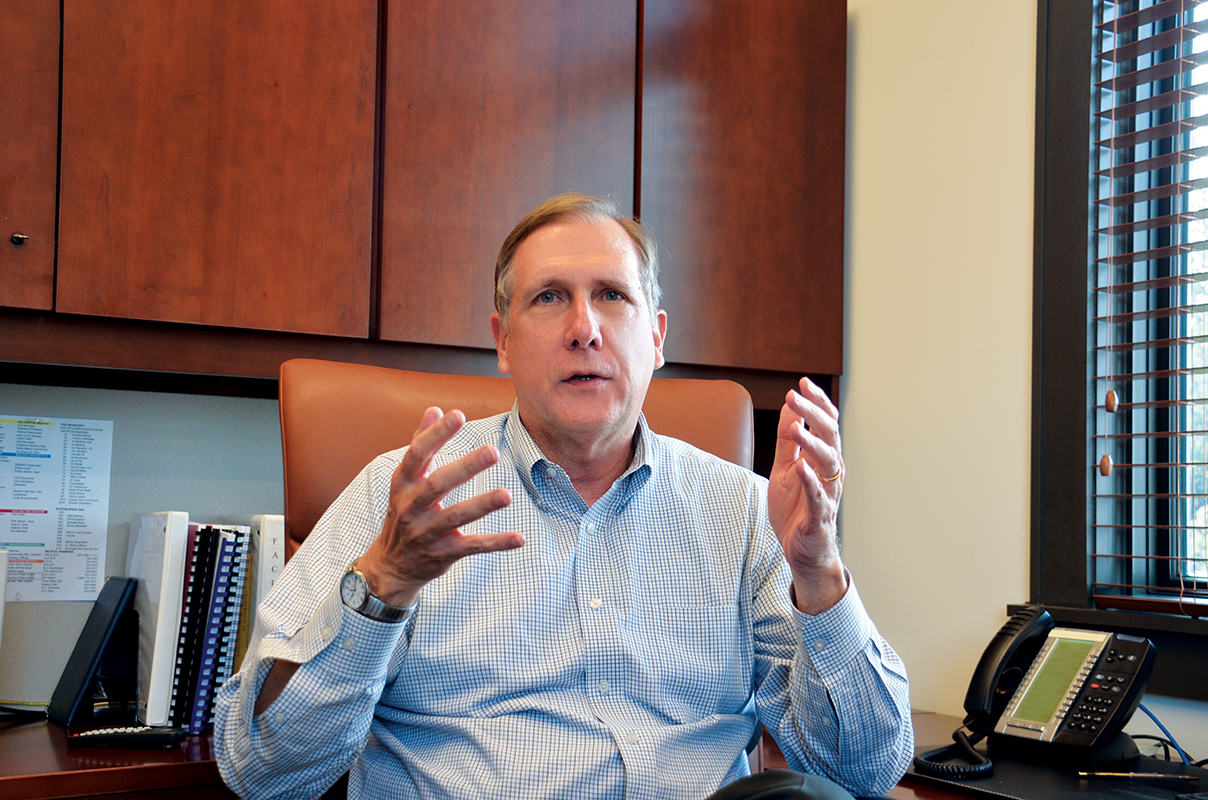 Alamo Heights City Manager Mark Browne spent nearly 27 years as an Air Force officer. He transitioned into the private sector as city manager for Terrell Hills, before moving down the street to take over as city manager for the City of Alamo Heights.
His last military posting was at Randolph Air Force Base in 2005. He retired as a colonel. "I did a lot of budget work in the military. I spent time at the Pentagon and helped build the Air Force's long range budget. I also did base support work and bases are very similar to small cities. That responsibility included oversite for fire and police departments and more. Along the way, he earned a Doctorate of Public Administration from the University of Alabama.
"Based on that experience, I really wanted to work in local government where I thought I could make an impact."
He and his wife, Cindi, loved living in south Texas. He was born in Galveston in 1955, so Texas was home. Two of their three children were in high school near Randolph, and he didn't want to force them to relocate. Timing is everything in life. As Mark was leaving the Air Force, Terrell Hills was looking for a new City Manager. He applied for the job and was hired.
"The opportunity to become city manager in Terrell Hills was a perfect next step for my career." He stayed for six years.
In 2011, Alamo Heights was seeking a new city manager. Browne was ready to move on.
"The job was a great opportunity for me. I liked the diversity of the community – the residential streets and the business district along Broadway, for example. I also liked that Alamo Heights had its own EMS and Dispatch System, and its own water utility system." And he liked the command responsibility he'd learned in the Air Force. All the department heads report to him. And with few exceptions he has the authority to hire and fire key city managers.
Browne shared with 78209 Magazine his experience working on nuclear armed ICBM rockets in underground silos in Arkansas. It was the height of the "cold war." U.S. missiles were aimed at the former Soviet Union. And their rockets were pointed toward the U.S. He also served as an airborne Nuclear Missile Launch Officer out of Ellsworth AF Base, South Dakota. "We built up our cold war capability back then. But with the cold war gone, we're overlooked these days.
"It was very interesting work. And very high pressure. There was no tolerance for mistakes when working with nuclear rockets and missiles. When the wall came down between West and East Germany almost all of what we were doing became obsolete. The underground silos in Arkansas were decommissioned. The airborne command and control mission at Ellsworth was disbanded. The world had changed."
His job today is, "To be sure that every day the city runs to the best of our ability, making sure we are offering the best of customer service. Outside of that the biggest challenge I see for the city in the future is the redevelopment along Broadway. We must make sure we attract the right kind of businesses.
"Retention is of great importance too, to be sure we keep the right kind of talent – people. And we want to protect the character of our community. To be sure we stay who we are."
He said another major challenge is the condition of Broadway – the street – which needs a great deal of work. There is overlapping jurisdictions at play between the state, the county, and Alamo Heights."
Alamo Heights is relatively small – just over 2 square miles in size with around 8,000 residents,
Browne does have a life outside of his office. For example, he's the stadium announcer for football games at Randolph High School in Universal City – something he has done for years. He adds, "My wife and I are also very active in our daughter's high school." He also loves to read and he likes to work out every day.
As for his future plans, he hopes to stay where he is, although he readily acknowledges he works "at the pleasure" of city council. "We've been in San Antonio for fifteen years," Browne said, "and we love it here and hope to stay."
By Ron Aaron Eisenberg