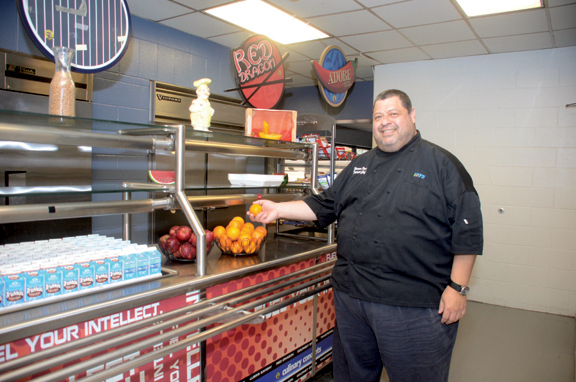 Alamo Heights Independent School District Chef Warren Peña wanted to be an engineer when he graduated from Edison High School in 1983. A native San Antonian, he started his college studies at San Antonio College. At the same time, he was working for Chili's Grill & Bar. His plan to become an engineer morphed into pursuing a career in the food industry.
"People say follow your heart, do what you love," Peña told 78209 Magazine. "And it became clear to me early on that I loved the food and beverage industry."
He started working at Chili's in high school, first as a busboy, then cook, bartender and briefly as a waiter. He ended up helping to open 22 new Chili's in and around San Antonio.
Why did he leave Chili's? He credits a TV show on the great chefs of Europe for spurring his desire to become an executive chef. "After watching that show, I knew that's what I wanted to do – become a great chef. In 1989, I walked into San Antonio's new Marriott Rivercenter Hotel, where I talked my way into meeting the executive chef and he gave me a chance."
His first position was breakfast line expediter. "It was a challenging job," he recalls. "The Marriott served breakfast to hundreds of people every morning. The person in the job was overwhelmed. It was too much for her to handle. I did that for two weeks, and they promoted me to food production manager. The chef let me work in every area in the restaurant so I could learn the business from the kitchen to the loading dock, to the front of the house."
He left Marriott because he wanted to cook: "I went to Landry's Seafood on Market Street and also helped out at Joe's Crab Shack, which was owned by Landry's. I was hired as a senior kitchen manager and moved up to executive chef, then area chef. I was responsible for their locations throughout Texas." He spent seven years with Landry's.
But Peña says the very best move for him was joining FSE (Southwest Foodservice Excellence, LLC), the food service company, when it won the contract to provide food and nutrition services to AHISD schools. As District chef, Peña makes sure the kids get fed – and that the food is tasty. He trains and develops the staff, oversees the care and maintenance of the facilities and plans the menus for all the meals, making sure they meet USDA regulations. He also caters for meetings and special events throughout the school district. And if parents want cupcakes, cakes or other treats sent to their student's class to celebrate their child's birthday or other special occasion, his department can handle those requests too.
"We cook from scratch," Peña says, "using the freshest ingredients we can find. My goal is to be sure what we prepare and serve meets federal regs, looks great and is tasty too. Each of our schools has a cafeteria manager and a cook, with the exception of the Robbins Academy." (Robbins is a nontraditional high school of choice targeting students who are motivated to gain credits toward graduation, but who have unique needs prohibiting academic success on a traditional high school campus.) "We deliver hot meals to Robbins every day," Chef notes.
His goal is to attract a sizable percentage of the district's over 4,800 students to lunch every day in his school cafeterias. And he says they are seeing an increase in students eating there. "We try to make it fun for them," Peña says. Food service features the foods kids like but in healthier versions. On average the cafeterias offer 16 or so daily entrees, plus a salad bar. "Our cafeterias are set up like restaurants."
Peña designs monthly promotions – like "Squashapalooza" — to get the kids into the cafeterias. And on back-to-school nights he introduces parents to the varied menus with foods for them to sample. "We want our parents to know we're not serving frozen lasagna and pickle slices. Our goal is for parents to encourage their children to eat with us," he says.
While Peña works long hours – often arriving on campus shortly after 6 a.m. and staying well into the early evening – he loves the job. He is also quick to note the hours are much less than in the for-profit restaurant and hotel industry. There he rarely got weekends off. At AHISD he does get to spend time with his family, something that is very important to him.
Unlike the proverbial shoemaker whose kids never have shoes, Peña also frequently cooks for his family at home. The meals may be simple, he says, but he enjoys preparing them. He cooks. His wife cleans. And that's not a bad deal.
Chef Peña and his wife, Deborah, an escrow officer, were married in 1990. They have two daughters – one is a medical student at St. George University in Grenada, and the other attends UTSA. She plans to pursue a career in nursing.
By: Ron Aaron Eisenberg