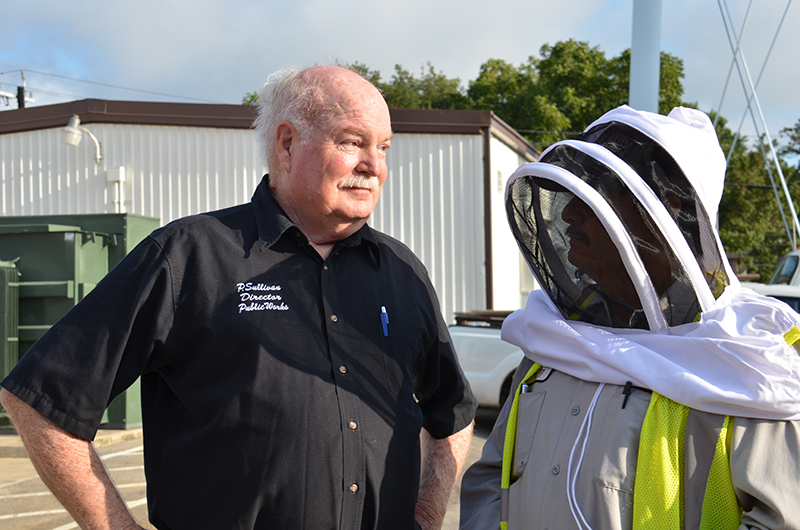 Alamo Heights Public Works Director Patrick J. Sullivan has no idea what he'd be doing if he weren't doing what he's doing now. As he explains it, "I love what I do. I love it because it's what I do." And while it's unlikely Sullivan is a fan of rapper LL Cool J, his comment mirrors the rapper's thoughts on loving what you do.
Says Cool J, "Do what you love; you'll be better at it. It sounds pretty simple, but you'd be surprised how many people don't get this one right away."
Sullivan's introduction to public service work began when he was a kid growing up in Castle Hills. He was born in Panama in 1955, one of six kids, but ended up in Castle Hills when his dad retired from the Army. He says Castle Hills "afforded us all the Norman Rockwell depiction of small town America." And he loved it.
"We were good kids," Sullivan recalls. "Never in trouble, except one time, when for reasons I no longer remember, me and some buddies decided to egg some cars in the neighborhood." As luck would have it, the only car they actually hit was a Castle Hills police car. He got caught because one of the officers recognized that "red-headed Sullivan boy." He had a lot more hair back then.
As a result of being caught, Sullivan spent a lot of time washing police cars in the weeks that followed.
A graduate of Antonian High School, Sullivan thought he wanted to be a teacher. "I spent the summer months working construction to earn money for college tuition," he recalls. He discovered he liked seeing something built from the ground up to completion. He also realized he could make a lot more money in construction than in the classroom. So construction it was for Pat Sullivan.
When construction work dried up during the economic downturn in the early 1980s, he found a job with the City of San Antonio in the public works department. He enjoyed what he was doing and stayed with San Antonio for 25 years, until he was approached by Alamo Heights to join its public works department. That was in July of 2007. And he's been there ever since.
"I didn't come in as the director," Sullivan says. "I was a crew supervisor. But over time I moved into the director's job." He describes the public works department as the agency that does everything police and fire don't do.
Sullivan recalls there were several directors during his years in the trenches. So when he was given the opportunity to lead the department, he was determined to do it by the book. "We have a number of city and state ordinances that govern how and what we do in public works," Sullivan explains. "And I understood that following those regulations was the best and only way to manage the department. It gave me the power to say 'no' to someone who might ask for a 'special' favor."
He told 78209 Magazine his time with the City of San Antonio taught him that the business of public works is really about people. "All of our employees interact with the public in one way or another," he explains. "We're all about customer service."
That commitment to customer service must be working because several Alamo Heights residents, including City Council member Lynda Billa Burke, rave about their trash collectors. She says, "I love my trash crew — Smiley, Cowboy Joe and the driver.  There are several of us in AH that love and talk about our trash crews all the time."
Sullivan told 78209 Magazine, "I let my employees know that I try to do the best I can in whatever I do, and I encourage them to do that as well. It is also important to recognize we all have lives outside of work."
That's something he has learned to keep in mind, as he manages a department of 28 public works employees and some 20 assorted trucks, back hoes and other vehicles.
When not at work, Sullivan enjoys spending time with his wife, Ana, and their two grown sons. He also enjoys fishing ("We try to eat what we catch") and some hunting. What he enjoys most about hunting has nothing to do with shooting an animal. "It gives me time to spend with my sons. I really like the peace and quiet," he explains.
With more than 35 years in public works, Sullivan is not even thinking about retirement, commenting, "As long as I enjoy what I'm doing, continue to find challenges, and wake up every day wanting to go to work, there's no reason for me to retire."
And he adds with a sly smile, "My wife works in the medical field, helping seniors to find the appropriate assisted living and nursing homes. So when the time comes, she'll know what to do with me, where to send me."
Fortunately, for Alamo Heights residents, that time has not come yet.
By Ron Aaron Eisenberg