78209's "Fashionable Address"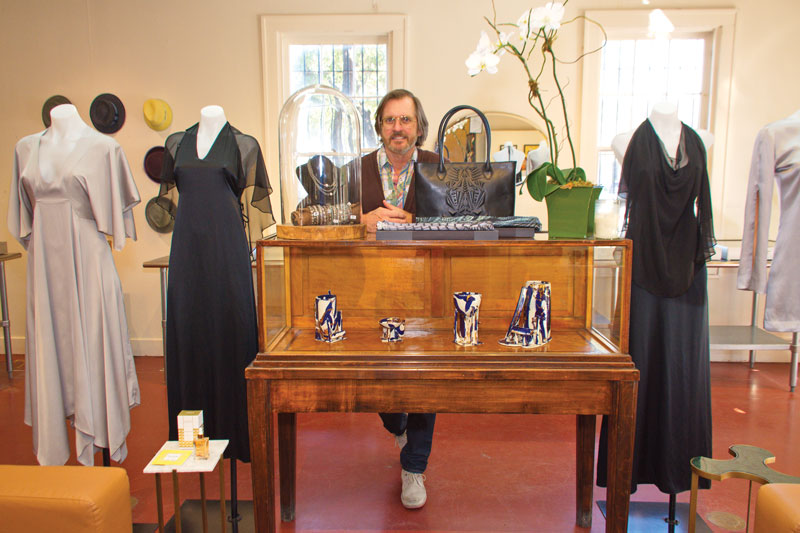 Our ZIP is simply full of "fashionable" addresses – just look at the many beautiful homes and structures that comprise our community. And, to achieve the same, creative styling and superb craftsmanship, in tandem, are paramount. When attained the overall result is an impression of confidence, comfort and quality. Visually, it says a lot about who we are.
But, it's not just the brick and mortar. We as a citizenry additionally make the same statement and realize the same effect through our personal apparel. For men, it's generally following a traditional path, but for the ladies, more is absolutely required. And fortunately, for many years, this uncompromising contingent has been privy to one of the neighborhood's most fashionable addresses – that of Sloan/Hall. Known for offering excellence and evolving diversity in women's exceptional attire (including incredible jewelry and accessory offerings), this is one '09 location that also definitely helps visually define just who we are.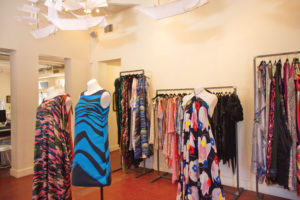 First opened in 1994 on Broadway in Alamo Heights, the eclectic emporium was the "dream" of close friends, Marcus Sloan and Shannon Hall. Remarkably, these two young men, while imbued with ambition, energy and imagination, didn't have any previous retail experience before embarking on this bold venture. They had met in Dallas as students. After graduation, both found jobs working for different, but equally worthwhile non-profits. However, each desired something different that they could personally create, curate, nurture and grow. After taking the plunge to go into business together, the ever-changing, wildly popular store that was appropriately christened Sloan/Hall, came to be. Initially, the concentration was on gifts, cards and other fun, household or otherwise, items but, as the store evolved, women's higher-end fashions ultimately became their primary concentration. And, since transitioning to to-die-for wearables, it's been a non-stop hit with '09's very clothes conscious (primarily feminine) consumer ever since.
But, since neither of these two had ties to the Alamo City, much less AH, why here?
Sloan is originally from San Saba, Hall comes from Jasper (Texas) – two smallish, rural towns. For the enterprise they envisioned, the pair was looking for a location in a larger (but, not too large) city with a discriminating, cultured population. San Antonio, and specifically Alamo Heights, perfectly "fit the bill." As Sloan attests, "'09 just felt right and based on the acceptance we've received, it's definitely been a good choice." That decision has been reinforced over the Broadway store's quarter-century of success – which, in 1998 spawned a second equally popular location in a trendy Houston neighborhood.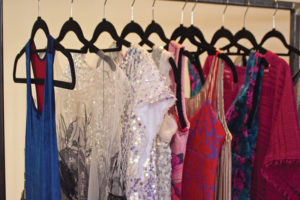 But, let's get back to Alamo Heights. It's hard not to notice Sloan/Hall due to its building – the classic former Mobil station located at Broadway and Austin Highway. The business has been in residence here since 2010. Before, it was a short distance away up Broadway. As a one-time gas and go (albeit, with definite class), its new tenant has certainly done the old edifice justice. Throughout its refurbished interior, shoppers find racks of incredible women's wear which are brightly showcased thanks to the abundance of light that filters in from all sides and as well as from above. Along the perimeter, other related products tempt buyers including displays of glittering jewelry and shelves of colorful accessories such as like must-have handbags, all ready to complement and or complete any ensemble. As Hall states, "We want our store to be a fun place to shop. We want our customers to get excited about their purchases. When they walk out the door, we want them to feel good about their visit here and, our extremely personal service coupled with an attractive and unique inventory consistently assures that."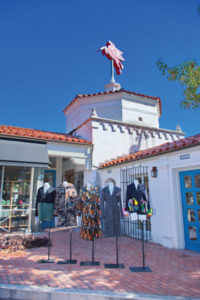 In regards to that inventory, Hall and Sloan both participate in the selection process. At any one time, the store boasts between 18 and 25 labels, each carefully vetted for quality and stylistic appeal. As Sloan explains, "For a few years, we had more of a European focus but, as time progressed we have shifted towards United States, and even local designers' output in an effort to find truly unique and/or one-of-a-kind pieces." As examples, two of Sloan/Hall's primary designers happen to both be Texans – Cesar Gallindo and Roger Canamar (who even lives in SA). Aside from an assortment of "off-the-rack" items, custom creations developed with a lot of client input are also available from these two acclaimed artists. And amazingly, these outfits normally only require about three weeks to produce. In that regard, Sloan wryly explains, "We consider these beautiful dresses to be our own elevated versions of 'fast' fashion." The ladies seem to love the idea of having something made especially, and solely, just for them. During "the season" and, to augment its already impressive inventory, Sloan/Hall will be hosting a series of weekly trunk shows further introducing designers from near and abroad. For those seeking something special to don for the holidays, a visit this month is definitely mandatory. And beyond the fabulous finery, Sloan/Hall still offers its very fun signature greeting cards, various house-wares, cosmetics and other Santa-approved giftables.
So, if you want to look good for the holidays, you'd better head to one of 78209's most "fashionable" addresses, Sloan/Hall. For incredible women's wear and more, this outfit has truly got you covered.
BY ERNIE ALTGELT
PHOTOGRAPHY BY MARTIN WADDY