With our immediate area's proximity to the game-rich Texas Hill Country and the vast chaparral lands to the south and west, coupled with our colorful Texas-proud cowboy past and subsequent embrace of its frontier spirit, it's not surprising that for many '09ers, the private ownership and use of firearms for sport, pleasure and protection is more than just a legal right,it's a given.
And as a natural result of this deeply rooted attachment to all things ammo-related, over the Lone Star State's long history, this passion has spawned numerous businesses that cater to the marksman, providing not only weaponry, related equipment and repair, but perhaps more importantly, professional advice and guidance to any and all gunning for success (and safety) on the hunt or at the range.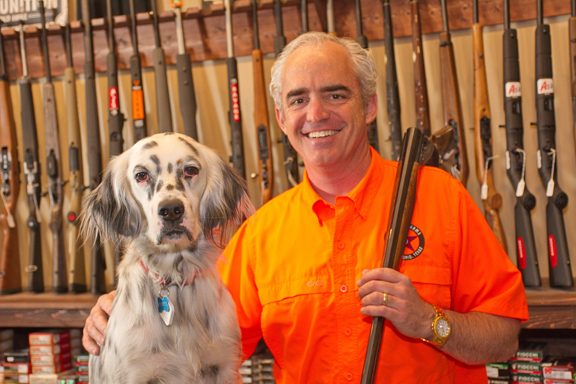 Fortunately, for local enthusiasts formerly used to driving across town, this ZIP code has finally acquired its own home-grown, uber-convenient and comprehensive native-run resource, where exceptional quality, service and selection are always "locked and loaded" and ready for targeted action. Aptly named Ranger Firearms, this Austin Highway-based shooters' superstore is truly one booming enterprise that admittedly aims to please, whether a novice or veteran, all those seeking top-caliber armory advice and acquisition. So the next time your trigger finger gets itchy, Ranger-up for rifles, rounds, ramrods and much, much more. It's not a long shot!
Founded in 2014 by Terrell Hills resident, AH grad and lifelong hunter Edward DeWees, Ranger Firearms represents his personal dream for "what a gun shop should be." Committed to unparalleled consumer service, Edward set a goal from day one to provide his clients with a complete weaponry package in a pleasant atmosphere that was conducive to achieving total customer satisfaction. And he appears to be succeeding. As he proudly states, "Ranger really is dedicated to making each visit a 'patron-positive' experience. To do this, we not only want to be the one-stop source where all of the shooter's needs are met quickly, politely and totally, but more importantly, to be able to help in any regard, even if we don't sell anything." And based on Ranger's ever-growing customer counts and impressive sales numbers, the philosophy seems to have clicked with many consumers.
To see why the store has become so popular, a visit to Ranger Firearms is mandatory. With its commuter-friendly location at the intersection of Austin Highway and Vandiver, getting there is a snap, and once on site, parking is plentiful and close. It's what's inside that impresses, however — over 5,000 square feet of armament- and accessory-laden display space. Enthusiasts of all stripes can't help being captivated. With more than 1,000 quality rifles, shotguns and pistols representing just about all of the national and international manufacturers, whatever a buyer is seeking is probably immediately available. Most of the inventory is new, but there are select (often collectible) used pieces on hand as well. "Really," as Edward attests, "from fully automatic machine guns down to air rifles, we've got 'em." And he's not kidding.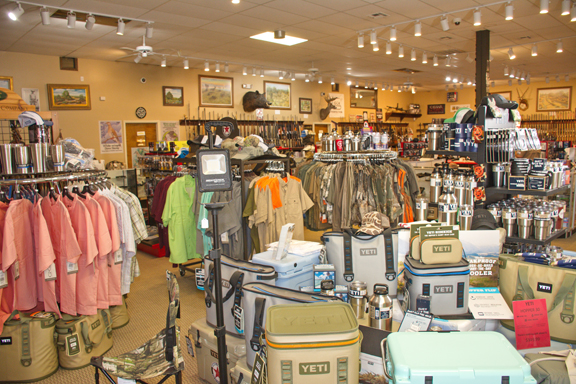 As an example of his diversity, weapon prices range from $95,000 for a rare 1910 Wesley Richards 577 nitro down to $110 for a youth model 22 caliber single-shot. Want a crossbow or a muzzle-loader? He's got those too. And if you're looking to sell an unneeded rifle, pistol or gun, Ranger might be in the market to purchase the same, provided it's a quality item.
Supporting the extensive shooting hardware are myriad accessories, including gun safes, straps, cleaning kits, optics (scopes, binoculars, etc.) and even rifle noise suppressors (silencers) and, of course, ammunition, ammunition, ammunition! If you like knives, Ranger is your kind of place too. Hundreds of hunting, pocket and survival models are offered as well — all first quality, no "cheapos" here.
Balancing Ranger's extraordinary inventory is its amazing staff, made up primarily of former military and law enforcement personnel and hunters. Each is an expert ready to counsel, inform and assist with every transaction. As Edward relates, "My team is the best, not just because they are incredibly knowledgeable and highly trained, but because they're great with our customers too. Therefore, you won't see folks standing around waiting to be served at Ranger. Prompt, courteous service is everything to us."
Behind the counter, additional staffers handle gunsmithing, machining, weapon customization, knife sharpening and even leatherwork repair and creation. Ranger personnel also offer concealed carry classes and schedule range outings where equipment can be demonstrated and tested. And where special licensing is required, Ranger Firearms employees will handle all of the legal requirements.
Rounding out the Ranger product offerings are lots of related (often fun) merchandise, including rack after rack of outdoor and casual wear, stacks of coolers and insulated drinkware (Ranger also gives free ice to those who ask), camp gear, duck calls, decoys, shot glasses and more. If you're on the hunt for something a little different with an outdoor spin, this is a great place to shop for birthdays and other special occasions.
So now that 78209 has its very own gun store, Heights hunters and sportsmen and women won't be forced to go on safari to get ready for the upcoming season or range outing. Everything that's needed to make that next hunt, skeet shoot or range visit a hit is now right here in the neighborhood. and best of all, Ranger Firearms really does always aim to please. Bang!
By Ernie Altgelt
Photography by Martin Waddy