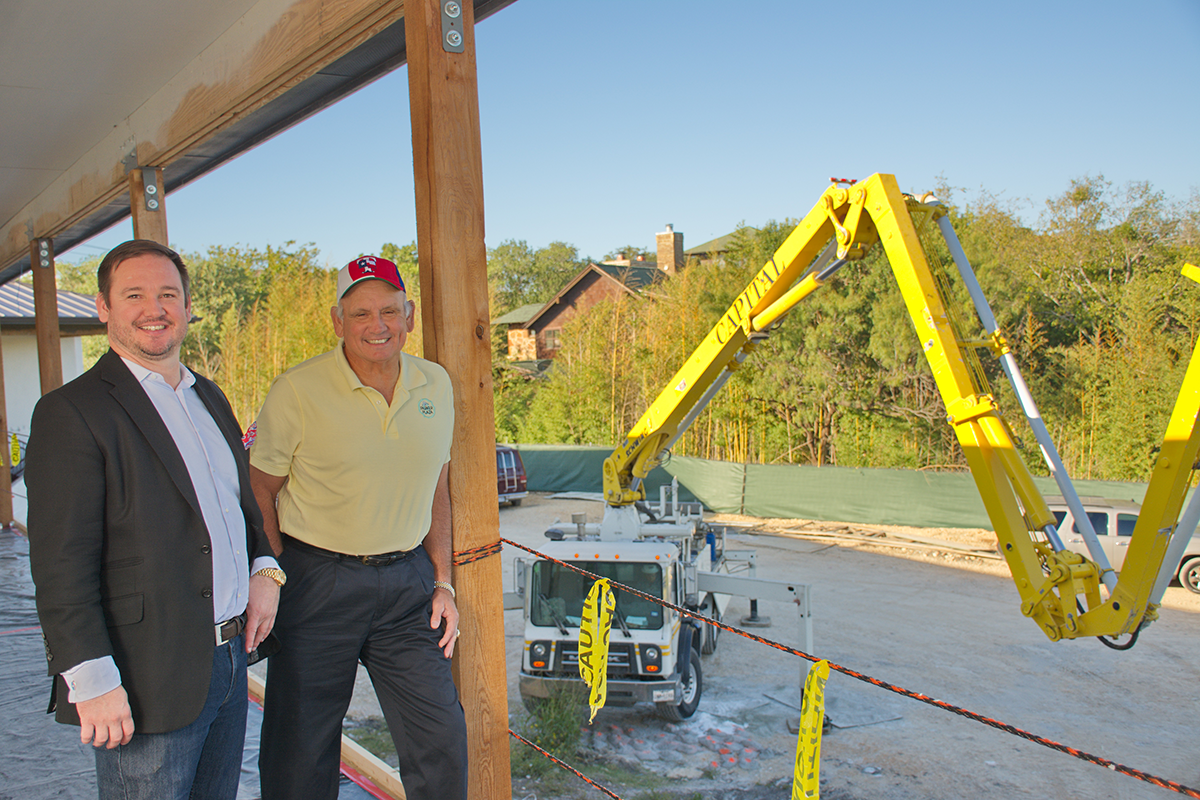 Living in Terrell Hills can be pretty darn great – and there's definitely no argument there! With its central location, super city services, excellent infrastructure, beautiful architecture, abundant greenery and, most importantly, its kind and considerate citizenry, it's no wonder folks have been harmoniously habitating within its boundaries for the past 100 years. Why, with the comfort levels currently achieved and continuously maintained, having lots of contented people calling the Hills home isn't likely to change anytime soon.
But what has changed within the beloved municipality, excitingly enhancing lifestyle choices, is the welcome addition of a brand-new upscale apartment complex. Thanks to father and son (and AHHS graduates) Dave and Clint Parker, the township now boasts its very own boutique-like collection of superbly appointed, limited-quantity luxury units ideal for discriminating domicile hunters seeking an exclusive TH residence with a lease rather than a mortgage. Simply called Parker Plaza, this expertly planned and produced mini-community really does offer an attractive, convenient and comfortable alternative for acquiring an impressive '09 address – with a golf course view, no less!
Conceived a few years ago, its very recent culmination represents a dream-come-true for both Dave and Clint. Dave, now newly retired, enjoyed a long career in medical sales, while his son Clint has been making his mark in commercial real estate. With the father's more open schedule, coupled with the son's expertise, the Parkers both felt the time was right to put this asset to "good economic use." As long-term owners of the then undeveloped land, they were spurred by the multiple inquiries received from others wishing to purchase the property. As Dave explains, "When we considered various options, taking into account the site's location and attributes, building and managing our own multi-residence project just made a lot of sense." And with the help of a like-minded neighborhood bank regarding financing, work quickly ensued earlier this year. Today, with the paint still fresh on the walls, Parker Plaza has finally become a reality, and no one's more excited than the father and son team that made it all happen.
Situated on the greater part of a full acre of prime real estate located at the corner of (831) Terrell Road and Harry Wurzbach, Parker Plaza comprises 10 select and spacious units averaging 1,200 to 1,300 square feet, each containing a generous living area, fully equipped kitchen, three bedrooms, two full baths and more. And since the units all come pre-equipped with the latest in higher-end appliances, this property is truly move-in ready.
Because of its location, Parker Plaza is proving to be perfect for parents wishing to be near their families already in Terrell Hills, military doctors assigned to SAMMC and Fort Sam Houston and anyone else who wants to live comfortably in the area. A proud Clint attests, "While there are a few other, much older complexes in Terrell Hills, we feel that none can compare with what we're offering — physically and esthetically. And it's even more attractive, thanks to our very competitive rates and flexible leasing terms. It's quite a package."
So welcome to Parker Plaza, and let's take a quick tour. Inside each unit, the ceilings soar to 10 feet on the first floor and 9 on the second. There are lots of airy windows that brighten the interiors. All units have two large baths – the one off the master bedroom comes with a walk-in shower and the second with a large traditional tub. Closet space isn't a problem since each apartment has multiple large spaces guaranteed to accommodate lots of apparel. The kitchens, just off the living rooms, all come fully operational with pre-installed quality appliances. Ditto for the built-in laundry as well.
Each unit also has its own dedicated heating and air conditioning system, internet and cable TV connectivity and is wired for independent security monitoring. The bottom flooring is strikingly finished in stained concrete while the top floor features a handsome natural wood-look laminate. Both are easy to clean and maintain. The entire structure is also densely insulated for climate and exterior noise control. But for many, Parker Plaza's greatest selling points are the private patio views of the adjacent golf courses. All apartments have these relaxing vistas, and what great places they are to enjoy those evening cocktails while catching the southeasterly breezes.
Other exterior benefits of living at the Plaza include covered parking, an outdoor barbecue/picnic area, dog park (yes, pets are permitted) and, to further enhance security, a gated entrance. Parker Plaza simply has it all. And if a problem should arise, don't worry because Dave is the full-time manager and will be readily "on hand" to see that any needs are taken care of quickly and properly – tenants won't be dealing with some distant management company. To emphasize this, Clint and Dave jointly insist, "We really do care about our guests. After all, it's our name on the building!"
Leasing demand has been high at this brand-new property, so if you're a discriminating renter wishing to lock in that impressive '09 address without a burdensome mortgage, call or stop by today. The Parkers will be happy to show you around.
By Ernie Altgelt
Photography by Martin Waddy