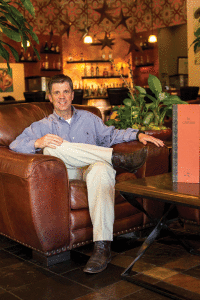 Recently, I sat down with Richard Peacock, Jr. at his popular Alamo Heights restaurant, Paloma Blanca. Over chips and queso, this businessman, husband and father shared with me a quote that he said has had a major impact on how he strives to live his life.
"There are two kinds of people in this world. The kind that walk into a room and say, 'Here I am' and the kind that walk into a room and say, 'There you are,'" he said. "I have always tried to be a 'There you are' person."
To Richard, that means trying to find ways to encourage and serve both individuals and the Alamo Heights community at large. Whether it is through his affiliation with the Texas Cavaliers or his philanthropic contributions through the restaurant, he is quick to point out that his is not a "one-man show." He is simply part of a much bigger picture that includes his devoted staff, friends, family and, of course, the loyal customers.
INVESTING IN FAMILY
The Peacock family has deep roots in Alamo Heights. Richard's parents, along with several aunts and uncles, all graduated from Alamo Heights High School and lived and worked in the community. Richard, however, graduated from MacArthur High School, a fact that he says helped shape his identity.
"My parents couldn't afford to live in the neighborhood when I was growing up, so they built a house outside of the Alamo Heights School District, " he explains. "It gave me an interesting perspective because even though a lot of my friends were from Alamo Heights, and I spent a lot of time in the neighborhood, I always felt a little bit like an outsider. I think it made me more sensitive to creating a feeling of inclusiveness in my interactions as an adult."
Following his graduation from Southern Methodist University, Richard moved back to San Antonio and the Alamo Heights neighborhood. He joined his father and grandfather in the family commercial real estate brokerage and development business and immersed himself in brokering deals that included the sale of The Collection shopping center on Broadway and the McNay Art Museum's acquisition of an office building.
Along the way Richard brokered a life-long deal with a girl he met on a blind date, and today he and his wife, Brooke, are the parents of 7-year-old twin boys, who currently attend Woodridge Elementary.
INVESTING IN BUSINESS
In 1997, Richard made a deal that turned out to be a game changer. He opened Paloma Blanca and began serving up delicious Mexican fare in a comfortable, modern hacienda-style atmosphere. The residents of Alamo Heights ate it up, literally!
"I had never owned a restaurant before," laughs Richard. "I just pulled together some partners, thinking it would be a fun 'on the side' project." That 'on the side' project now takes up approximately 50 percent of his time and is a great success, a fact that Richard attributes to his customers, his "amazing" staff, and his general manager, Nelly Mendoza, who started with the restaurant as a hostess a mere six months after it opened.
"I just come in and take the credit and leave," Richard jokes. "Nelly is in the trenches day in and day out. She and the rest of the staff do all the work."
Owning and running a restaurant is an investment not just financially, but also in terms of time and dedication. Richard and his expert team of employees have invested all of that and more into Paloma Blanca, not for themselves, but for the community in which they live, work, and play.
"The success of the restaurant has allowed us to encourage and support causes we believe in," he says. "A substantial part of the satisfaction we get from the business is that it allows us to make an impact on the community, even if it's just a small one."
Hosting dinners to honor Alamo Heights retiring school teachers, underwriting fundraising dinners for nonprofit organizations and donating to a variety of live auctions are just a few of the ways that Richard leverages his business to help the community.
INVESTING IN COMMUNITY
In addition to donating the services and resources of the restaurant to the community, the Peacock family also donates its time. Richard has volunteered as a coach for his sons' Alamo Heights Little League team, while Brooke is currently the PTO president at Woodridge Elementary. The family actively attends Alamo Heights Methodist Church and credits their faith as a factor in the success of the business, as well as a guiding force in their lives.
Recently, that faith sustained them during what proved to be a controversial real estate development in which Richard found himself embroiled, i.e., the Gateway Project. Richard, along with a group of partners, owns the property located at Ellwood and Austin Highway that was being considered for purchase by a Dallas developer. The proposed development was the subject of much discussion and debate, with the deal eventually falling through because of the limits imposed by the Special Use Permit that was tentatively approved by the Alamo Heights City Council.
"From almost the moment that we closed on the purchase of that property, I've felt like the dog that caught the car," he says. "It's been a huge challenge to know what to do with it." In an open letter to the Rivard Report published in April, Richard explained that he and his partners plan to take the next several months to reassess their options and discuss with various stakeholders what the next move should be.
"We really thought we were on the right track," he says, adding that the group has three requirements for the development. First, it must be architecturally significant. Next, it must offer a real benefit to the community. Last, it must be economically viable.
"We have to get it right," he emphasizes. "It's important to the community that we get it right, and it is important to us that the entire community sees it as a benefit."
In the meantime, Richard will keep utilizing the success of Paloma Blanca to make a difference in the community that he and his family are proud to call home. He gives full credit to his customers for helping him achieve his philanthropic goals because, as he says, if the customers stop showing up, he cannot accomplish the things he wants to do through the restaurant. That is why Richard and the entire Paloma Blanca staff work hard to nurture and foster those customer relations.
"At the heart of it all, we are not in the restaurant business, we are in the business of relationships," he explains. "We just happen to facilitate those relationships with delicious enchiladas."
By BONNY OSTERHAGE     
Photography by CASEY HOWELL