Edmund Beck Invests in Real Estate in San Antonio and Across the Globe
San Antonio is an ever-evolving city, and there is a hometown boy who is staking his claim in local real estate. The Alamo City might be the place he has always called "home," but 85-year-old Ed Beck has made his mark as a real estate investor across the globe as well. Owner of Leo Unlimited, Inc., he is a prominent figure in the world of real estate. However, it was a long road to the seat of multi-million-dollar success he occupies today.
Beck was born in 1934 and grew up on a farm in what is now Hill Country Village. He attended Alamo Heights High School and graduated in 1952.
He decided to further his education at Texas A&I in Kingsville. After graduating, he received his orders and went into the army as a young lieutenant. He served in the military for 26 years, living in various countries and meeting new people along the way.
In 1962, while he was teaching military law at the University of Miami, Beck decided to take a big step towards his future and purchase a home of his own.
He walked into a real estate office and said, "I've got $100, I want to buy a house." The man in the office looked at him and responded, "I have a house, and I think with a V.A. loan $100 will do it." What might have seemed like a standard purchase for any adult, was a sign of the determination and will the Beck has exemplified throughout his entire life.
This first property was a key moment in Beck's life, but his journey didn't stop there. Duty called, and he continued his military service around the world. It was while he was stationed in Germany that his life changed forever.
In 1957 I was assigned to the 4th Armored division and had been in Germany for about three months. The colonel's wife was German, and she said she was going to get me married," he laughs. "We were out for dinner one night, and I saw this good-looking gal. The colonel's wife intervened and got her telephone number. We all went for dinner, and she would translate for us."
Thus, began their whirlwind romance. "We were just young kids, but when I met her, I could just feel it." And clearly, his initial feelings were right. "About 4 months later, we got married."
The pair recently celebrated their 61st wedding anniversary, but Beck says it feels like it was just yesterday. The Becks have a daughter, Bernice, who also lives in San Antonio.
Being business driven is something Beck and his wife Jutta have in common, and the two work together every day. "My wife is my real partner. She is my only partner. She plays a big role in everything I do," he says.
Jutta was involved in the cosmetic business in Germany, and when the pair moved to San Antonio, her passion was not left on the backburner. In 1978 they opened Jutta Beck Skincare on West Sunset Road. "The '09 area is a dream location," Beck says of the district that has become the center for his and his wife's businesses.
The creation of Leo Unlimited, Inc, followed shortly after their first business was developed. This company imports and distributes European cosmetics and works in conjunction with Jutta Beck Skincare. Today they have distribution rights of the skincare line of Janssen Cosmetics and import and distribute them to the northeast, southeast, and the southern U.S.
After nearly three decades in the military, including being assigned to the joint task force in 1973, how did Beck find himself in the line of work that led him to success? In his transition from military to civilian life, he started making deals in real estate in San Antonio. It began with his first commercial property in 1970. That one property has led to the evolution of Beck's business, and he now owns over 40 commercial properties in San Antonio.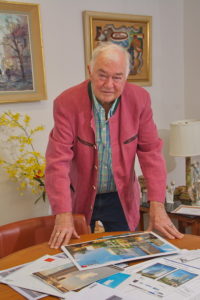 The Alamo City has tons to offer in terms of space and opportunity. However, Beck has decided to focus on specific parts in town. This attention to detail in the locations he has chosen to concentrate on is the reason his investments prosper. These areas include the San Antonio River Walk, the surrounding airport area, West Sunset Road, and along I-35 in Selma. Though passionate about developing locally, his investments also led him back to his time spent overseas.
Beck and his wife travel frequently, visiting Germany once a year. "I had bought a home in Stuttgart, Germany a long time ago, and that was the beginning of investing in Europe," he says. However, Prague soon became their home base.
A trip to visit his wife's childhood home in Brno, Czech Republic, turned into a twist of fate. During their visit, they also spent time in another beautiful city— Prague. It captured their hearts immediately. "We saw real estate we were interested in, and we started buying," he says.
Their investment journey didn't stop there. On the plane home, the Becks met two young men from Bulgaria whose conversation about the potential of real estate in their home country was quite convincing. What these two young men didn't know at the time was they introduced Beck to a whole new world that would change his life as an investor forever.
During the Becks' next visit to Prague, they decided to include a side trip to Bulgaria. The rest is history.
Beck has two Bulgarian lawyers who hold business authority while he is here at home. "I go out there once a year. I have my own branded wine, a gallery, a museum, restaurants, and accommodations. He is now famous in the area and is often referred to by the locals as the "Texas Millionaire." While some big investment companies may pursue these opportunities and see them as gold mines for supplemental income, Beck is not looking for profit from his investments in Bulgaria. On the contrary, it is a rather personal matter. He finds joy in restoring buildings and sees it as a gift to the community. What is important to him is seeing the preservation of these ancient buildings and helping bring them back to life.
His work and dedication have been noticed not only by locals but also by government officials. The U.S. Ambassador in Bulgaria commented on the impact he has made on the community. "The people of Bulgaria appreciate the fact that he isn't an institution, foundation or investment fund, but a person who uses personal resources," he says.
One project Beck is particularly proud of is the Hadji Nikoli Inn, a national historical monument. "It is the prettiest building I have ever seen in my life." The work he and his team accomplished was recognized by the president of Bulgaria. They received the distinguished honor of the Building of the Year award in 2010.
He loves his properties in Europe, but there is one thing he misses most when he isn't home. "I miss my tacos," he laughs.
Even while he is enjoying a delicious taco, the work never stops for Beck. Though he manages international properties, he is also spearheading major projects locally. His phone is always in his hand, saying 95% of his day is spent taking calls. "My phone is my office," he says. "I was in Prague when I purchased the property from Frost Bank for the Thompson Hotel."
While it is clear that hospitality is one of his preferred investments, as he is developing innovative 5-star hotels downtown, he has his hand in other projects as well.
One of the latest is the new Mercedes Benz dealership that will soon be built in Selma and he is also in the planning stages for building another hotel on a different site on the San Antonio River Walk.
Beck is dedicated to helping develop the future of San Antonio, and he hopes the community takes note. "You want to do something nice that people will remember you by," he says. And remember him, we will.
The legacy Beck will leave behind is a true triumph of determination. "Having lived all over the world in the military, you think differently. I had to learn the hard way. I did everything on my own with common sense. I have friends that say 'Are you crazy?' and I say no, I enjoy it."
Beck has very distinct business practices, and these habits have proven the keys to his success. One of his personal customs is that he rarely sells his real estate investments. He opts instead to negotiate long term land leases that will benefit him well into the future. His largest liability is property taxes. Beck doesn't believe in bank debt and pays for everything in cash.
He encourages focus and hard work when it comes to pursuing a new business venture.
However, if he could offer a piece of advice to future real estate investors in San Antonio, he says, "Look to the river for your opportunity."
The River Walk is his favorite feature of San Antonio. In fact, it is part of his home's backyard landscape. Just steps from the river, he and his wife have settled in the King William district. They purchased and restored a beautiful 100-year-old home.
From traveling the world to exploring opportunities in his own backyard, one thing stays the same for Beck: he has a deep love for the city that made him the man he is today.
"I have been all over the world, and San Antonio is the only place I want to come home to.
BY GABRIELLE HERNANDEZ
PHOTOGRAPHY BY MARTIN WADDY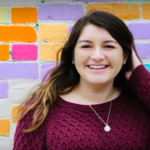 Gabrielle fell in love with journalism at an early age. She has always found great joy in meeting new people and sharing their stories in creative ways. Gabrielle ambitiously pursued a degree at the University of Texas and graduated with a Bachelor of Journalism. Though she is just starting out in her career, she has spent her time bouncing between broadcast and print, pursuing ventures both locally and abroad. She is happy to call San Antonio home and cannot wait to see what the future holds.