Taking high-tech toning to the Heights
Today more than ever, '09ers appreciate the importance of achieving and maintaining personal physical fitness. Without it, life just can't be lived to the fullest – no matter what ZIP code you reside in. And in pursuit of the same, many go to great lengths (and often, expense as well) to attempt to strengthen and tone what nature has bestowed. But success has not always been assured.
Fortunately, in this modern world, where computers are able to assist with virtually every aspect of our well-being, attaining desired physical outcomes has gotten a lot easier. Thanks to a forward-thinking, nationally based company committed to facilitating overall health by combining digital wonderment and solid science with old-school, hands-on attention, goals are being reached and often surpassed. Called the Koko Fitclub, with an outlet conveniently located in the Lincoln Heights Shopping Center, it gives locals access 24/7 to this new, effective and very popular approach. Why, when considering proximity and the bodily benefits, Koko Fit truly has taken high-tech toning to the Heights! One rep, two reps …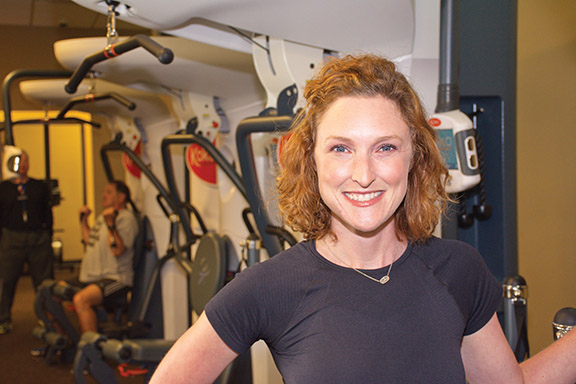 The 78209 center was opened in 2014 by area residents Leslie and Jason Edwards, neither of whom was originally schooled in physical fitness training – she was a college-level English professor, and he has a successful career in the energy sector. Both were long-term devotees of keeping fit, however, and when they first encountered and then experienced the Koko Fit regimen, they were immediately sold on the program.
As Leslie, the center's full-time manager as well as co-owner, remembers, "We were so impressed. The addition of digital technology coupled with amazing equipment, then combined with a lot of personal attention, really appealed to us. So we bought a franchise. And now we own all four Koko Fitclubs in San Antonio – this one, and others at The Dominion off Interstate 10, on Bitters Road and on Stone Oak Parkway." More importantly, their rapidly growing membership has also quickly developed (physically and emotionally) an excitement for this very effective program as well. As evidence, the '09 location is now ranked No. 3 among all other Koko Fitclubs in the nation.
AH's Koko Fitclub is located in an intimate 1,900-square-foot storefront immediately off Basse Road near Broadway. Once inside, visitors encounter a bank of impressive machinery all designed to accommodate strength training that's able to target, tone and reshape the entire body. A proud Leslie explains, "Our exclusive (patented) all-encompassing Smartrainers® can allow for a complete top-to-bottom workout individually customized to address and/or enhance any existing physical condition. One machine does it all! As an additional bonus, because of the equipment's effectiveness, our sessions generally run about half the time of a more traditional gym workout. With today's busy lifestyles, that's important." And it really is neat technology, made more so by the fact that each machine accepts a pre-programmed flash drive that guides each individual user on what to do, where to do it, how many times to do it and at what resistance levels. Wow!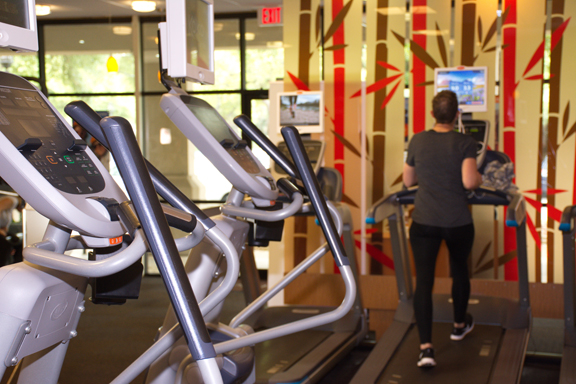 But step one for all new members before mounting the machines is establishing the programming. This occurs only after an extensive evaluation by one of the staff (all of whom have been thoroughly trained up to the corporate level). Goals are discussed and physical assessments are made before any recommendations are given. After a plan is devised, as Leslie further clarifies, "Members can simply come in, plug in and start their very own personalized regimen. They will know exactly what to do." During regular business hours, however, if help is needed or questions arise, trainers/coaches are always on hand to assist and advise. Since this is an ongoing process, at the end of each session, what the client has accomplished is recorded and then compiled with past performances that can be accessed on their own Koko Fit Web page, allowing for the continual monitoring of progress over time. Along with the physical aspects of the program, amazingly tasty and nutritious supporting dietary plans are offered, completing the overall fitness package.
Lastly, beyond the cozy atmosphere, incredible equipment and other amenities, what members of the club also appreciate is the round-the-clock accessibility. Everyone receives a "key" that grants access to the premises at any time on any day. Quite simply, to the membership, Koko Fitclub is never closed. And members are always welcomed at all other Koko Fitclubs, throughout Texas and the country, an advantage when traveling. In other words, joining at one is like joining every other Koko Fitclub. Double wow!
So, '09ers, if you've been meaning to tone and tune up but don't know where (or how) to turn, and, aren't into the typical huge and impersonal gym scene, Koko Fitclub might just be for you. It's here, high-tech and oh-so-healthy. Give me five!
By Ernie Altgelt