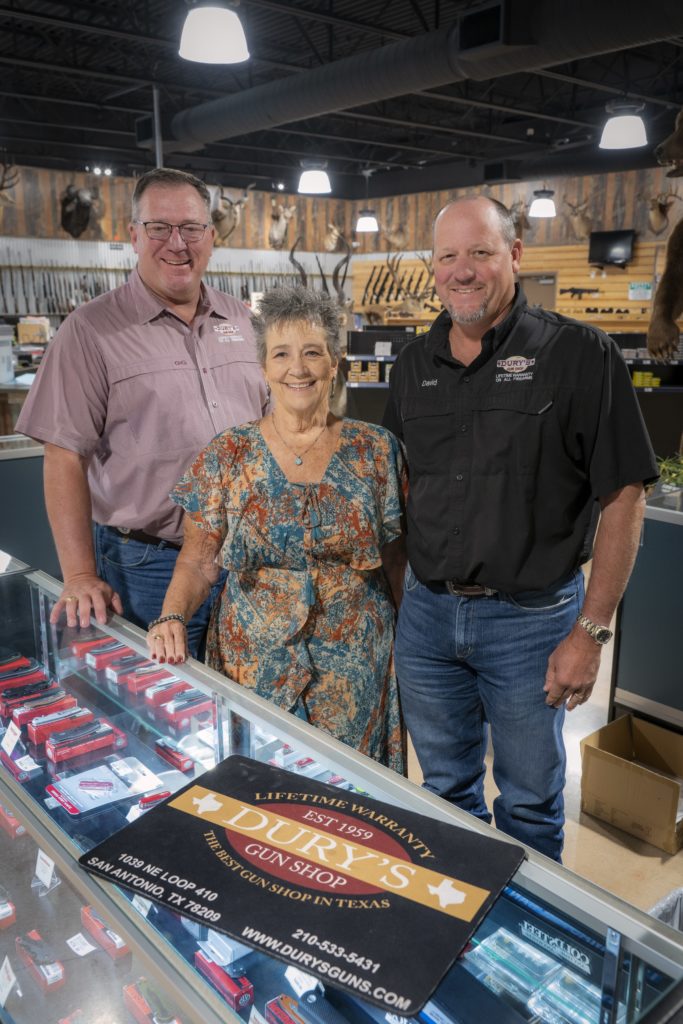 Dury's Gun Shop
Straight Shooters since 1959
by Meredith Kay
Photography by Al Rendon

 
Some of the most successful enterprises began in a garage. Steve Wozniak and Steve Jobs started Apple Computers in a garage, and the Ramones started their raucous band in a garage in Queens. Likewise, one local family business that has managed to thrive and grow for more than 60 years began in the garage of John L. Dury on the Southside of San Antonio in 1959.

 
John passed away in 2005, but Dury's Gun Shop is still managed today by John's wife, Betty, and his sons, David and Johnny. It is a gun lover and hunter's paradise with a massive bear holding court in the center of the shop.

 
Dury's carries a vast inventory of firearms and firearm accessories, including optics, magazines, and suppressors. They also feature a large selection of rifles and shotguns from many different manufacturers, or you can commission your own rifle design from David Dury himself. David learned gunsmithing from his father and runs the gunsmith and repair department of Dury's, which employs six gunsmiths that can handle any repair issue that might arise with your firearm, regardless of its age.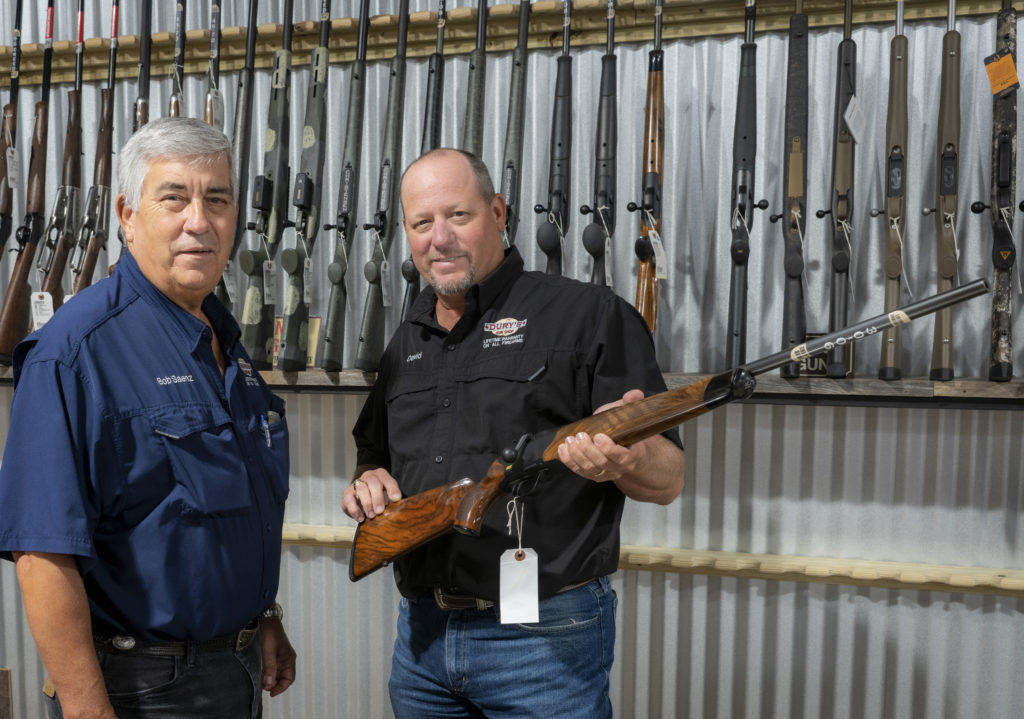 David Dury wants customers to know that "Buyers can feel confident buying from Dury's because they know that our team of highly trained professionals can service the guns that we sell."

 
This forward-thinking customer service policy is what allowed John L. Dury to build his business from its humble start in the garage to the legacy enterprise it is today. David continues by emphasizing that, "Dad always said, 'A man is only as good as his word,' and we instill this in our employees, and our customers know that they can count on us to deliver what we promise."

 
Betty Dury, or Mama Dury, as some famous and longtime customers lovingly refer to her, is a feisty businesswoman, still cracking the whip at 76. She is outgoing and friendly, and her eyes light up when she tells the story about how she met John in 1967.

 
"I was working at Straus-Frank Company, and John would come in to buy specialty parts. I thought he was cute, so I winked at him one day. I asked one of the guys about him and found out that he was single. The next time he came in, he asked me out, and we eventually got married."

 
Dury's Gun Shop moved out of John's garage in 1972 and moved into their first brick and mortar location on Southcross in 1973. They grew steadily and gained a loyal clientele in San Antonio. They became known for their lifetime warranty when very few businesses offered a guarantee. John truly believed in standing by his products and his customers, and they began to market the promise to the public, attracting more customers who would return time and again. Once Dury's Gun Shop outgrew that location, they relocated to a larger space on Hot Wells Boulevard in 2003. They expanded their inventory and gunsmithing department until their move to the Alamo Heights area in 2019.

 
The business doesn't do much advertising. Most of their customers find them through word-of-mouth recommendations from other customers. Their reputation for honesty and fair prices is what brings in new customers and keeps loyal customers returning. Johnny is the face and voice of Dury's and handles most of the business's sales and customer service aspects. When asked about his father's legacy, he states, " We do our best to live up to dad's customer service standards every day."

 
Dury's also offers consignment sales, and they buy large gun estates throughout the United States. They are proud of their honesty and transparency when working with customers who are liquidating assets and estates. They offer a fair market value for the collections they buy and do well on specialty gun auction sites. Online gun buyers must purchase through local, licensed gun brokers, and Dury's charges a straight fee with no surprises.

 
Dury's Gun Shop is a true family business, and it shows no signs of slowing down. Although Betty stepped down as President of Dury's last year, she is still very active in the day-to-day activities. David's wife, Angie, is now the bookkeeper, and all four of the grandkids have even worked for the business. David and Johnny are committed to continuing what their dad started all those years ago, and you can be sure that you will be educated properly and treated fairly when you step into Dury's Gun Shop.