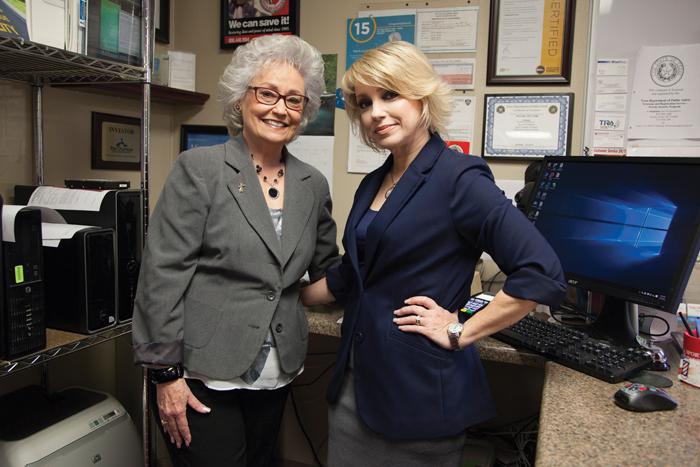 Even in the staid old neighborhoods that comprise our treasured ZIP code, where attitudes, architecture and ambience reflect a feel often dating back a century or more, in our homes, professions and even our pockets a new technology has taken root, and boy, do we like it. Yep, those wonderful, wacky computers that almost all of us use on a daily basis have evolved from a fairly recent novelty into a recognized essential that permeates most aspects of our lives – from business to pleasure and everything in between.
And that's really great, until they quit working. Enter 78209's very own Help Me!! Tech Team, a full-service, one-stop technology service provider that's been keeping us successfully clicking, networking, scanning, texting, sending, surfing and storing for the past 25 years. Need some neighborly help? Google 'em up!
Founded in the early 1990s by the ever-energetic Nancy Victor, then a 21-year-old self-taught computer whiz who got her start working for the U.S. government, Help Me!! Computers, LLC, was established with the intent of coming to the rescue of the burgeoning number of rank and file who began using the new technologies but were basically clueless beyond simple operation. What a great idea! Initially setting up shop in her modest garage, Nancy and committed family members, including her husband, father and later even her mother, got to work.
Starting close to home, Nancy and crew began wowing friends and clients who experienced such frustrating and/or debilitating problems as a slow or unresponsive program, networking problems, virus infections, hardware breakage and even a complete system crash. As Nancy says regarding then and now, "If it was broken or wasn't working properly, we could generally fix it for a very affordable fee. That was true at the beginning, and it's still the case." Word-of-mouth quickly spread about this phenomenal service, and by 1996, a move to larger digs was required along with a name change. Buying and then setting up shop in a former restaurant building at 929 Austin Highway (near the McNay Museum), then adopting the more appropriate moniker Help Me!! Tech Team, she and other family members, supported by a growing cadre of equally knowledgeable IT technicians, made their business, as Nancy relates, "Saving the IT day!"
Currently, Help Me!! Tech Team has positioned itself as the area's all-in-one technology service provider specializing in systems integration, where it designs, installs, manages, maintains, troubleshoots and repairs all network systems and software, basically keeping everything running smoothly. Help Me!! Tech Team is truly a leader in the marketplace – in 78209 or across South Texas – benefiting a diverse clientele in health care, education, law, nonprofits, local governments and automotive, retail and other commercial entities in addition to residential customers.
Tinder is no longer just a mobile app. Today the company launched a web version of its app, called Tinder Online. Download Tinder Apk Download and start meeting new people. Tinder on Windows PC is simply with Andy the android emulator.
And aside from the technical competencies, what many Help Me!! customers appreciate is the personal service received. Whether a customer comes to the shop seeking assistance or needs to schedule an on-site visit, all can expect a courteous, caring and even compassionate response. Nancy accurately admits, "We know how important it is to get you up and running again ASAP – whether it's a total network failure or a simpler system upgrade – and since the majority of our staff actually live in the Heights area, we can usually do just that."
Help Me!! Tech Team generates most of its trade locally. Since opening, it has served an impressive 11,000 clients with about 60 percent representing commercial users and 40 percent residential. And as the technology continues to advance, Nancy has made it her business to stay ahead of the curve. So no matter what your IT needs are – whether networking, security, Voip Telephone and point-of-sales systems, even electronic medical records plus consultations, upgrades and repair for home equipment — Help Me!! Tech Team can truly help you. As Nancy states, "We really are 78209's 'in-house' IT service provider. Call us first."
By Ernie Altgelt
Photography By Elizabeth Warburton