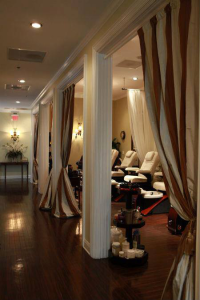 SPIRIT, SOUL AND CUSTOMER SERVICE AT THE HEART OF BUSINESS OF RELAXATION
In the hustle and bustle of today's culture, everyone seems to be seeking the most expeditious means for accomplishing tasks, managing their day and making the most of their time. As business owners and consumers, we often appreciate the sense of urgency purveyors provide. One industry that is the leading exception is the luxury day spa sector wherein tranquility and respite are found on the forefront with ever-present urgency under cover. In 2004 Kim Stevens stumbled upon Woodhouse Day Spa in Chicago. She was instantly smitten with the quality of service and knew a foray into the spa business was her next professional step in life. Relocating back to Texas with her husband, Stevens signed two leases with the Woodhouse franchise; one in the Westlake, Austin, area and one in the Quarry in San Antonio. Westlake opened November 2004 and the Quarry, in January 2005. Celebrating her 10-year anniversary in Texas this August, Stevens recalls what brought her to this point in life. Growing up in a military family was integral in honing her drive and ambition.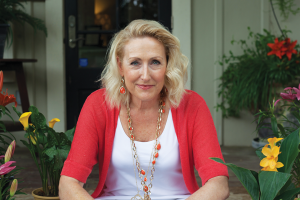 Moving from the UK to Abilene, Texas, with her family ultimately resulted in her meeting the man with whom she would celebrate over 35 years of marriage. Witnessing his wife's passion for the beauty industry via Woodhouse, he aligned forces with her to create a management team for their franchised spas. From Stevens' first location in Westlake to her most recent in historic Boerne, she aspires to touch every aspect of her business and to ensure that each client who walks through the front door is cocooned in an atmosphere of serenity and comfort. Stevens states, "We strive to deliver what we think of as a lost art – customer service," which is cultivated during the hiring and training process. She emphasizes that the Woodhouse management team leads by example in their "customer first" mindset.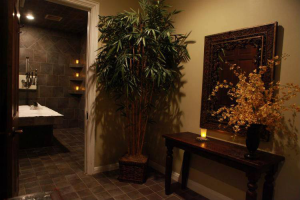 "Everyone functions as a team and works together to have a good time while maintaining the highest level of customer service." The culture of Woodhouse is an enigma. "There's no one else who does what we do here," she says. "There's something special about Woodhouse, and we strive to hit the mark 100 percent of the time, be it through customer services or ensuring our employees have the best working environment possible." Stevens, true to her words, is hitting the mark annually by not only earning the label of "Best Day Spa in San Antonio" but also "Top Workplace in San Antonio." Passionate not only about customer service but also the heart of her business culture, Stevens says the crux of Woodhouse is called the 99 Elements, wherein their heart and soul is revealed. "Spas need spirit and soul … aroma, sensory triggers, sights, smells and charms. If relationships are our core, then the overall experience, our 99 Elements, is our soul," she explains. Placing high value on customer feedback, both positive and less than, Stevens loves frequenting her seven locations to ensure implementation of the 99 Elements. Not wanting to lose touch with what transacts daily on the front lines of her spas, Stevens can be found serving in every capacity from checking in guests at any one of her six San Antonio locations, to ensuring her team has the best employee amenities available. Stevens originally opted to open her spa as part of a franchise not only because of the exclusive client customer service mentality, but also because she had never owned a spa before: "Working every aspect of the business and learning from the ground up is what it takes to successfully own and manage a Woodhouse Day Spa." As a result of this philosophy, Stevens is confident that she has a great infrastructure and solid management staff in place. Through consistency in management, Stevens has now expanded her region to the East Coast via the Woodhouse Hospitality Group Management services. This entity, a collaboration with Woodhouse founder Jeni Garrett, allows Stevens to serve as a franchise mentor for new Woodhouse franchisees beginning their business venture. It also allows the company to serve in a management capacity for hotels who seek exclusive spa management and owners who have the desire but are lacking the time required to open a spa.
Woodhouse Hospitality Group will step in and assume those responsibilities, enabling the franchisees to continue life as they know it while simultaneously owning their own business. With a lofty 10-year goal of opening over 50 franchised locations on the East Coast, Stevens has her work cut out for her and is eagerly looking forward to the happenings of each new day. A crucial component of Woodhouse is its hardworking team who selects skin care lines. The Lifeline skin care is their newest product, and Woodhouse is the only spa in San Antonio currently carrying it. With 100 percent of the proceeds going back into stem cell research benefiting funding for degenerative disease cures, Stevens believes whole-heartedly in the efficacy of the line, saying, "I have used Lifeline skin care for the past 30 days and feel like my skin looks better than it has in a long time because of the purity of ingredients." Woodhouse is greatly expanding its repertoire of locations with 20 openings this year and more than 50 in operation. Stevens concedes her greatest challenge is efficient time management. "New things are constantly changing and happening; new skin care lines, new menus, marketing the East Coast. I have to use my time wisely." Openly stating that she is a Type-A personality, she acknowledges it is difficult to separate work from life, given she and her husband share the same business, yet she has faith in her long-standing management staff, who enable her to ultimately be the wife and partner she strives to be. For more information on Woodhouse Day Spa's services, including their current Mother's Day promotion, please visit sanantonioquarry.woodhousespas.com or call 210-822-8800.
By KELLY HAMILTON
Photography by ELIZABETH WARBURTON