A SALON FOR TYKES OF ALL AGES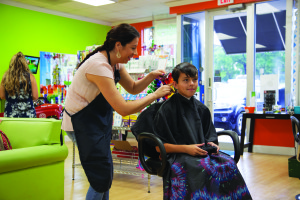 If you've got young children, you may unfortunately associate family haircuts with fearsome headaches. Often, our tiny tykes just don't like getting their tresses professionally trimmed, much less washed, clipped, combed and styled. They may squirm, squeal and sometimes even cry during a visit to the traditional barbershop or salon. And the result can be an exhausting ordeal to all involved, including moms and dads, stylists, other patrons and especially the kiddos themselves. Enter Melissa and Matt Johnson's very neat (and targeted) Pigtails & Crewcuts, a top-tier hair salon catering almost exclusively to the wee ones. By melding the appeals of an alluring and engaging playground with a super-talented and caring staff (many of whom have children themselves), this ultra-entrepreneurial husband and wife have created a tot-oriented tonsorial wonderland that for '09's youthful clientele and their parents, definitely makes the cut.
Brought online in 2010 in the Alamo Quarry Mall shopping area, Pigtails & Crewcuts was created especially to cater to children as young as 3 through age 12. While adults (usually a parent) and teens can certainly obtain superb cuts on site, as Melissa states, "It's the little guys and gals that we're here for. They love our styles and our entertaining ambience." And after a visit, it's easy to see why. The décor is definitely kid-oriented with very cool retro pedal-car barber chairs, flat-screen TVs running the latest Disney hits, a large, toy-stocked play area and other age-appropriate amenities that will get even the most recalcitrant peewees eager to grab a lollipop, hop in a chair and join in the fun. The entire atmosphere is conducive to enjoyment, and the results at the end of each session are generally really happy campers sporting superb, parent-approved haircuts. With up to five stylists working at once, things clip right along.
The degree of professionalism is high, and almost any style is (with the parent's permission) available. Two of the more popular offerings include the daring and spiky gelled "faux hawk," which the little guys like, and an elegant braided "do" sprinkled with glitter, which is just perfect for the young ladies. More traditional treatments are certainly available as well. And as part of the service (which moms love), hair washing – before or after the cutting and styling – is usually a welcome part of the process too. Whatever the assignment, once out of the chair, the youngsters certainly look adorable as they run laughingly to the checkout counter, where a free prize awaits each and all within the shop's beloved treasure chest. Along with the exceptional service, Matt and Melissa stock a comprehensive inventory of quality hair products perfect for children and their parents.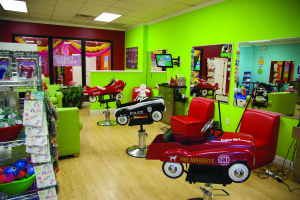 So while hair is certainly paramount at Pigtails & Crewcuts, it doesn't stop there. In a spacious, glass-windowed party room just off the cutting floor, P & C also plays host to parent-sponsored private kid-themed celebrations where participants can dress up in costumes, play traditional and video games and just have a blast. For the girls, pedicures and light makeup can add to the Cinderella-like excitement. The boys can go in for a fierce pirate look. Refreshments can be enjoyed, but they must be supplied by the parents.
All in all, Pigtails & Crewcuts is one rad place because beyond the styling area and party room are shelves and racks stocked with affordable fun and fancies that youngsters just can't resist. Many are educational in nature; all will delight the little ones. When taken in its entirety, P & C truly offers a complete package. And as Matt remembers, "With Alamo Heights' overwhelming family orientation, when we first opened, we felt a service like ours would be appreciated and used. Since then, we've done more than 31,000 haircuts and styles. Wow, that really has been a lot of pigtails and crewcuts!"
Pigtails & Crewcuts is located in the Lincoln Heights/Quarry area in the Village on the Green shopping center at 555 E. Basse Road at Treeline Avenue. Reservations are accepted and can be made by calling 210-829-8885. For additional information about pricing, scheduling parties and other particulars, visit pigtailsandcrewcuts.com/sanantonio.
BY ERNIE ALTGELT
PHOTOGRAPHY BY ELIZABETH WARBURTON