Compassionate and convenient health care in the neighborhood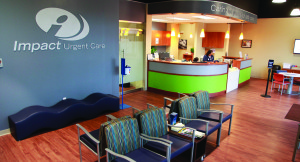 To many, what makes 78209 a special ZIP code is, quite simply, the extraordinary quality of life enjoyed within its boundaries. Excellent restaurants abound, city services are great, the school system is incredible, and, of course, the residents are the friendliest in all of Texas.
But whatever an area's overall amenities and attributes, at critical times of need, nothing can be more important than having an at-hand frontline provider of exceptional and compassionate health care and healing. Fortunately, that provider is Impact Urgent Care, a locally grown, state-of-the-art medical marvel dedicated to cost-effectively and conveniently enhancing and preserving its patients' quality of life.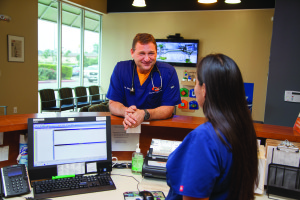 Impact Urgent Care was founded in North San Antonio by noted area physician Dr. Evan Ratner and his wife, Linda (a licensed RN), six years ago. Both Linda and Evan have extensive emergency room experience. As practitioners, the pair noticed that many seeking routine medical assistance were often ending up at large hospital ERs, where costs could quickly escalate and lengthy waiting times were the norm. A need was identified to provide a more affordable alternative, where technical and professional standards would be maintained along with incomparable client convenience – hence the establishment of IUC with its much applauded patient-centric philosophy.
It was obviously a winning formula. After the success of that first clinic, additional outlets quickly followed, with the 78209 Terrell Plaza location coming on line in April of this year. Two more in other parts of the city are scheduled as well. No matter the IUC, all operate identically and jointly. As Dr. Ratner expresses, "We're here (at all locations) to provide individuals and families with quality medical care, superior service and especially ease of accessibility that leaves them feeling wowed." And how!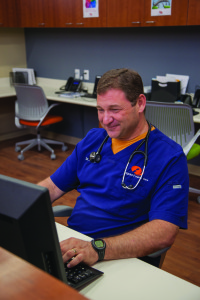 Our ZIP's IUC, personnel- and infrastructure-wise, is impressive on its own. Housed in a welcoming, people-friendly retail-style space next to the neighborhood Target, where free parking abounds, visitors are invited to "just walk right in." In the comfy and open reception area, always stocked with free snacks and drinks along with the inevitable magazines, a large board electronically specifies patient order and estimated waiting times, which usually indicate only a few minutes before being called. Many patients just sign in, then choose to run other errands, knowing that IUC will send an alerting text message when it's their turn to see the medics. And visitors can electronically check in on IUC's website, where estimated wait times are also posted. As Linda volunteers, "We respect our clients' need for promptness. Their time is valuable, and we know it."
Beyond the much-appreciated convenience factor, it's the level and quality of medical care offered that remains paramount. And at Impact Urgent Care, the range of superior capability is impressive. Remarkably, the vast majority of illnesses and injuries brought to IUC can be successfully treated at the facility. And only 1 percent of patients require transfer to an actual hospital. The reasons are simple: All staffers, from the well-vetted medical assistants, nurses, PAs and, of course, the attending physicians, are extremely well qualified in multiple areas. Many have come out of demanding ER environments, where flexibility, varied knowledge, experience and professionalism are required. Supporting these compassionate practitioners are the latest in technological wonders, including a CLIA-certified on-site lab, full X-ray suite (licensed for pediatric use), six fully equipped examination rooms and a procedure room where more critical treatments are performed.
Aside from caring for bone breaks, lacerations, allergy and flu symptoms and other routine illnesses and trauma injuries, because of Dr. Ratner's personal specialization, additional emphasis has been placed on concussion remediation. At IUC, the latest in computerized neurocognitive testing equipment is on hand to help evaluate and thus guide treatment for concussed patients. Dr. Ratner and staff are eager to assist the school district and other organizations where sports-related accidents can occur.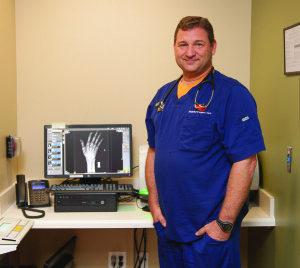 So in regards to maintaining '09's special quality of life, Impact Urgent Care serves on multiple beneficial fronts, including cost containment, convenience and, above all, competent and timely medical assistance. As the sign over the receptionist desk proudly states, "Caring for you is our only care" and, with these docs, they mean it!
Impact Urgent Care is open seven days a week from 8 a.m. until 8 p.m. (If you show up at 7:59 p.m., you will still be admitted for treatment.) The 78209 branch is located at 1211 Austin Highway on the west end of the Terrell Plaza Shopping Center. For additional information, including digitally "checking in" and/or to see the patient queue, visit iuc.nextcare.com. The clinic can also be reached by calling 210-774-5010. Insurance is gladly accepted.
BY ERNIE ALTGELT
PHOTOS BY ELIZABETH WARBURTON