SPACETONE MUSIC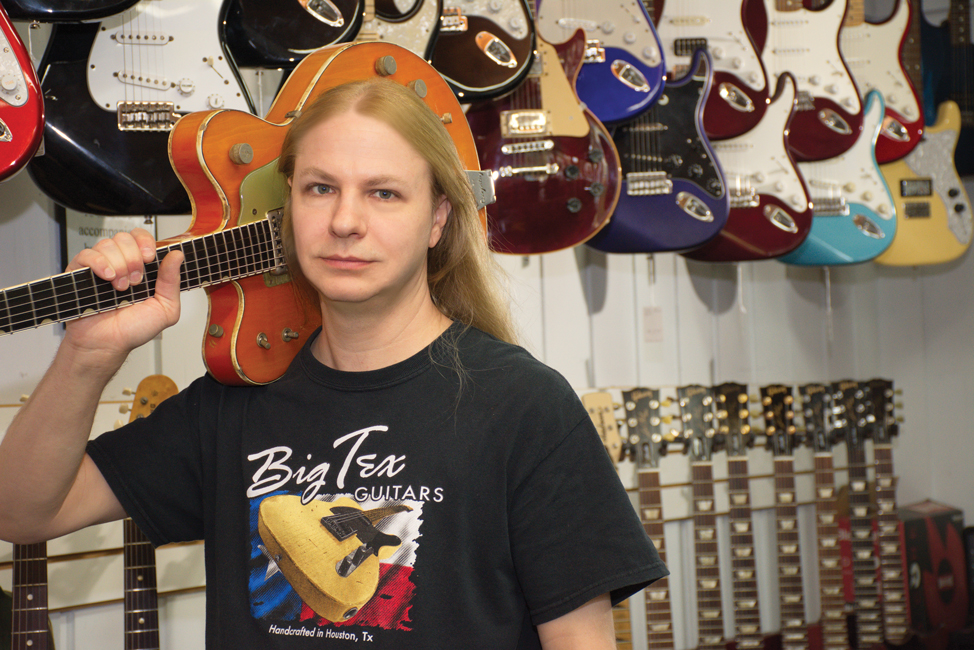 Guitar enthusiasts can be a picky lot. Enamored by the instrument's overall versatility, capabilities — and if it's a special make, pedigree — these devoted digitalists insist on seeking near playable perfection in a six-string-world where rock 'n' roll, blues and even Bach can and do rule. But easily finding and obtaining that must-have melodic marvel, whether of a classic or modern manufacture, can be a daunting challenge.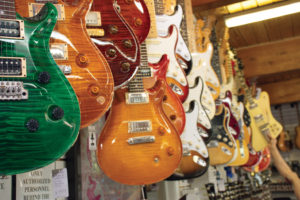 Thankfully for 78209's passionate axers, there's Spacetone Music, an emporium dedicated almost exclusively to the acquisition, refurbishment and vending of fine, sometimes rare, guitars and, of course, all of the complementary, necessary supporting hardware as well. Why, with Spacetone's blast-worthy astronomic assortment, after a visit one just might surmise this fine-tuned establishment truly is the place racked with guitars for the stars — "Roger that ground control!"
Opened in 2001 by avid guitarist, working-band member and experienced musical-instrument retailer Jason Rinn, Spacetone, as he states, "represented my belief of what a boutique guitar store should be." It was first located in a "very tiny space" within Broadway's venerable Stewart Center. Jason, who had previously been in sales at another music store, began carefully assembling his inventory by advertising for and then purchasing used but worthy guitars, amplifiers and other electronic audio devices, then assigning competitive pricing. He also stocked the shop with quality strings, straps and all of the other related accoutrements a guitarist would need, including a competent repair service.
His expertise and knowledge of guitars coupled with his insightful ability to ably match an instrument to a specific buyer dovetailed perfectly with his hand-selected inventory, resulting in a complete package that he felt would ultimately guarantee success. And once the word began to spread throughout the local musical community and beyond, as he proudly attests, "That's exactly what happened."
In 2005, as the happy result of a booming business, Spacetone Music expanded into its present digs on Austin Highway near North New Braunfels Avenue. The store today features a much larger, customer-friendly showroom, an even greater and more astonishing inventory and an increased staff of equally gifted and informed salespeople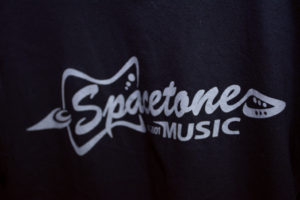 who "all play as well." The 2,600-square-foot display area features hundreds of incredible, mouth-watering electric guitars (including basses, lap slides, pedal steels, 12-strings and other fun and funky juiced varieties), a host of "tiny to towering" amplifiers and laden shelves of sound-altering-effects pedals and strings, strings, strings. This place truly is a rocking paradise where glittering sights and stinging sounds continually reverberate, and the vibes are definitely always strong.
As a counterbalance to the electric zone, in a newly remodeled adjacent room, acoustic instruments reign. Boasting a quieter, more laid-back atmosphere, it's here where unamplified, i.e. more traditional, guitars, ukes, mandolins and banjos are the heroes. And while the stock may look a little tamer, based on the selection, quality and impressive name brands, it's all wonderful as well to the guitar lover. This acoustic area also features two cozy sound-proofed studio rooms where instruments can be quietly sampled and private lessons given.
And even though the shop offers other instruments, including some percussion equipment, guitars obviously reign. Spacetone's selection runs the gamut from decades-old arch- and flat-tops made by some of America's most notable factory and artisanal manufacturers to recently produced custom solid-body models, many sporting the latest in current colors and equipped with awesome "audio bells and whistles." When taken altogether, the selection comprises an amazing, eclectic collection that includes such sought-after, rarer vintage models as a pristine 1959 Les Paul Special from Gibson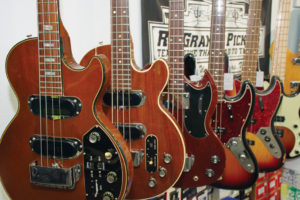 ($5,000) to the more affordable, newer but very neat 2002 Fender Nashville Telecaster imported from Mexico ($499). Other brands, antique or otherwise, include the likes of Gretsch, Guild, Rickenbacher, Ibanez, Harmony and even Silvertone, to name but a few of the industry's legendary and notable monikers that grace the to-die-for displays at Spacetone. For a more complete listing, visit Spacetone's comprehensive website, which is constantly updated with listings of new arrivals.
So if you're looking for that new/old guitar or have one that needs a different home or simply a tune-up or reconditioning, visit Spacetone Music, where buying, selling and/or just hanging around can be a blast. As Jason accurately avows, "Spacetone will rock you to the stars." Blast off!
BY ERNIE ALTGELT
PHOTOGRAPHY BY MARTIN WADDY