PROVIDING IMMEDIATE, COMPETENT AND COMPASSIONATE MEDICAL HELP
When acute health issues arise, everything else takes a back seat. Yep, while we may endlessly put off getting an overdue haircut or tackling that much-needed yard work, when we're threatened by a serious, possibly fatal physical condition, finding immediate, competent and compassionate help becomes priority one. It's just human nature – can you say survival?
Fortunately for '09ers, young, old and in-between, who find themselves in need of urgent expert medical attention, the Alamo Heights Quarry-based Metropolitan Methodist Emergency Center stands ready to assist, serve and often save. Operating 24/7 as an all-inclusive, state-of-the-art "emergency room with a heart," this amazing and deeply caring facility remains prepared, equipped and committed to handling trauma, illness and any other life-endangering situation. Just knowing it's in the neighborhood is reassuring, and if ever needed, truly a blessed relief.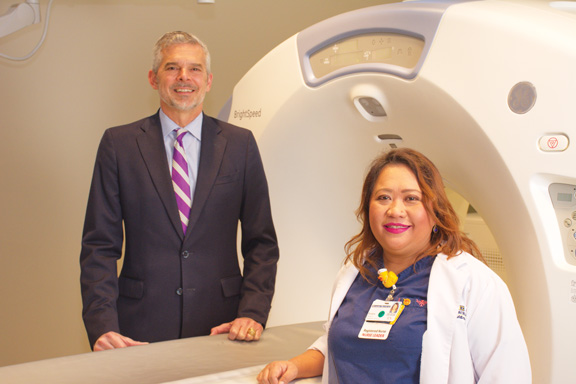 The Emergency Center opened in September 2014 at 250 E. Basse Road as an adjunct to the Methodist Healthcare System and specifically the Methodist Metropolitan Hospital on McCullough Avenue.  The desire, as CEO Greg Seiler states, "was to provide comprehensive, exceptional emergency offerings to a then underserved area." And based on the center's continually growing admittance rates and subsequent high satisfaction levels, that's proven to be the case.
Housed in a specially designed and accommodating 8,000-square-foot facility, the entire complex was created for maximum professional efficiency and especially for patient well-being and comfort. It's ably staffed by a top-tier cadre of veteran emergency room-trained MDs and other essential personnel (many who live in '09), each skilled in all aspects of vital response. Thus, a team approach is achieved that greatly enhances each situation's outcome. As the director of emergency services and registered nurse Evelyn Gutierrez attests, "Since we're all in close proximity, everyone on duty is aware of and closely involved in each specific case. And this is very effective and beneficial."
The facility itself comprises eight incredibly equipped treatment rooms, a fully licensed and accredited CAP lab, an ACR-accredited X-ray department, pharmacy, blood bank and much more, including complete ultrasound capabilities and CT scanning. As Gutierrez clarifies, "We're equipped for any and all medical challenges."
So who should use the Metropolitan Methodist Emergency Center? The answer is anyone, at any age, seeking medical attention where health concerns dictate a critical response. Chest pains, muscle numbness or a loss of speech, disorientation, physical injury, high fevers, bleeding and pain are all indicators of the need for an immediate visit. Once at the facility, the patient's admittance will be quick. Seiler proudly attests, "Our wait times average less than 5 minutes, quicker if the situation calls for it." After treatment, if a transfer to a hospital is required, the center coordinates everything for the patient, including the ambulance transport.
The Metropolitan Methodist Emergency Center gladly accepts most medical insurance (including Medicare, Tricare and Medicaid). Cash payments are accepted as well. And as was stated earlier, the clinic is open and ready to receive patients 24 hours, every day of the year. Quite simply, it never closes. The law also requires that fully licensed MDs be on the premises at all times. As a further plus, a Methodist-affiliated doctors' office is immediately adjacent to the center and on call for additional assistance.
But beyond its excellent in-house services, as an appreciative part of the community, the Metropolitan Methodist Emergency Center also conducts frequent outreach programs at 78209-area schools and institutions where health-related issues and screenings are regularly addressed and/or provided on a pro bono basis. As Seiler explains, "We've also established a neighborhood advisory board that meets several times a year to discuss services and product improvement. This has been very helpful in guiding us during our first two years of operation. Not only are we 'here,' but we want to be the best, and I really think we are. Go Mules!"
So if the need ever arises, the 78209 citizenry is fortunate indeed to have an unparalleled medical resource ready, able and close when the unexpected occurs and requires an immediate, competent and compassionate response. That's just what the Metropolitan Methodist Emergency Center does – day in and day out. Stay well!
BY ERNIE ALTGELT
PHOTOGRAPHY BY MARTIN WADDY