The Emergency Clinic Alamo Heights
By Ernie Altgelt
Photography by Elizabeth Warburton
When life-threatening illnesses or accidents strike, requiring prompt, expert medical attention, night or day, many automatically turn to the services of a distant hospital emergency room. Fortunately, for the residents of this ZIP code, rather than a time-consuming trip to one of these often crowded, hectic, seemingly overburdened centers, a competent, compassionate and convenient alternative exists.
Located just off North New Braunfels Avenue on Brees Boulevard, in the very heart of '09, is the Emergency Clinic Alamo Heights – a fully functioning independent emergency room offering state-of-the-art care 24/7 with capabilities rivaling (and in some cases exceeding) larger, more remote facilities. And to the appreciative area residents who have already availed themselves of this neighborhood resource's timely, diverse and essential services, the term "well placed" is truly well deserved because, as many now know, proximity can be key where health is concerned.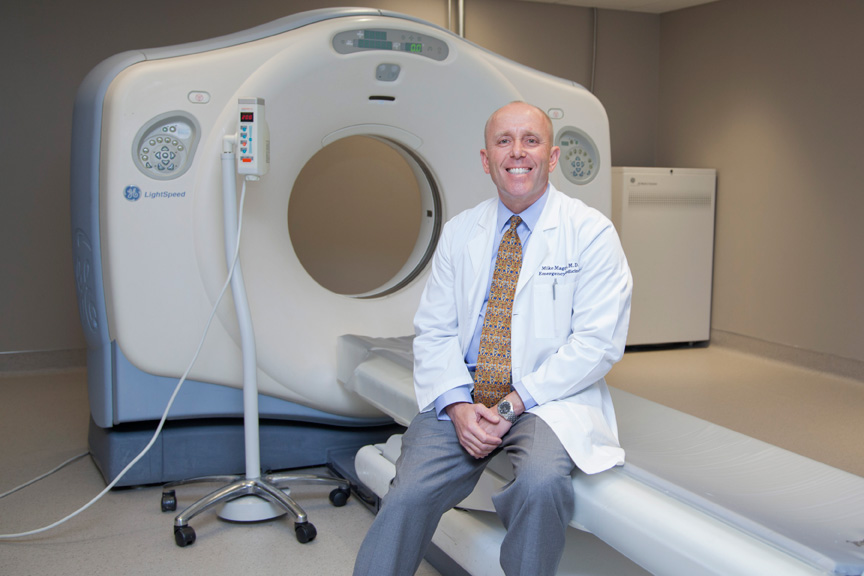 The Emergency Clinic Alamo Heights opened at its current location in April of 2015, but its 78209 roots go back to 2006 and the Alamo Heights Minor Emergency Clinic that formerly operated on Nacogdoches Road. Established by noted ER doctor and 16-year AH resident Michael Magoon and partners, this clinic, beyond treating allergies, bone breaks, lacerations and other medical necessities, also provided more routine services such as flu shots and physicals that patients could receive from a primary care physician. But Dr. Magoon, with his extensive training in medical emergency procedures (acquired while serving in the Air Force), felt the community was lacking a facility geared toward the more traumatic and life-threatening occurrences that require a higher initial level of treatment. Joining with other like-minded practitioners, Dr. Magoon set out to design, equip and staff a community-based center that, as he relates, would be "eminently qualified to provide the finest, and fastest, in expert emergency care." And as his many patients over the clinic's inaugural year will attest, "one visit is all it takes" to see the success of his vision.
Housed in a totally refurbished technology-packed 7,000-square-foot patient- and staff-friendly facility, the Emergency Clinic Alamo Heights is replete with multiple examination rooms, cardiac rooms, X-ray and ultrasound suites, a CLIA-compliant lab and even a CT scanner. Any and all demanding (major or minor) emergency situations can be capably handled 24 hours a day by the extensive team that Dr. Magoon has assembled – a team that includes gifted and seasoned MDs, RNs, PAs and assorted highly trained technicians all working in unison to mitigate and/or stabilize the most dire conditions, including strokes, heart attacks, severe physical trauma, concussions and other endangering conditions as well as less pressing challenges. And as Dr. Magoon proudly states, "Even with the severity of some of the cases we encounter, the clinic is able to successfully offer complete remediation to 80 percent of our clients at our location, with the remaining 20 percent receiving initial, stabilizing treatment followed by a rapid referral, consultation and/or transfer to an appropriate outside specialist or hospital."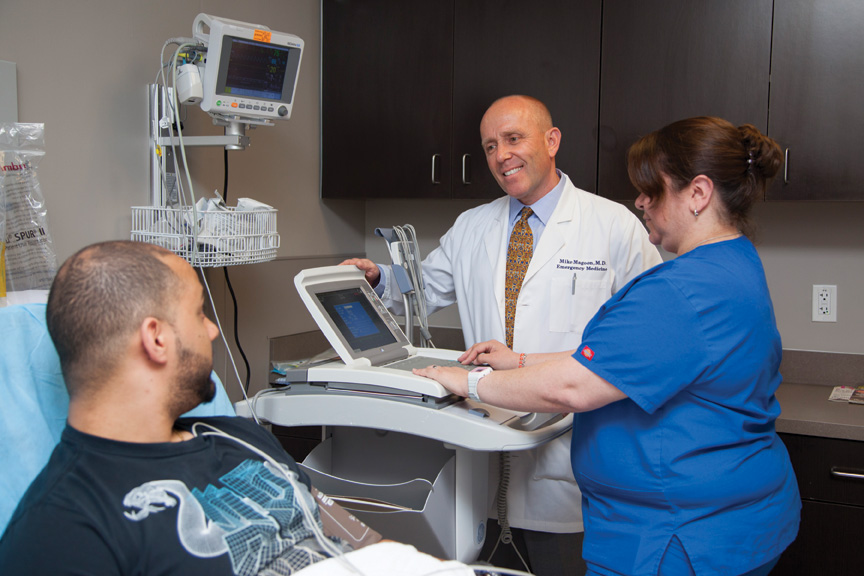 So who should use the Emergency Clinic Alamo Heights? The answer is almost anyone, young or old, seeking medical attention where health concerns dictate a critical response. Chest pains, muscle numbness or a loss of speech, disorientation, physical injury, high fevers, bleeding and pain are all indicators of the need for an immediate visit. And once at the facility, patients find reception will be quick. As Dr. Magoon attests, "Our wait times average less than 15 minutes, quicker if the situation calls for it. Those in need won't languish in our waiting room – I promise!"
The Emergency Clinic Alamo Heights accepts all medical insurance (except Medicare, Tricare and Medicaid, where federal law limits coverage to hospital-owned clinics only). Cash payments are accepted as well. As was stated earlier, the clinic is open and ready to receive patients 24 hours every day of the year. Quite simply, it never closes. Law also requires that fully licensed MDs be on the premises at all times.
In closing, while needing medical attention of any kind is never desired, it is reassuring to know that within 78209 it's never far away. Yep, for '09ers, the Emergency Clinic Alamo Heights really is "well placed," and to the area citizenry, that feels pretty darn good!