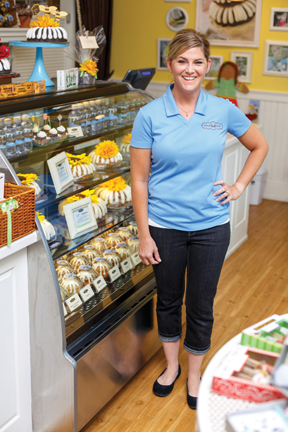 San Antonio's Kim Tucker Loves to Pay It Forward
"Where are these cakes going?" That is a common question that Nothing Bundt Cakes owner Kim Tucker poses to her customers when they pick up an order. No, she's not being nosy — she is genuinely curious. Kim is a people person who is interested in providing her customers with more than just scrumptious, made-from-scratch cakes. She wants to provide them with a taste of happiness too. "People tell us that getting one of our cakes makes their day," she says with a big happy smile. That is why Kim has taken her business to the next level with a commitment to philanthropy that is more than just icing on the cake—it is her recipe for success. PAYING IT FORWARD You've heard of the tooth fairy or even a fairy godmother, right? But a fairy "bundtmother"? That's a new one, but it's something that Kim came up with three years ago to commemorate the anniversary of the opening of her first shop, in Stone Oak. The "bundtmothers" are local high school students who, every June and July, don their wings and spend two days a week delivering free 8-inch cakes to unsuspecting recipients. "We go around surprising locals," says Kim, explaining that she begins by asking some of her frequent customers to select a person or business to receive a visit from the fairy bundtmother. The recipient then chooses the next person or business and it grows from there. "It's a pay-it-forward approach," says Kim. While it may be the most interesting way that Kim gives back to the community, it's by no means the only way. Child Safe, Any Baby Can, the Junior League, San Antonio Food Bank and the Ronald McDonald House have all been on the receiving end of Kim's sweet donations and contributions. Her newest endeavor? A backpack drive.Throughout the summer, any customer who brings in a new or gently used backpack to the Stone Oak or the Alamo Heights location will receive a free bundlet. "It's just who I am," Kim says of her philanthropic efforts. "I truly believe that what goes around comes around." BUNDTING IT OUT OF THE PARK Kim and her family moved to San Antonio from Fort Worth in 2011. After spending 17 years in the banking industry Kim suddenly found herself a stay-at-home mom in a new city where she didn't know anyone. At a loss for what to do, Kim found her calling when she heard about Nothing Bundt Cakes from a family friend. She and her husband purchased the San Antonio region of the franchise and, after spending a month in Las Vegas with the founders learning the recipes and operations, Kim was ready to open the first shop in June of 2012. She set her sights on Alamo Heights, but after discovering that she had her own "bundt in the oven," she settled on the Stone Oak location in order to be closer to both home and the hospital. The sweet shop was met with success, and the Alamo Heights location followed in November of 2013. "This is a great location," says Kim, although she acknowledges that the construction at Broadway and Hildebrand has hurt business at that location a bit. However, when you enter the cheery shop with its brightly colored walls and display cases filled with decadent desserts, it appears that business is booming. Customers, including local celebrities and members of the San Antonio Spurs, keep coming back for the sinfully delicious cakes, bundlets, and buntinis in flavors including red velvet, chocolate chocolate chip, cinnamon swirl and Kim's personal favorite, pecan praline. The success of the businesses keeps Kim, an avid runner, hopping between the two locations daily, but she doesn't mind. She enjoys being active and is involved in the Alamo Heights and the North San Antonio Chambers of Commerce, as well as the Stone Oak Business Association. "It's allowed me to meet so many people, and I've learned so much," she says with excitement. "It's also helped me to learn my way around the city." With so much on her dessert plate, Kim still finds time to spend with her husband and two boys, ages 5 and 2. It's a sweet life that this effervescent shop owner says makes her happy by providing her with the opportunity to make others happy. "It's fun to watch things come full circle," she says.
DRESSING UP A BUNDT CAKE Since opening Nothing Bundt Cakes, owner Kim Tucker hasn't had much time to pursue her love of baking from scratch at home. Here's a quick "cheat" that she recommends for serving up a delicious dessert using an 8 – or 10-inch lemon bundt cake.
1. Place Nothing Bundt Cake lemon cake in the refrigerator until ready to serve.
2. Soak fresh blueberries in Limoncello (found at almost any liquor store) and place them in the refrigerator until ready to serve.
3. Right before serving, drain the blueberries and dump them into the center of the bundt cake.
4. Serve cold.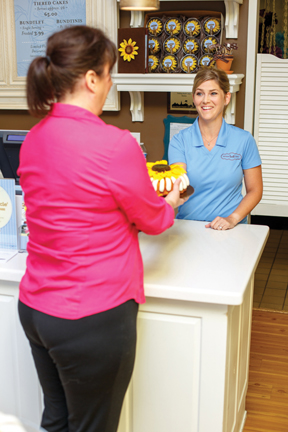 Photography by Casey Howell