Where retro fashions are still the coolest!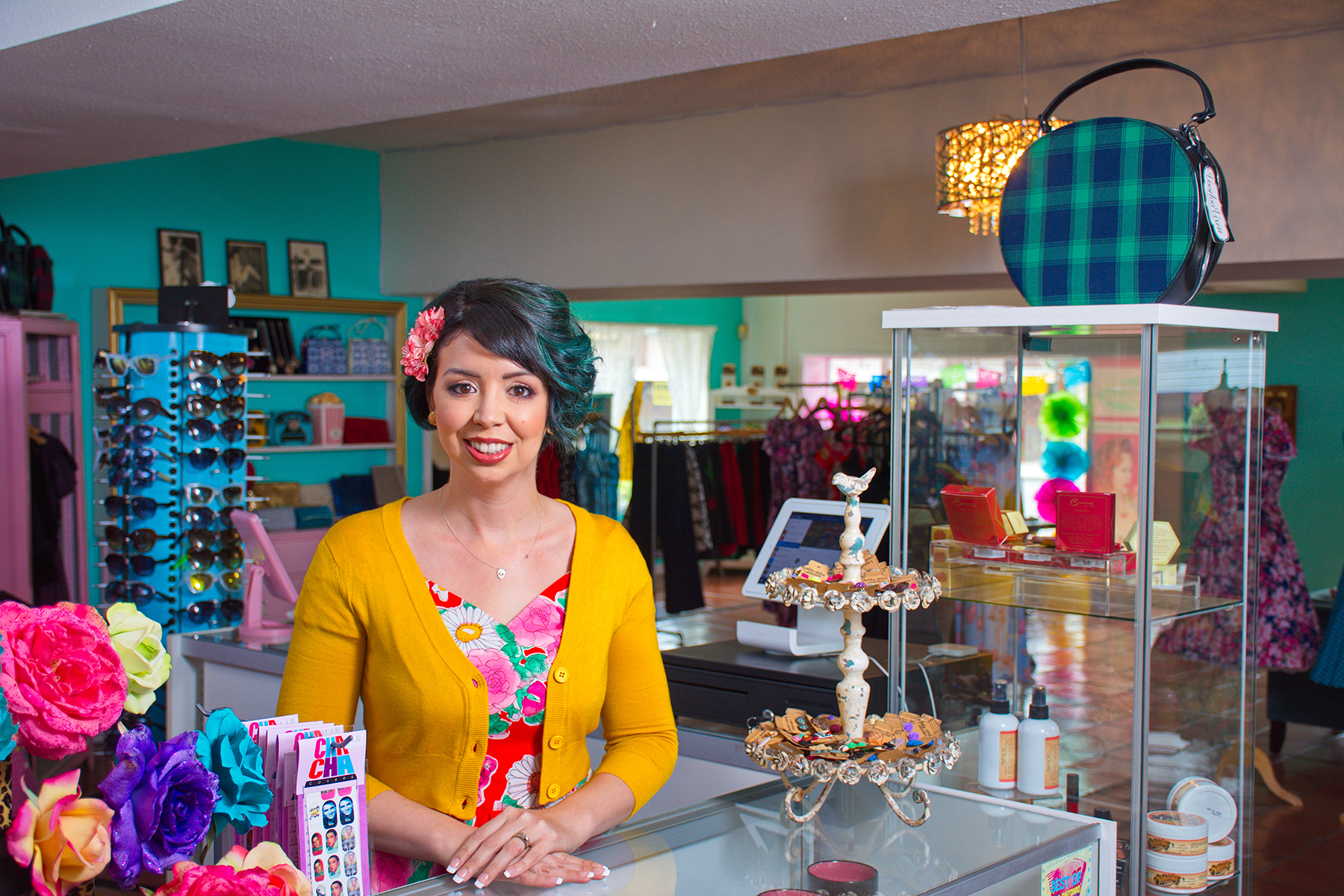 For all of the wonderment that abounds in this remarkable, evolving day and time (technologically, musically, culturally, etc.), for those of us pining for "the good old days," the question may be "whatever happened to Betty Grable?" Yep, we're talking about that peerless pinup princess of yesteryear who graced so many popular posters of the WW II and Eisenhower eras and alluringly adorned countless lockers and workrooms of an earlier generation.
Well, sadly, she might be gone (but never forgotten), but stylishly situated at 3615 Broadway near the Witte Museum is '09's retail answer to all that she fashionably represented during those delightful decades when hopes were high, hemlines slightly lower and all the gals were "va va voom!"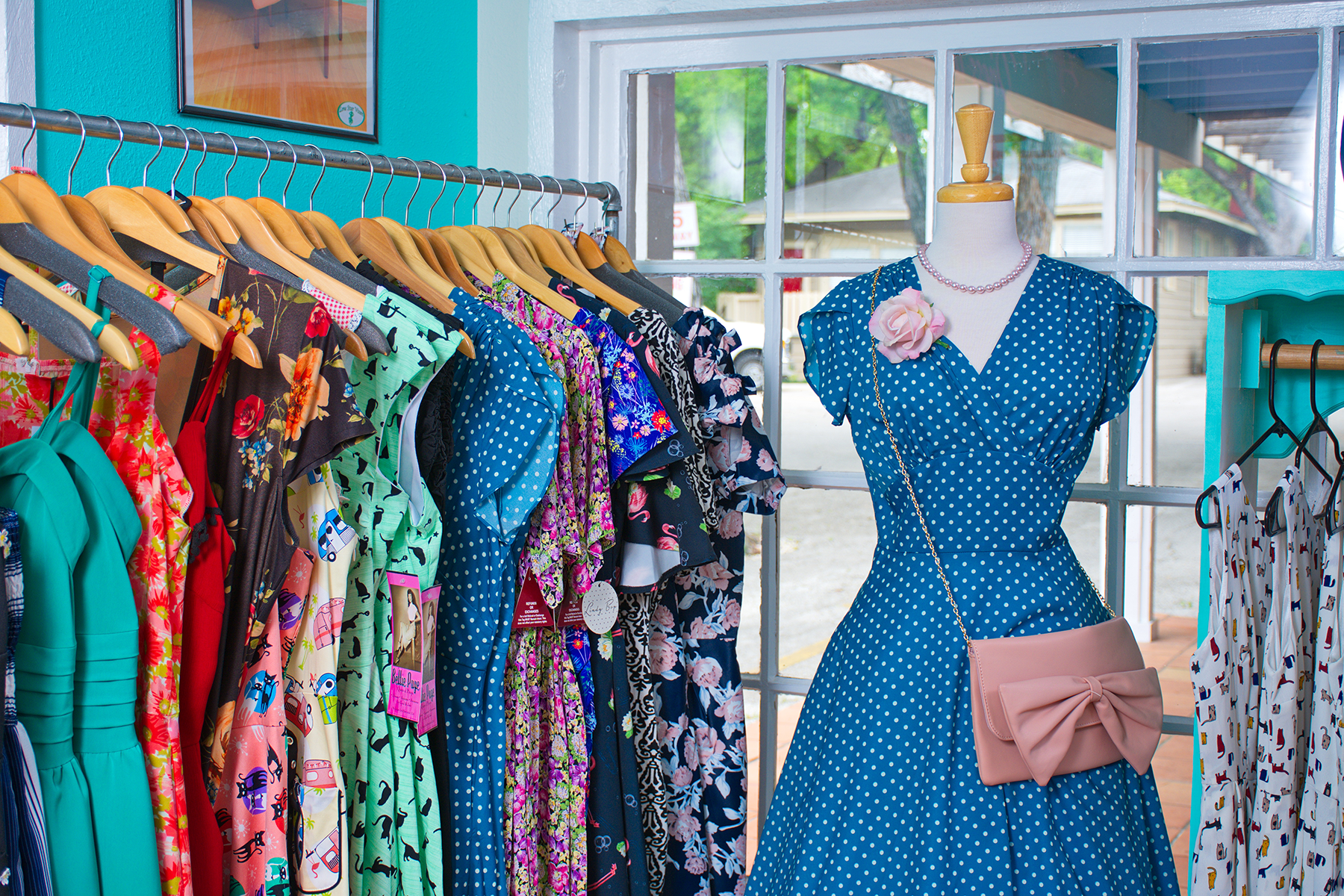 Appropriately named Broadway Pinups, this is one welcoming shop, where women today can (and do) step back in time via the acquisition of remarkable (all new, never used) quality retro fashions from the glorious days of Grable, when feminine attire was fun, frilly and oh-so-flattering. Overflowing with rack after rack of period-inspired finery fit for head to toe that's guaranteed to jazz up and broaden the most staid 78209 wardrobe, this is "the place" for Heightsters wishing to make a bold fashion statement via classic stylings that were uber cool then and, amazingly, even cooler now. Want to feel like Betty Grable for a day? Then you better get over to Broadway Pinups because it's really got that look covered – and how!
The brainchild of fashion maven Debra Lambright, an entrepreneur who's always pushed the envelope where personal appearance is concerned – she favors a little green coloring in her hair – Broadway Pinups grew out of an earlier Southside business she created that catered to the punk music crowd. She was only 19 years old when she started that enterprise, and over the next 13 years, she honed her retail skills while formulating her current game plan that ultimately evolved into her current gig. As she recalls, "I knew what I liked in apparel and cosmetology. I also was watching what my customers were wearing, and retro seemed to be where it was at – for me and them. Why not open an exclusive store devoted solely to that?"
And in 2014 that's exactly what she did. After a move "uptown" onto the bustling Broadway corridor and ultimately into a neat, intimate, light-filled space carefully stocked with her heavily themed women's' wear, business quickly took off. It wasn't long before like-minded, discriminating shoppers discovered the quirky little store that was filled with fabulous fashions not often seen since the 1950s — and now, there's even a small offering of 1920s dresses. As Debra admits, "I was a little surprised at the activity generated by such a diverse customer base. We've had shoppers from teens to 90-somethings. And they all love the vintage look that we specialize in."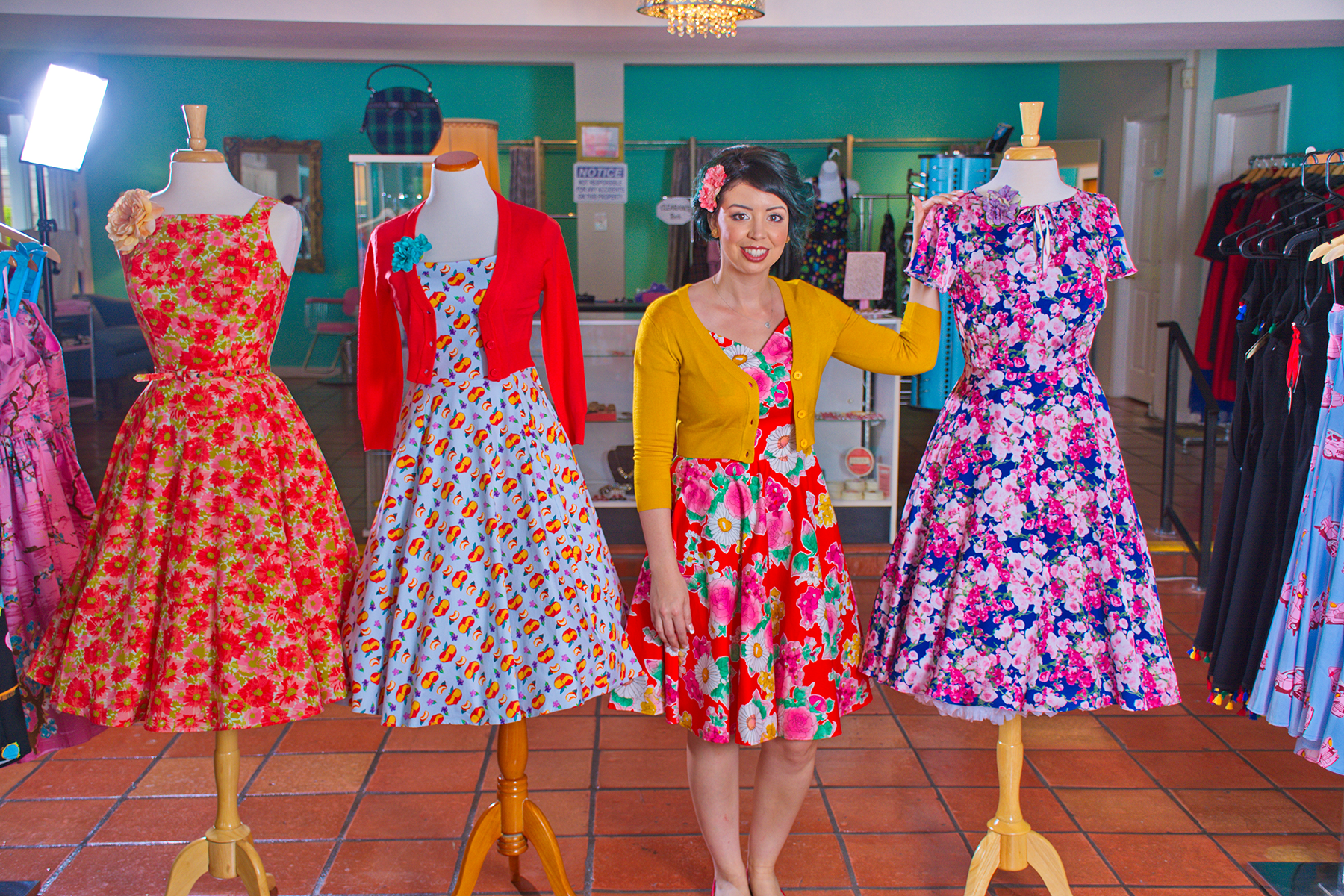 And no wonder. All of Broadway Pinup's offerings are top-notch – most are made in Britain or the USA – which is greatly appreciated. But it's the styling that appeals and keeps the cash register ringing. And that styling is perfectly reflected in the myriad footwear, dresses, slacks, hats, sweaters, swimsuits and all of the other related accouterments, including purses, jewelry (all locally made) as well as era-appropriate cosmetics and luggage. Wow! Everything is authentic in the cut, tailoring, fabrics and prints, which totally embrace the original concepts of that bygone time. And in catering to a varied clientele, almost every size can be comfortably accommodated too, from extra-small to 4XL.
In addition, even the display furniture is refurbished '50s vintage, further supporting the theme. Then mix in a series of old-style "pinups" featuring actual customers that adorn the walls, and for long-term locals of a certain age, it's a little like a flashback to the Joske's women's department of 70 years ago. But as Debra assures, "Even Gen X, Y and millennials, who never shopped the former old establishment, will be charmed as well." Want to know more?
So if you're seeking that super cool look from that super cool time, there's only one place to go, and that's Broadway Pinups because being hip really is a hoot. Just imagine what pinup royalty like Betty Grable would think of BP. Va va voom!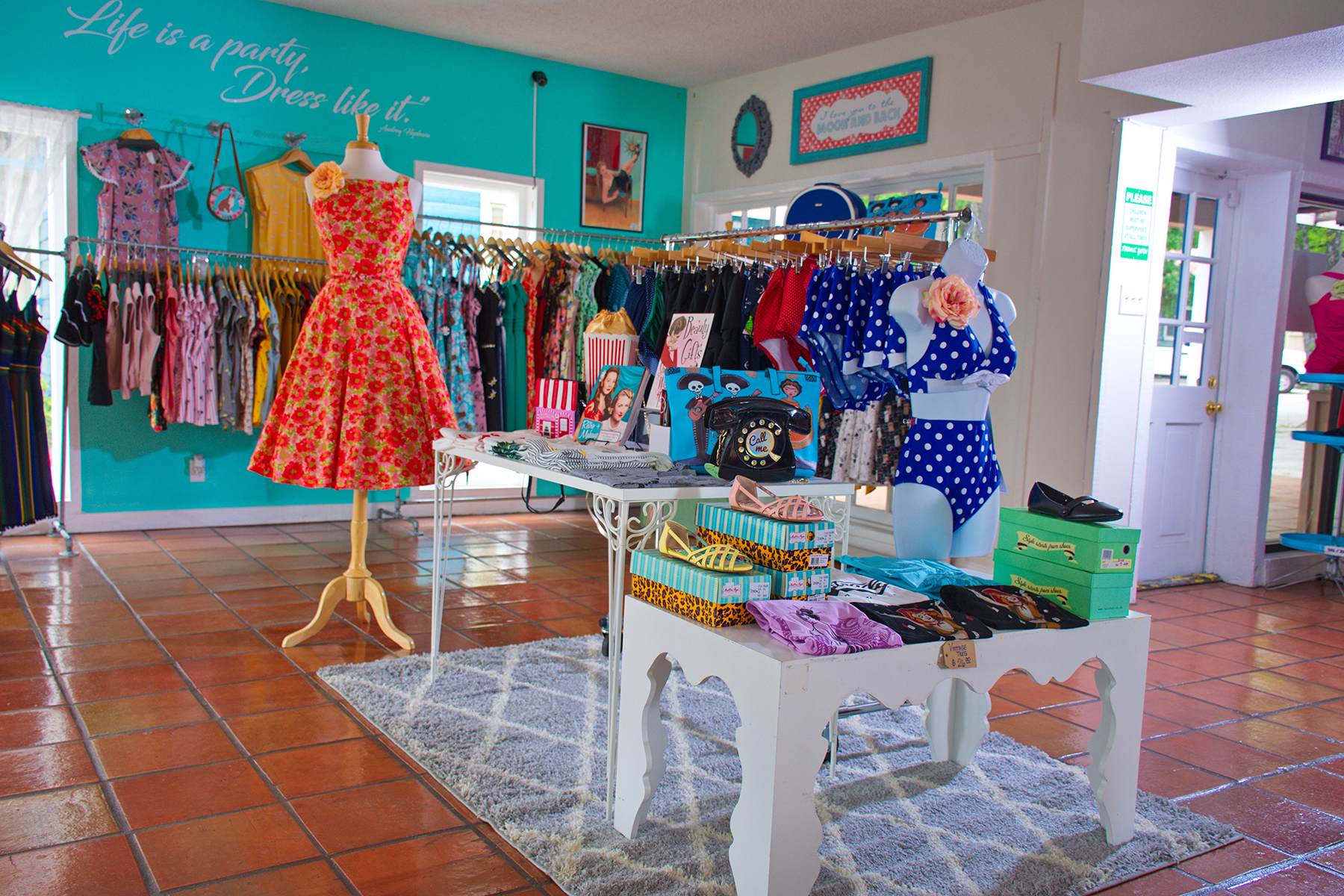 By Ernie Altgelt
Photography by Martin Waddy