Continuing in the family tradition at J.R. Mooney Galleries
On Broadway, just inside Loop 410, J.R. Mooney Gallery of Fine Art not only provides a dazzling array of artworks and a wide range of services, but also stands as a historic Texas treasure. Founded in 1947 by Joe and Adelle Mooney, the gallery has had its artworks on view throughout San Antonio and South Texas and also on display in the Governor's Mansion, the White House and even the Vatican.
It was in the early '60s when art from the J.R. Mooney Gallery began appearing in the residences of heads of state. Artist Porfirio Salinas was not only a client of the gallery but also one of the favorite artists of then-Vice President Lyndon Johnson. Johnson presented paintings created by Salinas and framed by the Mooney Gallery to President John Kennedy, who displayed them among his art collection in the White House. Salinas, whose artwork was subsequently displayed in the White House during the Johnson administration, continued to be represented by the gallery until his death in 1973. Since the Kennedy administration, J.R. Mooney Gallery has provided framing services for every American president and every Texas governor after John Connally.
The gallery's prolific global reach includes art displayed by the Vatican, King Juan Carlos of Spain, Queen Beatrix of the Netherlands and major collectors in Asia, Australia, Europe and South America. Local clients have included a who's who list of politicians, celebrities and sports figures. In 1964, Joe and Adelle's son, Bob Mooney, joined the staff of the family business. While Bob had many other career options, he inherited his parents' appreciation for fine art. "I fell in love with the world of art from a very young age," Bob recalls. "While I have friends who have worked hard and been successful in other businesses, I've never looked at our business as work. It's more of a joy for me to come in each day."
Over the years the business has expanded to provide a wide variety of artworks, art appraisal, art consultation, art restoration, custom framing and custom publishing. Passers-by on Broadway may not realize the true historic nature of the gallery until they notice the special decal with the official Texas Treasure Business icon on the front window. Earlier this year, the Texas Historical Commission named J.R. Mooney Galleries of Fine Art to an exclusive list of only 41 businesses that have been named as a Texas Treasure on the Senate floor at the State Capitol in Austin. Among the criteria for this selection is that a business has continued for at least 50 years while maintaining an impeccable reputation for customer service.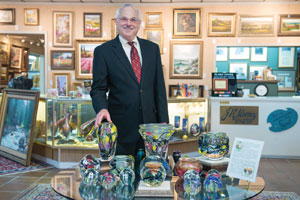 About five years ago, J.R. Mooney Gallery of Fine Art opened an additional location in Boerne. Bob explains that so much growth and so many art customers have emerged from the I-10 West corridor that a Boerne location was a logical step to serve that clientele. While the Boerne location is smaller than the gallery on Broadway, Bob is happy with the business growth it has generated.
While no one in 1947 could have imagined the Internet, J.R. Mooney Gallery has embraced it through an extensive Web site that allows customers to view artwork, browse an extensive list of artists, choose framing options and shop online. The gallery also uses social media as a vehicle not only to connect with the community but also to display the visual beauty of all of the works of art available, with pages on Facebook, Twitter, LinkedIn, Instagram and Pinterest.
What has been the secret to the gallery's remarkable longevity? "There's a combination of things necessary for success, not only in this business, but in any business," Bob explains. "You have to provide a good product, provide that product at a reasonable price, and you have to provide excellent service. That's what my father built this business upon, and that's what we continue today."
Industry knowledge and dedication are also hallmarks of the J.R. Mooney business model. Two employees have been with the company over 30 years, while another has served over 20 years. The combined experience in the art world is passed along as a resource for the gallery's customers.
In 2001, gallery founder Joe Mooney passed away, followed just 18 months later by his wife and lifetime partner, Adelle. Bob is proud of the legacy created and left for future generations by his father and mother. Joe Mooney would have turned 100 years old on July 6. The gallery is planning a special event in the fall to commemorate its founder's birthday centennial.
Even though Bob has reached retirement age himself, he currently has no intention of retiring. "This business is such a joy," he says with a smile. "It's a pleasure to come to work each day, and I don't see that changing anytime soon." J.R. Mooney Galleries of Fine Art are located at 8302 Broadway in San Antonio, at 305 S. Main Street in Boerne and online at J.R.MooneyGalleries. com.
Author: Chris Duel        Photography:Ric Johnson