A

s a small child, Elizabeth Chambers spent hours in her grandmother's Alamo Heights kitchen watching her mixmaster blend aromatic spices, sugar, butter, flour and other key ingredients that were the successful secrets to the cakes, tortes and delicious desserts served to rave reviews at private parties throughout the city. When the model, actor and journalist expanded her repertoire of talents to include baker, Alamo Heights was where she chose to feather her 
nest.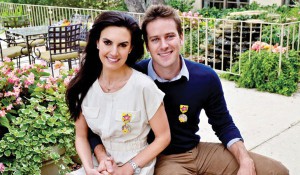 Elizabeth's maternal grandmother Maureen Carnathan, ran a well-respected catering business in San Antonio for almost 20 years. Many of Bird Bakery's made-from-scratch cupcakes, cookies, brownies, pecan squares and lemon bars originated in her grandmother's kitchen, but Elizabeth — a seasoned baker herself — spent six months adapting recipes and tweaking ingredients to make all of the delicious morsels her own.
"My grandmother was such a strong woman and her recipes were part of her character," said Chambers. Elizabeth's grandmother's culinary talents never would have been the motivation to open Bird Bakery if it had not been for her mother, Judy. "I have gotten all of my grandmother's recipes from my mother and I learned all of my cooking from her," Chambers stated. "If I need tried and true recipes, I will go to my mother."
But cupcakes were not always her calling. While a high school student in Colorado — where she moved with her mother after her parents divorce — Elizabeth began to model, spending four months in Tokyo, appearing in commercials for clothing lines and food products.
As a student at the University of Texas, Elizabeth was cast in The New Guy , The Rookie  and the television series, Going to Cal?ifornia. Writer/director Thomas Hayden Church cast her in his independent film,  Rolling Kansas. Graduating from the University of Texas, Magna Cum Laude with a degree in journalism, she continues to report for  E! News Now and  Access Hollywood. While in Los Angeles, Elizabeth met her husband, actor Armie Hammer. The two married in 2010."We really are a husband and wife team," says Hammer. But he gives credit to Elizabeth for her amazing creativity and countless hours of planning and execution. "She does not rest until she has achieved perfection in a new cupcake flavor or roll-out of a new breakfast item."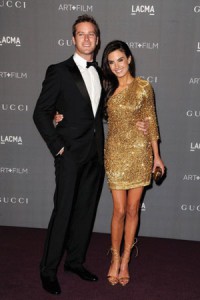 When not in the bakery, the talented couple, who have homes in both Los Angeles and Alamo Heights, can be spotted around the neighborhood at some of their favorite eateries including Paloma Blanca and Cappycino's. You may spot Armie on his Vespa pulling into a local Whataburger for his Texas fix of a tasty burger with jalapeños. This summer, jalapeños will not be the only thing heating up the local scene. Many are buzzing about Armie's title roll in his latest feature film,  The Lone Ranger, the new Disney film also starring Johnny Depp as Tonto.
Locals attending Fiesta's spectacular Battle of Flowers Parade got a good glimpse of Armie as Parade Grand Marshal and Elizabeth riding in the 123rd edition of the event where Fiesta began. Those behind the scenes were exuberant over the couple's role in recent Feista activities. Not only did they lend their celebrity status to the occasion, Bird Bakery donated boxed lunches to a group of Wounded Warriors and their families attending a special pre-parade picnic and parade watching celebration held in Maverick Park.
"When I heard that Armie Hammer had accepted our invitation to be the Grand Marshal of the 2013 Battle of Flowers Parade, I was elated," said parade chairman Donna Vaughan. "He and Elizabeth are the most charming, engaging and caring couple, and were a pleasure to work with on this year's parade."
It seems that Alamo Heights is a little nest that these two talented bird's have settled into. And that is truly a feather in our cap.