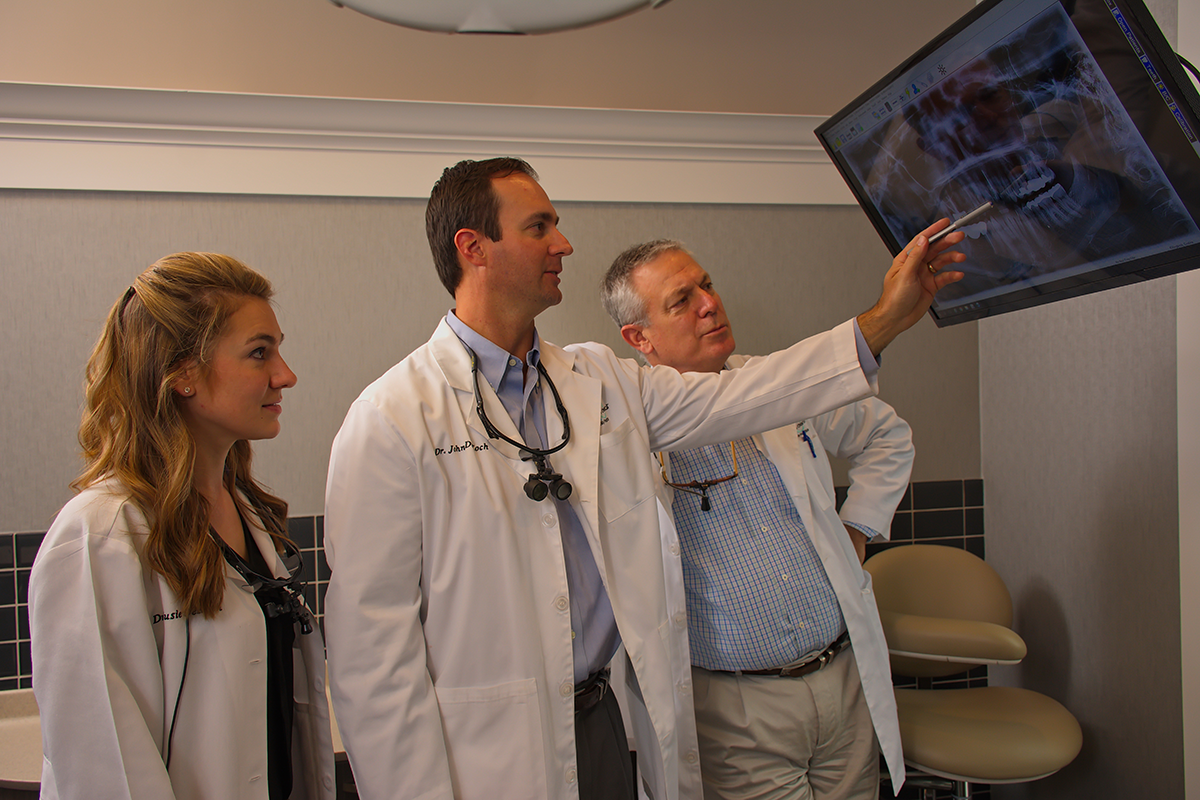 In Alamo Heights, where everyone seems to be related in one way or another, family ties are of some importance. Relying on those we know and trust — like a parent or sibling — provides a heightened sense of comfort when help or counsel is needed, and in this 'hood, close connections do count. We just feel better when interacting with kinfolk.
Well, for '09ers seeking expert dental advice and services caringly and compassionately administered by a family member, Alamo Heights Dental totally fills the bill. Ably staffed by father, son and daughter — Drs. Dirk, John and Susie DeKoch — this awesome threesome really is about as genetically bonded as they come. So, need some work on those chompers, and you're a little nervous? Then come see the DeKochs, because at their clinic (just as the old song says), "We are family," and that means you too. Rinse, please.
Dirk DeKoch (pronounced De Cook) got his start in the neighborhood some 37 years ago when he and his bride, Susan, settled in AH after the newly minted dentist received his Doctor of Dental Surgery degree from the UT Health Science Center. It was while attending the Health Science Center that Dirk, originally from Kingsville, met Susan, a member of Kerrville's respected McCullough ranching clan, and, as he relates, "I fell in love with her and San Antonio." Both were familiar with the Heights area and jointly decided that this was where they would live, raise a family and, for Dirk, set up shop. As a recent grad, he was fortunate to be able to purchase an area practice from a dentist who was leaving the city.
As he admits, he "hit the ground running," working tirelessly to grow the practice's list of clients, and thanks to his expert abilities coupled with a warm and sincere personality, it proved to be a success as more and more '09ers came to accept Dirk as "their dentist." But as the practice thrived, Dirk was forced to relocate on several occasions to expand his operations (pun intended). Many remember his office of more than 26 years on North New Braunfels, near the high school. And it was while at that location that first his son, John, joined the practice in 2009, and then seven years later daughter Susie came on board. All three were tickled at the unexpected outcome because, as both siblings agree, "Neither one of us had initially considered careers in dentistry." What both did share with their loving father (and mother) was an intense desire to help people, and after seeing all of the good that their dad was able to accomplish, the decision to follow in his footsteps became an easy one. Susie and John both received their degrees from the UTHSC.
The DeKoch trio proved to be a hit, attracting patrons from children, to teens, to adults and seniors, all requiring top-notch dental services ranging from routine maintenance to extensive cosmetic and reconstructive surgery. Reflecting their individual university training constantly bolstered through continuing education covering the latest technologies and treatments, each doctor, in their own unique way, exudes competence, instills confidence and especially fosters that trust between patient and practitioner that is essential in a professional relationship. As they all attest, "Everything revolves around trust, and we work hard daily to earn it and keep it."
Well, they're obviously doing a lot of things right because once again a relocation to bigger digs was needed. But this time, instead of moving into existing space, the DeKochs decided to start from the ground up and build their own facility. Conveniently situated just off Austin Highway (between Broadway and New Braunfels) on Chichester Place, their sparkling new 14,000-square-foot multistory structure, in which they utilize half the space, beckons with lots of glass, abundant parking, clean modern lines and, overall, an inviting atmosphere that continues throughout the inside..
And it's what's inside that counts. We already know about the Drs. DeKoch, but what else is there? Plenty! Competent, supporting personnel are on hand to attend to a variety of duties to ensure a pleasant, satisfactory and successful outcome from every visit. But beyond the skill of hygienists, technicians and clerical staffers, the physical environment was designed and engineered for comfort and efficiency. From the soothing color scheme, the massaging examination and treatment chairs, the large-screen personal video and audio systems, everything seems to be in place to enhance the experience.
Other areas besides the 12 patient-centric treatment rooms include the state-of-the-art surgery area, sterilization center, X-ray department, lab, consultation area and, of course, the welcoming and cozy waiting area, where the coffee is always hot and free. It really is a complete oral health package where humans and modern technology seamlessly meld with the sole goal of providing unsurpassed service and results with almost nonexisting discomfort. Visit their website for a more comprehensive capability introduction.
So, got a toothache or need a brand-new set of teeth or just a checkup? Well, you might consider doing what so many others in the neighborhood have done and make an appointment at Alamo Heights Dental. You'll feel right at home because, as the DeKochs like to say regarding each other and their appreciated clients, "We are family, and that means you too!" Open wide.
By Ernie Altgelt
Photography by Martin Waddy