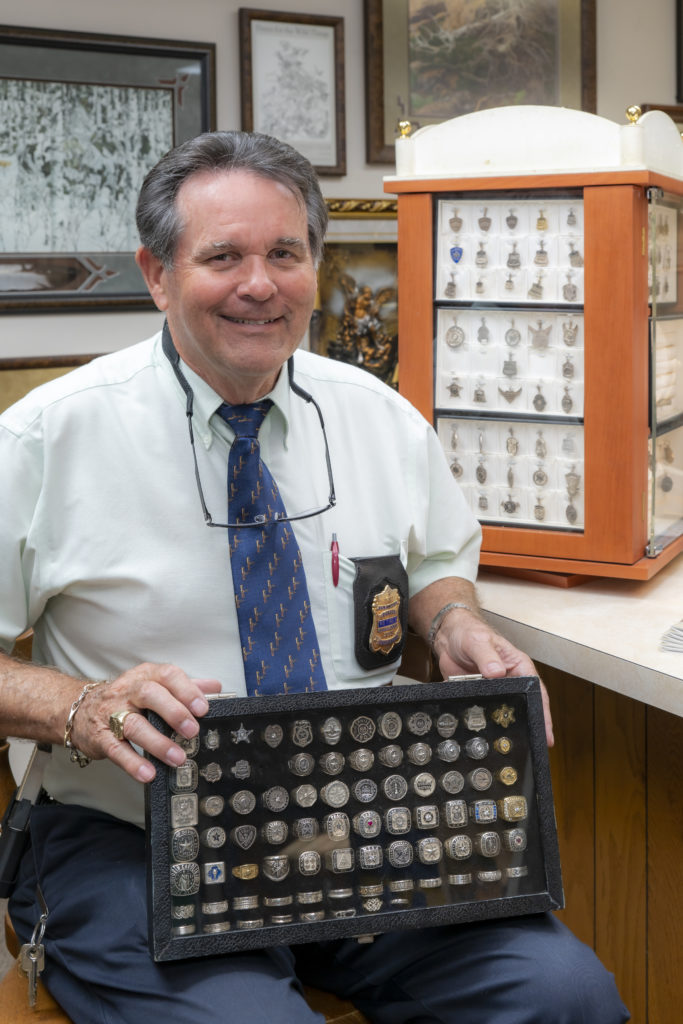 A Business Heart of Gold
By Meredith Kay
Photography by Al Rendon
David Putnam began his career in the jewelry business as a side job to supplement a young police officer's salary. Throughout his decorated tenure as a law enforcement officer and detective, he built his business into the thriving enterprise it is today. Alamo City Gold & Silver has occupied the same building on the access road of Loop 410 since 1985. It houses an impressive and spacious showroom and a design studio and mini-museum in the back of the store, showcasing unique collector's items and sports memorabilia.
Alamo City Gold & Silver is a full-service jewelry store offering custom-designed jewelry and decorative pieces. Their creations are one-of-a-kind, and the store employs several jewelry artisans specializing in custom rings, pendants, belt buckles, and school-branded jewelry. These artisans have been with David, and his wife, Charlotte, for many years, and they have built their careers crafting the perfect jewelry pieces for every occasion. David is proud of his staff, and it shows when he speaks of them.
"Our team here is like a family. We work well together, and it shows in our designs. We have customers that have been coming to us for custom pieces for over 30 years. Our quality is consistent, and we put our hearts into our designs."
David earned his degree in Law Enforcement from Texas State University. He then served in the U.S. Army as a 1st Lieutenant before becoming a police officer with the San Antonio Police Department. He retired as a vice detective in 1990 after 20 years of service, and he is dedicated to honoring the lives of fallen officers with his "End of Watch" program.
Every single day, David checks the Officer Down Memorial Page online to read the stories of the brave men and women in law enforcement who have died in the line of duty. David and his staff then set out to create a unique "End of Watch" memorial pendant for the family of the fallen officers. These pendants are sent to the fallen officers' superiors and usually presented to the families at their memorial services. These memorial pendants are not ordered by the families; they are created and paid for entirely by Alamo City Gold & Silver. David began the program by honoring fallen officers in San Antonio and Bexar County, and then it spread across Texas. Today, the program honors officers across the entire U.S. Some families may never know where they came from, but many of the families are moved beyond words by the kindness of a fellow officer who has made a promise to honor the lives and careers of those who have lost their lives protecting others. There are stacks of binders in the back office full of thank you letters and cards from these families detailing how much this gift has touched them. The "End of Watch" program has designed and shipped over 3,500 memorial pendants, and Alamo City Gold & Silver is the largest manufacturer of police jewelry in the United States.
David and Charlotte have been married for 51 years, and together they make the perfect business partners. Charlotte takes care of everything behind the scenes, managing the books, maintaining the store, and handling customer accounts, while David works with customers to help them select and design jewelry pieces that will be handed down throughout the generations. Alamo City Gold & Silver created the concept of genealogy crosses, and they also craft the keepsake branded jewelry for Alamo Heights High School.
Customers come to Alamo City Gold & Silver because they know they can trust David and his team to create and offer custom, quality jewelry at fair market prices. The store even has its own club membership. For just a one-time cost of $75, club members receive special pricing on jewelry with total cost transparency, and they get discounts on all jewelry repair as well. Club members can also bring their jewelry in for complimentary cleaning and tightening at any time.
Alamo City Gold & Silver offers so many specialties and services that it is impossible to list them all. Their loyal clientele will attest strongly to the outstanding customer service and honesty of the staff. So, whether you are looking to buy, or sell, any fine jewelry, gold and silver bullion or coins, estate pieces, or custom jewelry, then you can be sure that you'll be in great hands with David and his team of professional artisans.