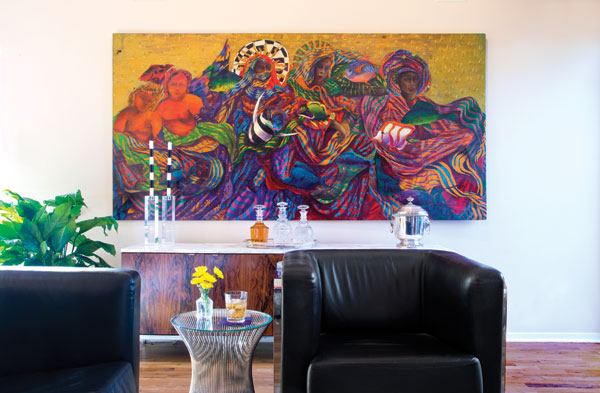 ---
by: John Bloodsworth
---
Nestled on a quiet, tree-shaded lane between Old Alamo Heights and Terrell Hills, Torrey and Ed Carleton's contemporary condominium exudes midcentury élan. Architect Allison Peery, who worked for O'Neil Ford in his early career, designed the four-unit complex. The late architect — unknowingly — helped to shape Torrey's architectural acumen. Her parents, while building a home in Terrell Hills, leased an apartment designed by Peery as a temporary residence.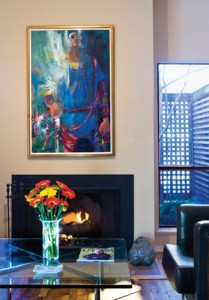 When Torrey moved into her first high-rise condominium as an adult, it was a Peery design. And when she and Ed moved into their condo, they later discovered Allison Peery had also designed it. As executive director of the American Institute of Architects San Antonio chapter, Torrey has a passion for good architecture. And architects. She married one. Ed is a senior project architect with Durand- Hollis Rupe, Inc.
"My sense of style is 'Early Savings & Loan,'" Torrey quips. Way ahead of the curve, she began acquiring pieces of midcentury furniture during the savings and loan crisis of the 1980s. "When the recession hit, powerhouse companies with contemporary design began dumping important furnishings," she says.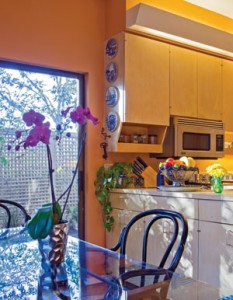 The talented pair continue to add midcentury selections to their well-edited home. A recent purchase of two Castelli m_sit lounge chairs in black leather and chrome flank a sofa by the same designer. Two Platner side tables in stainless steel and clear plate glass keep cocktails at bay when entertaining. The perfect complement to the setting, a Barcelona coffee table in chrome and glass exudes modern style and simple sophistication.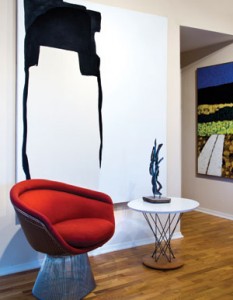 Discerning guests dine in 20th-century style in Warren Platner cylindrical mesh steel chairs with upholstered seats. A massive marble-topped dining table rests on a sculptural base of nickel-plated steel rods resembling a shiny sheaf of wheat, also by Platner. A contemporary painting that was the first purchase made by Torrey's parents after their marriage hangs above the grouping.
A gift from Ed's mother on his and Torrey's wedding day, a baby grand piano resides in the foyer.It has been in the family since it was purchased by his great-grandmother for his father when he was 13. A painting from the '70s that was recently given to the couple hangs in the stairwell. When Ed went to pick up the painting, he packed the piece in the back of his small convertible. The huge painting protruded out both sides of his vehicle.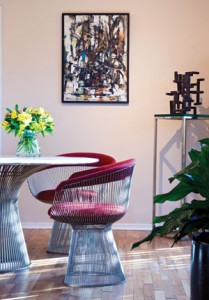 Torrey exclaimed, "You are going to take off like the flying nun if you go too fast!" the painting made it home without an aerial episode.
"I think that architecture can change the way you look at the world and how you respond to it," Torrey says. "And for me, having a thoughtfully designed home is very important."