What the current 85th Texas Legislature is doing to help animals.
Nothing troubles me more than seeing a poor, forsaken pup imprisoned behind a fence, tied to heavy chain. As if the animal had no mobility, or spirit! It's a mentality as well as a practice: outside dogs, permanently stationed, left alone as sentries, never invited inside to join the warmth of their family. Our wolf ancestors lived in packs and for dogs, humans are the pack.
Bear is one dog who lived outside day and night, summer and winter, shackled, for 15 years. The Guardians of Rescue were permitted to release the old black Lab, and now, he laps up luxury in a new forever home.
There's a lot of that tethering business going on, and right in our own backyards. Being chained up is not only lonely, it's deadly. "Cruelty investigators regularly encounter dogs that have died from starvation and dehydration after having twisted their chains or ropes to the point where they could no longer reach their food or water," says Laura Donahue of the Texas Humane Legislation Network.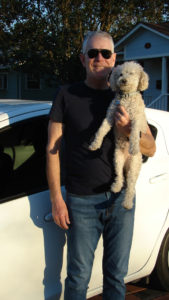 A city law and a state law set some rules regarding chaining dogs, but they're laughable, says '09 lawyer Joel Hailey, founder of the animal welfare group, The Hailey Foundation.
"The current San Antonio law doesn't have any provision requiring that the dog have shade or potable water or that they be kept from standing water," he says. And the current state law is even more ridiculous: Dogs cannot be chained between 10 pm – 6 am, neither during a heat wave, freeze or hurricane.
To improve things for these lonesome pups is HB 1156, co-authored by San Antonio State Rep. Ina Minjarez.
"It applies 24 hours a day and you can't leave a dog outside, unattended, by use of a restraint unless the dog has adequate shelter, avoids standing water and provides shade from direct sunlight and potable water and you can't restrain a dog with a chain," explains Hailey, a pet welfare lobbyist.
Humane alternatives are running lines or trolley systems that give dogs 10 feet of mobility so that they can find shade, stretch their legs and access their food and water.
Today, it was about 85F, and it's only early February! Leaving Central Market, we saw a small dog locked inside of a grey SUV, panting his little heart out because ALL of the windows were sealed. Did you know that at 78F outside, it can exceed 90F inside a car? (Naturally, we left that driver a chastising note!) To that dog's rescue could be new laws if passed this session.
"State Senator Judith Zaffirini's SB 69 could pass because it applies to both an animal and a baby. It gives a person a defense if they're prosecuted for smashing in a window by amending the penal code," says Hailey. "It is 'justified removal' if the person enters a motor vehicle to remove an animal or individual (children under 7 or someone unable to help themselves) if he determines the vehicle is locked or that there's no reasonable method for the person or animal to exit without assistance."
State Senator Carlos Uresti's SB 188 not only legally protects those noble citizens breaking into cars to save the innocent, but it also prosecutes the driver for not providing adequate ventilation.
San Antonio allows law enforcement to break into hot cars to rescue pets and people, but if a good Samaritan does it, he's liable.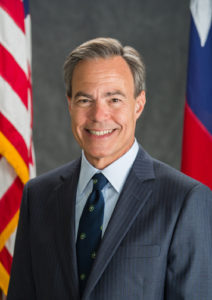 Speaker of the House and '09's state Rep. Joe Straus says if you want these ideas to become law, say so.
"While I am not familiar with all of the details of House Bill 1156, I know that many of us in the Texas House want to make sure that dogs and other pets are treated humanely and properly. I encourage anyone who cares about this bill to follow it closely and share your opinion with those of us who serve in the House and Senate."
But Hailey warns Texas hesitates in protecting animals:
"Animal laws move slowly. They make their way slowly and cautiously through the legislatures of conservative states. This is a traditionally conservative state, and legislators are very concerned about making laws that put more requirements on people, but as attitudes change, they are forced to do something. But they don't go as far as a lot of us would like."
Until next month,
Roxie
By Berit Mason