Pups Ignored in "Hot Car" Law the Texas Legislature Convenes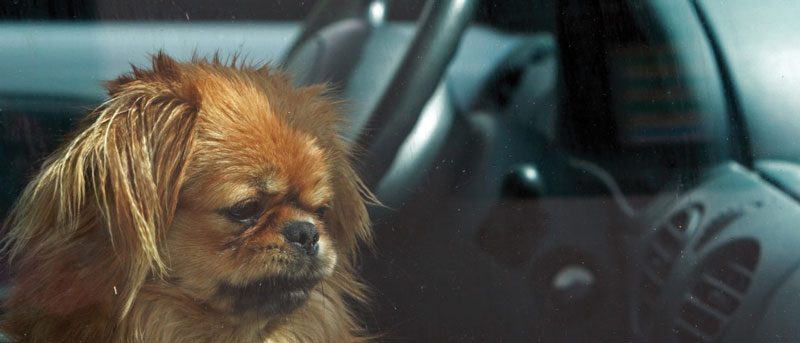 Every two years, the Texas Legislature meets to make new laws, and every two years, lobbyists flood the corridors of power, using their sway, to influence the lawmaking process. Some of those well-dressed professionals come to Austin to represent animals. Yes! Animals have lobbyists, too. "The Animal Legal Defense Fund works across the country to protect animals, and advance their interests through the legal system." That's Jennifer Hauge, the ALDF Legislative Affairs Manager. Ms. Hague has long pressed politicians to think of the welfare of pets and livestock. But, she says, Texas remains stubbornly lax in doing so.
"Historically, the Texas Legislature typically takes incremental steps with regard to animal welfare, and we think that trend will continue this year." "Incremental" means that they are slow. That's because, as an agricultural state, Texas animals are often livestock, which are viewed as "property." Owners may do what they like with property. Dogs and cats are also categorized as property. "During this session, we are focused on passing a Domestic Animal Good Samaritan bill, which would allow well-intentioned people to rescue a companion animal that is trapped in a hot vehicle," says Ms. Hague.
Again?
"Texas already took the first step in 2017 with a law of this kind for children and vulnerable individuals, and it is now time to expand that law to include animals, who sadly are all too often left inside hot cars, running the risk of heat exhaustion and death." I say "again" because during the last session, Texas could have helped trapped dogs in hot cars—but they didn't. Local Attorney Joel Hailey lives in Terrell Heights, but his animal welfare group, The Hailey Foundation, helps pets statewide.
"The 2017 Texas Legislature passed some animal protection laws, such as making beastiality a felony, and increasing the punishment for some types of violent animal cruelty." But these efforts were weak, he says. "For the most part, the Legislature failed to pass significant bills, such as those protecting dogs-in-hot cars, and more humanely regulating tethering." Police officers may smash car windows with impunity, but by the time a cop shows up, the dog could be dead.
Ms. Hague says other states have passed such a law. "With over half of the legislatures across the country having passed similar laws, we think this is a common-sense solution that should receive widespread support in Texas as well." But laws need enforcement.
Texas does not fund for enough animal care officers and animal cruelty investigators who work in the field, to make sure people observe the law—neither in Alamo Heights nor in San Antonio.
Winter is here. So, at least Texas House Bill 141, says that dogs cannot be tethered or restrained outside in weather below freezing, otherwise they risk frostbite and hypothermia. So call the police, if you see that sort of thing. It is within your rights.
If you agree that dogs be included in the "hot car" law this legislative session, tell the Speaker of the House and our State Rep. Steve Allison. Every year, the ALDF ranks the states according to how well they protect animals. Out of the 50 states, in 2017, Texas was ranked No. 28. Illinois was No. 1, Oregon No. 2, and California No. 3. The worst states were Wyoming No. 48, Iowa No. 49, and ranked last was Kentucky, at No. 50.
Roxie won't be moving to Kentucky, any time soon.
Keep them warm!
And until next month …
Woof, woof!
Roxie
BY BERIT MASON